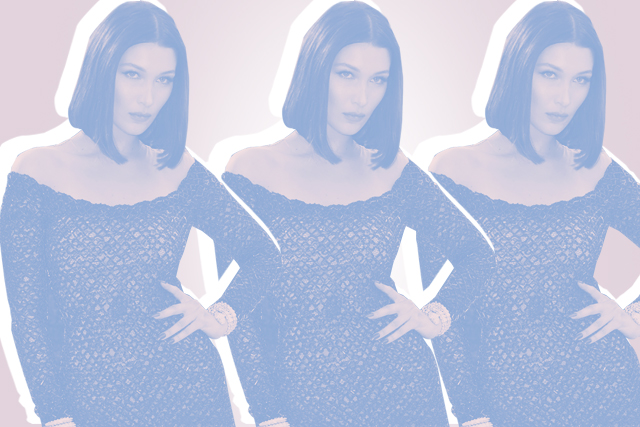 We need to rethink what we mean when we say "revenge body." It was a hot catchphrase as Bella Hadid took the MET Gala red carpet in an Alexander Wang catsuit yesterday.
On one hand, it can be positive and empowering. The term is relatively new and reached common knowledge status when Khloe Kardashian decided to make it the name of her latest show. But the logic behind it has psychological roots. Dr. Jennifer Oeding speaking to E! Online notes that being more aware of one's well-being is natural after going through a breakup. "It's not uncommon after a breakup to want to purge reminders of the past and create a fresh start," she also said. And here go the montage of every other rom-com flick when the heroine gets dumped by that deadbeat ex.
A revenge body also betrays feelings we've held back against people who have bullied us for our weight, instead of opting for the darker implication of the word revenge. And usually, when you do get that body, you realize it's not about what other people say. It just goes back to personal goals and self-acceptance. "New life, who dis?" as they say.
On the other hand, like in the case of Bella Hadid, it can be odd and misogynistic. First, it implies that Bella wasn't as hot as she is now when she was with The Weeknd. As far as you can check, Bella's relationship status didn't affect her career that consists of multiple runways, fashion shoots, and social media posts showing off her body.
Second, it follows how women's bodies are made for the male gaze. The concept was furthered by feminist Laura Muvley in "Visual Pleasure and Narrative Cinema." In it she describes how women are often pictured as sexual objects, "…she holds the look, plays to, and signifies male desire." Bella can only find justification in her hot body by using it as a weapon to make The Weeknd regret his mistakes. It was also how Vogue used to describe her Instagram post after the relationship. This shouldn't be how we treat women and the choices they make for their physical appearance. "But bodies aren't weapons to use against those who have wronged you; they're deserving of care no matter who has dated you or dumped you or, God forbid, found happiness with someone who isn't you," writes Hayley MacMillen in Allure about the issue.
But Bella has never signified a need to take revenge on The Weeknd. She doesn't need to. She even said in her Teen Vogue cover interview that it was an amicable breakup. This invalidates that memes that came about when she hit the Victoria's Secret runway while The Weeknd was singing.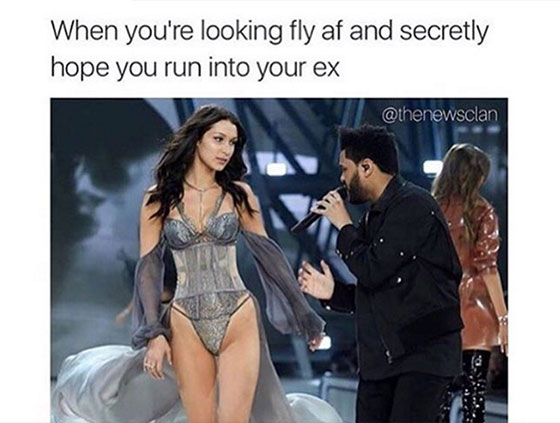 Bella even posted a nice message after the performance that shows there's no bad blood between them.
https://www.instagram.com/p/BNes-njAvSj/
There are many other people out there for Bella. She knows that, you know that. And if The Weeknd wants to be happy with Selena Gomez, then so be it. Bella had and still has a body that she seems to be more than happy to flaunt in next-to-nothing outfits. More power to her.
That's another point that's dangerous when we imply Bella is out for revenge in her catsuit. We talk about relationships, past and present, as if it's some sort power play and politics. It's not about one person rendering the other person powerless or useless outside their connection. Sometimes, it's an amicable choice by both parties. Sometimes, it's a signal of maturity, of growing up. It's hardly ever about who's more powerful and who gets to "win the breakup." Relationships aren't competitions. And for some reason, women are always depicted as the villains in the narrative of the hero looking for love.
As far as I am concerned, however, Bella is the hero. Single or not, she looks great. And as that old Pussycat Dolls hit goes, she doesn't need a man to make her feel good. She needs no revenge.
Art by Yayie Motos
Follow Preen on Facebook, Instagram, Twitter, Snapchat, and Viber