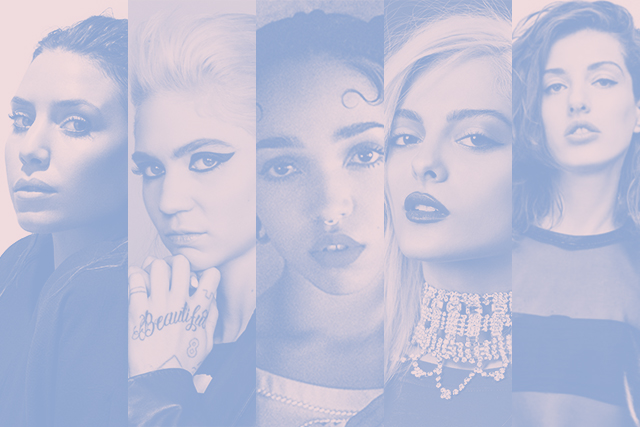 Not stuck to sugary-sweet pop anthems and odes to heartbreak, female musicians have articulated some of the most powerful thoughts of our time. Think of Billie Holiday's "Strange Fruit" and goosebumps will rise as she beautifully sings about the plight of black slavery. Think of the commanding voice of Annie Lennox, declaring sight on the meaning of sweet dreams.
There are so many other women in the mix depending on your taste: Joni Mitchell, Patti Smith, Aretha Franklin, and Gladys Knight. These days it isn't so different either from the unpredictable Lady Gaga to the chart-topping Rihanna and to the politically-driven Beyoncé and Solange.
But if you look further from the usual, you'll also find voices that express even smallest nuances of female experience. You'll find women who take on the tropes associated with male singers to prove that we can do it too. From love and loss to straight-up living life large, here are some acts you give pause to so you can play their music and message.
Grimes
Grimes' music straddles big concepts such as post-humanity in dreamy, easy-listening music. Her themes also celebrate how women should own up to their sexuality.
Bebe Rexha
Don't be thrown off by her slight semblance to Kylie Jenner. Singer-songwriter Bebe Rexha knows a good hook when she's got it. Mixing rap beats with the usual pop tunes, you'll find that her badass songs are what you need to power through a work day.
Dena
If you have ever wondered what a Bulgarian woman would sound like if she rapped about "Cash, Diamond Rings, Swimming Pools" (What? You don't?) then Dena is the answer. Recently, she's been touring Europe bringing her unique and female take to the word "swag."
Lykke Li
If you need a raw cut of the same sentiments as Adele, listen to Lykke Li. Her voice is haunting and has a certain grip that begs you to listen to the next song to feel every emotion she's trying to convey.
FKA twigs
A provocateur and an avant-garde artist, FKA twigs also explores the gray areas of relationships, female empowerment, and  love's vulnerability.
Art by Yayie Motos

Follow Preen on Facebook, Instagram, Twitter, Snapchat, and Viber