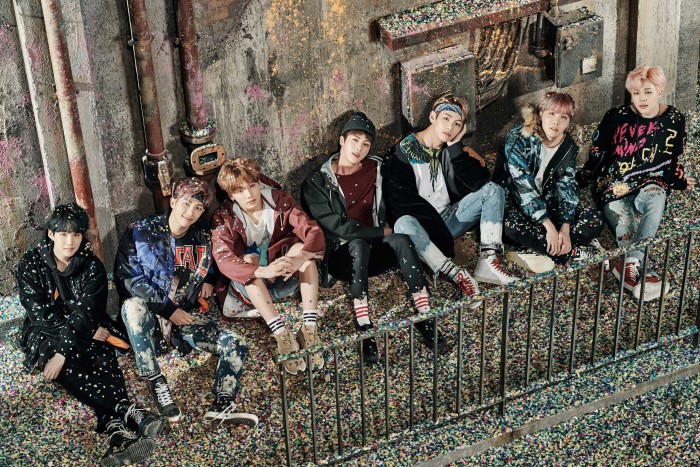 Korean pop culture has slowly been taking over everyone's lives in the Philippines. And now, we're seeing Korean pop music slowly creeping into our lives. Huge idol groups in Korea, like EXO or Twice, already have solid fan base in the country, but the group that has made waves here and on international waters is boy group BTS.
All seven members are currently in the country for their two-day concert for their world tour, BTS Live Trilogy Episode III, on May 6 and 7. They've been in the industry for four years and have slowly crawled their way up to fame in Korea and in the rest of the world. They've broke records like the most-viewed video in 24 hours on YouTube and being the first K-pop group to top Billboard's weekly World Albums chart for sixteen weeks straight.
What's the reason behind their success? Aside from their good looks, BTS is different from any other idol group in the industry. Here are six reasons why you should start following BTS, ASAP.
#1 They're self-producing idols
Artists that produce their own music are very well respected in Korea and even in the rest of the world. BTS is known for one of the few "self-producing idols," making their own music ever since they debuted four years ago. Rap Monster and Suga are the main lyricists and composers of the group, but other members have participated in song production as well. In their latest album, each member has had their own solo song they composed themselves, something very rarely done in the K-pop world.
#2 They aren't afraid to go against the system
Korea has strict censorship laws but that never stopped BTS from writing songs about the ills of society. This has been one of their most distinguishing factors from other groups that are constricted by their companies. In their recent hit album You Never Walk Alone, the song "Am I Wrong" throws shade at a Korean politician while "Not Today" mentions breaking the glass ceiling, an unsaid barrier in professions against women and minorities.
#3 They respect hip-hop
Musicians have often gone under fire for appropriating black culture just for their look or the label—BTS was not an exception. When they debuted, they emphasized being a hip-hop group by wearing chains, sports jerseys, and snapbacks. But later in their career, their CEO decided to fly them to Los Angeles to learn the roots and true meaning of hip-hop. They began to settle into their own skin and forget trying to look like a "genuine" hip-hop group. They started freely expressing more personal stories and views in their raps and verses, which in turn reflects another side to hip-hop.
#4 Their choreography is out of this world
Being able to dance is essential to K-pop. Most songs have corresponding choreographies and BTS excels at them, from fast and fancy footwork in "Dope" and "Fire" to the slow contemporary motions of "Spring Day" and "Butterfly." The ironic thing about them is that not all of their members are mega-talented dancers. Yet, viewers wouldn't notice this due to their mind-blowing coordination and synchronization as a group. The boys work hard at perfecting the insane dance moves, especially J-Hope who doubles as an instructor for the team.
#5 They're hilarious
Even if their songs tackle serious topics, BTS is a hysterical group of guys. They have two variety shows BTS Gayo and BTS Run that are currently running on VLive, K-pop's live-streaming platform. Both shows showcase their silly antics and entertaining personalities you don't usually see in interviews. Check out their YouTube channel as well for behind-the-scenes clips of BTS.
#6 They're kind
According to journalists in the K-pop industry, BTS' genuine kindness is what separates them from the rest. It may be hard to imagine that these pop stars have good personalities since it's difficult to stay grounded when you reach a certain level of fame. But reporters believe that BTS' true passion for music is what keeps them down-to-earth. Also, earlier this year, the public found out that they have donated individually 10 million SKW to families and victims of the Sewol Ferry incident privately. A representative of their company said it was their own decision to do so without anyone knowing.
Photo courtesy of BTS Diary
Follow Preen on Facebook, Instagram, Twitter, Snapchat, and Viber