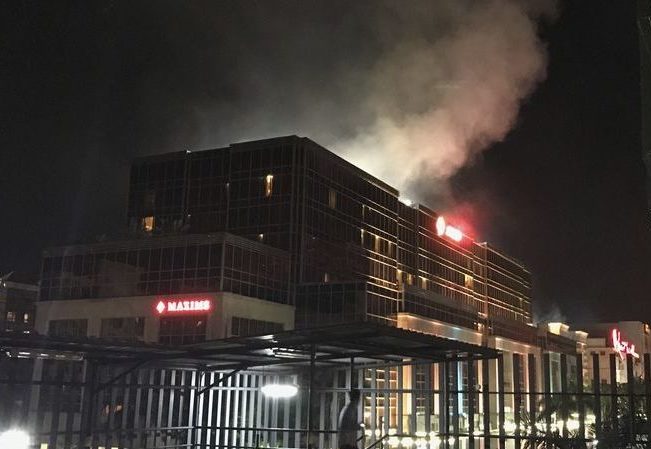 Updated June 2, 2017. 10:00 a.m.
The crowd at Resorts World Manila, as well as the netizens, was rattled earlier today due to an attack at the hotel complex and its casino floor—the gaming tables and machines were set on fire and there was gunfire. The reports from witnesses varied as it poured in, some say there was a group dressed in black that entered the location, most heard gunshots, and some even heard what might've been an explosion.
Resorts World Manila is currently on lockdown following reports of gunfire from unidentified men.

— Resorts World Manila (@rwmanila) June 1, 2017
So what really happened and what was the result? We put together a list to help catch you up.
#1 The suspect is dead
The lone Caucasian gunman responsible for the attack in Resorts World Manila is dead, confirmed Philippine National Police (PNP) chief Gen. Ronald "Bato" Dela Rosa.
#2 The suspect set himself on fire
Gen. Dela Rosa claimed earlier that the suspect was killed by the troops at the fifth floor of the hotel as he resisted arrest. Now he reported that the suspect set himself on fire in one of the hotel rooms.
"Patay na siya. Nagsunog siya sa sarili niya sa loob ng hotel, sa Room 510," Dela Rosa told reporters. "Sunog talaga." (He's dead. He burned himself inside the hotel in Room 510. He was burned beyond recognition.)
"Humiga siya sa bed, kinoveran niya sarili niya ng makapal na kumot, and apparently nagbuhos siya ng gasolina sa kumot at nagsindi sa sarili. Sunog siya (He lied in bed, covered himself in a blanket, poured gas on the blanket and set himself on fire. He's burned)," Dela Rosa added.
#3 The suspect did not shoot anyone
"There is a lone man who entered the second floor of Resorts World Manila. He was carrying an M4 rifle and he burned gambling tables. He did not shoot anyone," Dela Rosa said in another interview at the police command center in the hotel complex.
LOOK: Man behind the Resorts World Manila attack. PNP sent CCTV screenshots to media. Dela Rosa said suspect dead already. | @JLDejesusINQ pic.twitter.com/gl6DML4zQv

— Inquirer (@inquirerdotnet) June 2, 2017
#4 The motive might be robbery and not terrorism
The suspect ransacked a room with P1 million casino chips and was able to steal P130 million worth.
The PNP chief denied reports that it's related to the international terror group ISIS, though of course, he is not completely ruling it out.
#5 The victims died of suffocation while other injuries were from attempts of escape
"Around 25 reported dead in Resorts World Manila, mostly from 2nd & 8th floors. Most died due to suffocation," said PD CSupt Tomas Apolinario.
SPD CSupt Tomas Apolinario: Around 25 reported dead in Resorts World Manila, mostly from 2nd & 8th floors. Most dided due to suffocation.

— Dexter Cabalza (@dexcabalzaINQ) June 2, 2017
The injuries were from the attempts of escaping the building by jumping from the second to the first floor, along with bumps and scratches from the crowd as they rushed out.
JUST IN: Photos from Resorts World Manila show first responders treating victims after reports of gunfire https://t.co/G58NrpzJsV pic.twitter.com/mgUVLTvboL

— CNN (@CNN) June 1, 2017
Resorts World Manila just released a statement in light of the recent events.
"This is a sad day at Resorts World Manila. At approximately 12 midnight on June 2, 2017, a lone gunman barged into Resorts World Manila firing shots and setting gaming tables on fire. The Company's security, together with police authorities, launched a hot pursuit and at around 7 a.m. this morning, the gunman was found dead. He had taken his own life by setting himself on fire followed by a self-inflicted gunshot wound. As of this time, the Company has extended medical assistance to the 54 individuals who were taken to nearby hospitals. Our security team and Bureau of Fire Protection are currently conducting search and rescue operations on all floors. It is with deep regret that we have been informed of several casualties, the number and identities of whom have yet to be determined. As soon as this information becomes available, we shall be informing their loved ones. We ask for your understanding during this difficult time. This cowardly act of a deranged mind will not defeat the spirit on which Resorts World Manila was built. With your prayers, we will overcome this tragedy."
Resorts World Manila issues statement on last night's shooting incident @InquirerBiz pic.twitter.com/qPylMu6jgn

— Miguel R. Camus (@miguelrcamusINQ) June 2, 2017
Photo courtesy of Bullit Marquez/AP via Mic 
Follow Preen on Facebook, Instagram, Twitter, Snapchat, and Viber