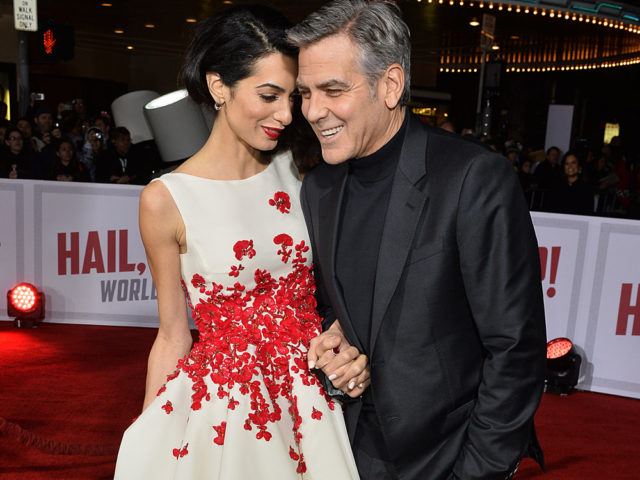 Great news! George and Amal Clooney welcomed their twins, Ella and Alexander, a few hours ago. This also means that the babies' zodiac sign is Gemini—a lovely coincidence and probably a blessing.
George's spokesperson confirmed the news to People with a witty statement: "This morning Amal and George welcomed Ella and Alexander Clooney into their lives. Ella, Alexander and Amal are all healthy, happy and doing fine. George is sedated and should recover in a few days." Looks like George is already making dad jokes.
Naturally, everyone's ecstatic with the baby news. But what got many even more excited was the fact that the twins were born Geminis.
Twins born during Gemini season to Taurus #GeorgeClooney and Aquarius #AmalClooney – welcome fellow multiples! https://t.co/9epFsvGtl7

— The AstroTwins (@astrotwins) June 6, 2017
George and Amal had twins during Gemini season. Legends. Icons.

— Colin (@ColinMylrea) June 6, 2017
Anyone take notice that these Twins are Gemini? Coincidence or fate?
"George and Amal Clooney"

— YungAtHart (@d4usma1978) June 6, 2017
Gemini twins! George Clooney, you did something cool again 🙌 For some reason I feel hopeful about those babies. pic.twitter.com/Pad3hOjguZ

— Hℯℓℯn (@xo_HAZEL_ox) June 6, 2017
A number of netizens have dubbed Amal a "goddess" and a "wonder woman" because of this. (Let's be real here: was she not both even before giving birth?)
AMAL CLOONEY HAD THE TWINS! THE TWINS ARE GEMINI. AMAL CLOONEY IS A GODDESS!!!!!!

— 🐀Andrea🐀 (@MlSSANDREAG) June 6, 2017
An international human rights lawyer that can snag George Clooney & mother 2 Gemini… Remind me why Amal Clooney wasn't Wonder Woman?💫 https://t.co/iDFmbu7qNk

— CASSANDRA (@CassaClaire) June 6, 2017
Meanwhile, fans also gave a shout-out to Beyoncé, who's also carrying twins and will possibly give birth some time this month as well. The more Geminis, the better, we guess.
George and Amal had Gemini twins and Beyoncé and Jay gonna too, this Gemini season is so magical

— Maggy Donaldson (@maggydonaldson) June 6, 2017
OMG AMAL CLOONEY JUST HAD HER TWINS!! DURING GEMINI SEASON. Wheres Beyonce

— hatchet clown (@hellohln) June 6, 2017
yes one set of gemini babies out, @Beyonce you're up next sis ❤️ https://t.co/09u3iN4qDQ

— BACK TO THE BANDS THO (@__abisoul) June 6, 2017
We're not astrologers, but we're betting the twin zodiac will be a lucky sign for the celebrity tots.
Congratulations, George and Amal! We can't wait to see the first photos of the babies.
Photo courtesy of Marie Claire
Follow Preen on Facebook, Instagram, Twitter, Snapchat, and Viber