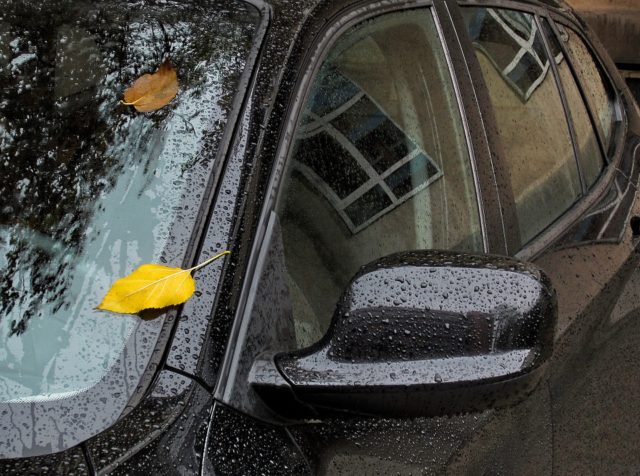 If you gave me a car today, I probably wouldn't know the first thing I would do. As much as it is a convenience, it can also be a headache. Don't you find it ironic that such a big hunk of metal with lots of wirings and functions doesn't exactly come with an instruction manual?
Nevertheless, if you're a newbie with a car or if you just want to brush up on the basics, we asked Angelo Garcia of the Volkswagen Club of the Philippines to give us a few pointers of how to care for your car especially as rainy season hits.
What's one thing you must do first to prepare for the rainy season? 
Whatever season it is, regular maintenance checks should be done to your vehicle. Make sure to do regular change oils and tune-ups. Check for oil leaks in your engine and transmission. Check the brake system (brake pads, calipers, emergency brakes and have your brakes bled), as much as it is important to make sure your engine keeps you going, it is also important that you can stop. Have your weather strips checked as well to avoid water leaks into the vehicle. There are also drain plugs in the floor boards of your car. This allows you to drain water out of the vehicle if it gets flooded. However, this could also be an entry point of water when you hit a flood.
What's one thing people forget to take care of when it comes to their car? 
Tires. Many people take for granted the thickness of tire threads specially when driving in the rain. Worn tires would not create enough friction between your car and the wet roads. This will make it harder for you to stop on wet roads.
Is it advisable to leave your car out in the rain? 
Rain water damages your car's paint. That is why it is always advisable to have your car washed after the rain. For cars with sun or moon roofs, hard rain can penetrate those water seals and flood the inside of your vehicle. The weather strips on the rear and front windshield are also susceptible to leaks. So, for older cars, it's important to have them checked for cracks and leaks.
What should always be in my trunk in case of emergencies? 
Aside from your umbrella, flashlight, EWD, spare tire, jack and tire wrench, make sure to have the following in your trunk: flat head and Philips screw driver, an adjustable wrench and pliers. A few spare fuses and a gallon of clean water would also come in handy.
How do I make sure my car is at its best for long road trips?
Motorists should have a habit of checking the following whether you are going on a road trip or not. Check your oil level, radiator water and tire pressure (including the spare tire) before heading out. Make sure to follow your vehicles maintenance schedule to keep those engines in tip top shape.
What do I do when my car gets flood/water-damaged? 
With newer vehicles equipped with computer and electronics, first thing to do is remove the battery terminal from the battery. This will lessen the possibility of shorting the electrical circuits. Check if water entered the engine by lifting the oil dip stick. If there is water, do not even try to start the vehicle. Have it towed to your trusted mechanic. If there is no water in the engine, check the fuse boxes and sockets for presence of water. If it is wet, let it dry before trying to start the vehicle. If you are not sure about your capacity to do these check, it's better to have a professional do it for you to avoid further damage.
What are common problems that cars have during this season you can avoid? How to avoid them?
Electrical shorting is very common during the rainy season. Electrical components under the hood of your car are susceptible to getting wet. Tire punctures on flooded roads are also very common. Especially when driving on flooded streets, brake malfunction is also very common.
How often do I have the interiors cleaned? Does the weather affect it?
If you bring your car to a carwash regularly, most carwashes offer vacuum cleaning which is enough to keep your interior clean. It is also advisable to have your car detailed once or twice a year depending of course on your usage. Weather affects everything, including your vehicles interior. If you detect moisture in your carpet, use a wet and dry vacuum to pull off most of the water. Air drying is best. If left untreated, moisture is rusts best friend and will start eating your car's body even with the best water proofing system most new vehicles use.
Where are the best places to get your car serviced?
The CASA is always an open option, if budget is not an issue. However, Specialty Car shops have their own expertise. Do your research before driving your car to a garage. If you drive a European car (Mercedes, Audi, BMW), make sure to bring them to a specialist. It's like going to a doctor. You don't go to dentist when you have a skin disorder. Find a garage that knows how to fix your car. The best place is a shop that you can trust. There are millions to choose from. Make sure to bring your car to a shop that a friend who is familiar with cars recommends. There are many places advertising online as well. But be careful when choosing one. It's always good to check review before bringing your vehicle there. Google before choosing. You always have that one friend who is familiar with cars. All you have to do is ask.
Photo courtesy of Pixabay
Follow Preen on Facebook, Instagram, Twitter, Snapchat, and Viber
Related Stories: