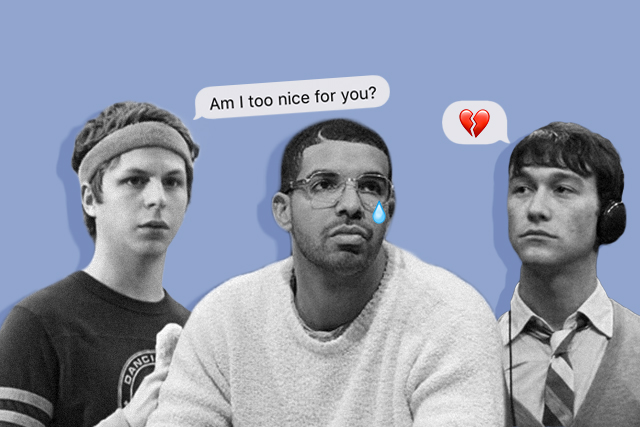 We've all encountered the f*ckboy at some point in our lives. He could be the guy sporting a YEEZY sweater in the summer heat or he could be the guy who takes forever to reply on purpose. But there's another type of boy that we should be aware of: the "softboy." He's Dan from Gossip Girl who loves books and art. He's Drake with his lovesick bars. He's Joseph Gordon-Levitt from 500 Days of Summer with his sad puppy eyes. He's Michael Cera in every one of his movies.
Alan Hanson coined the term in his article "Have You Encountered the Softboy?". More subtle than the F*ckboy, he seems to be genuinely interested in you. He spends the wee hours of the night talking to you about books, film, or art. He calls himself a feminist. He isn't afraid to show you that he has emotions. In fact, "He wants you to know that he has feelings and he is completely okay with that."
The softboy seems to be the exact opposite of the f*ckboy. He makes sure you know that, of course. He goes against how toxic masculinity requires a man to be emotionally dense.  But, sad to say, the softboy and the f*ckboy are two sides of the same coin.
Just like the f*ckboy, he's not committed to the relationship. The word "platonic" or the phrase "just friends" pop up in your conversation more times than you can count. He's like a sadist that enjoys getting your hopes up by asking you on a night out and off-handedly cancels it last-minute. But you can't get angry at him because he "needed a night to himself" or he "was just going through something." The softboy understands how emotions work and uses them to gain your trust and sympathy. They become his shield. What is his goal exactly? Well, it's the same as the f*ckboy's: to get in your pants. He's just waiting for you to pity him enough to let him do so.
A lot of softboys go unscathed in society. That's because they play the typical Nice Guy card except with more emotional baggage. You can't imagine how many times I've heard my friends go, "Mabait naman siya (He's still nice)," over a softboy. But nice isn't enough and never should be. Although "nice" will get you a shoulder to lean on, "nice" will still leave you at the door if you don't hold his hand back or give him a peck on the cheek as payment. He'll even guilt trip you for it.
It's perfectly understandable to fall for a softboy. At first glance, they're what a woman usually finds in a guy: sensitive, understanding, and thoughtful. Sadly, that still isn't enough these days.
Art by Anfernee Dy
Follow Preen on Facebook, Instagram, Twitter, Snapchat, and Viber
Related stories:
Guys, Pulling the 'Not All Men' Card Won't Help Every Woman's Plea
How Rom-Coms Skew Our Idea of Love and Relationships
Is the Use of 'Gayuma' for Love an Act of Desperation?
Does Misogyny in our Culture Really Allow Women to be Independent?