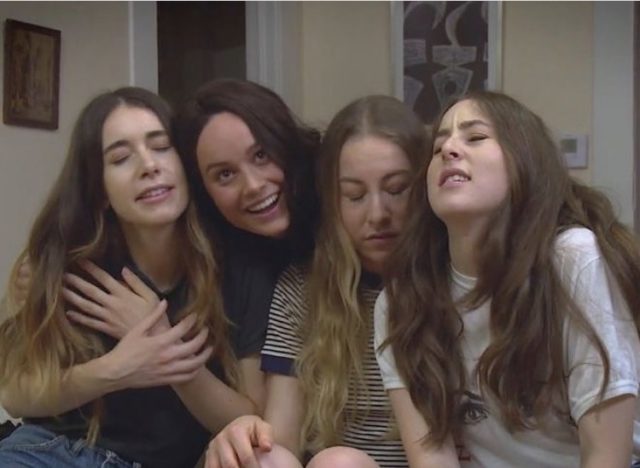 Adding some more good vibes to your Friday morning is Brie Larson and Haim. The band dropped a funny video on their social media accounts featuring the Oscar awardee.
The skit is for Funny or Die and goes on the idea of Brie as Frime, fourth sister to the Haim girls. She wants to join the band but she's not exactly musically-inclined.
On Facebook, the video has so far received around 376,000 views. Fans on Twitter, meanwhile, have been replying that they want Frime in the band. Looks like there needs to be another "family meeting" soon.
https://twitter.com/Somefreakazoid/status/880467876309749760
https://twitter.com/kylsimmons/status/880467393859997696
https://twitter.com/17suns/status/880467632100564992
— lauren (@lauren___bauer) June 29, 2017
I dono, I really feel like Frime has a lot to offer+you're not giving her the chance she deserves. But whatevs, it's your band. @brielarson

— Kaitlyn Whiteside (@kait_whiteside) June 29, 2017
On the other hand, Brie Larson shared a photo of herself and her "sisters." It's clear she's the only one who is feeling the love.
It seems like Haim is loving being back in the spotlight with various guestings on The Graham Norton Show and The Tonight Show with Jimmy Fallon plus an interview with Vogue to discuss their new projects. Their latest album Something to Tell You will be dropping on Spotify on July 7. They have also announced a US and Canada tour that will kick off in August.
Follow Preen on Facebook, Instagram, Twitter, Snapchat, and Viber
Related stories: 
Meet the Woman Who Will Play Marvel's First Female Superhero: Brie Larson
Brie Larson to Direct Her First Feature Film 
Jane Fonda Opens Up About Rape and Sexual Abuse in Hollywood