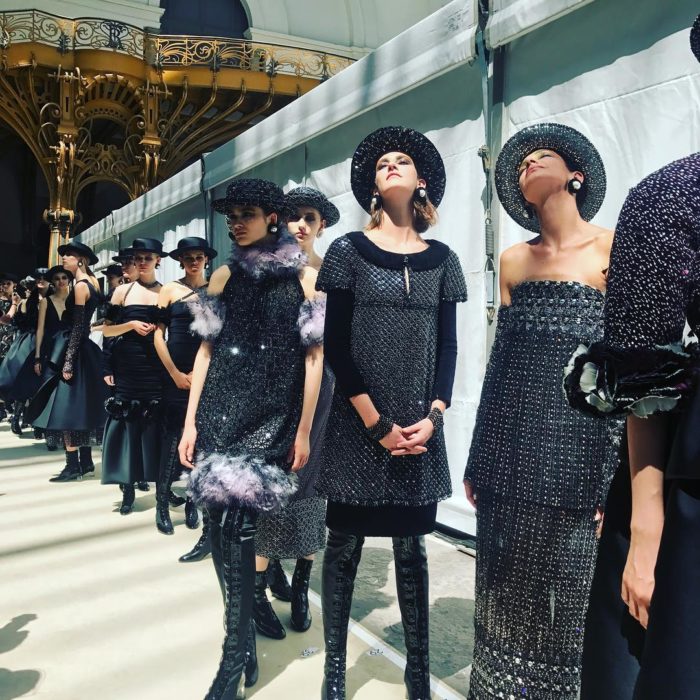 Living on this side of the world always means that exciting events abroad happen when we're sleeping. Case in point: Chanel's Haute Couture fashion show that happened in Grand Palais. Celebrities, models, editors, and more people from the industry flocked to the location to see the latest collection. It rhymed, not intentional.
Since we all obviously missed it, we made a list of the highlights that went down a few hours ago. Want to catch up?  Simply scroll below.
They built their own scale model of the Eiffel Tower
Talk about grand. It wasn't enough that the invites featured Robert Delaunay's painting of the Eiffel Tower, they just really wanted to build it—for you know, ambiance. Chanel has always been known for their amazing production design and this delivered. It doesn't hurt that it looks just as glorious in photos as the real deal.
The iconic landmark inspired Karl Lagerfeld for this collection, the models were seen wearing dresses and coats in flared silhouettes reminiscent of the tower's shape. 
Katy Perry brought her mom as her date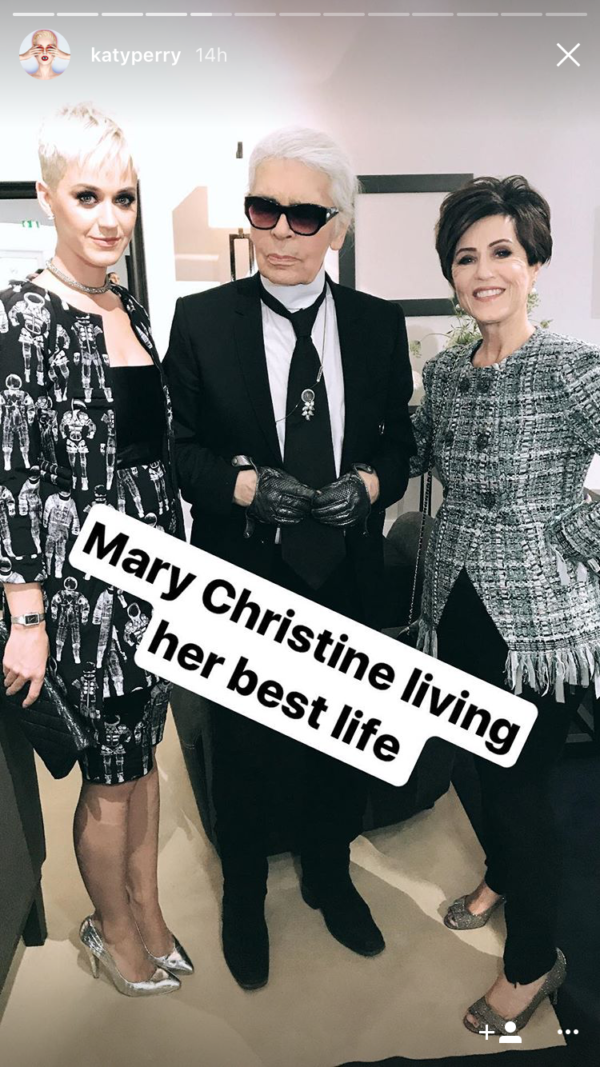 Katy, who wore a matching coat and skirt that featured astronauts showed her personality in a very Chanel manner—black and white. Her mom, Mary Christine, on the other hand wore a tweed ensemble. Katy was quick to document their haute couture afternoon on Instagram Stories and even making jokes about her mom living the life. They even had a group shot with Karl!
Kristen Stewart debuted her platinum blonde buzzcut
This new haircut (and color!) seems to be the must-have look during this show and even this season. Chanel muse Kristen Stewart wowed everyone in her tube cat suit paired with her platinum blonde buzzcut.
Also seen with the same hairstyle is Katy Perry and Cara Delevingne.
Boater hats made a comeback
Each look was complemented by Coco Chanel's favorite boater hat and it goes to show that it is, indeed, making a comeback. We definitely called it when we released a list of must-have statement hats, which of course, included this style.
Model Camille Hurrel walked in the Chanel wedding gown
The highlight of the Chanel Haute Couture show usually is the wedding gown (or at least Karl's interpretation of it) and this year featured an empire-cut shapely dress with floral textured on both arms and on the hem.
Vogue Paris said that the dress is usually embodied by a new model of the moment. In the past, we had Claudia Schiffer, Lily Rose Depp, Cara Delevingne, Kendall Jenner, and so on. Safe to say Camille is this season's model of the moment.
That's it for this season, we wonder how Karl will transform Grand Palais next year.
[
Vogue.com
]
Photo courtesy of Chanel Official's Instagram Account
Follow Preen on Facebook, Instagram, Twitter, Snapchat, and Viber
Related stories:
Vogue UK Editor Reveals She Doesn't Really Read Vogue
Kristen Stewart Is the Face of Chanel's New Perfume
Vogue Breaks Down Liza Soberano's Cool Girl Style
Luxury House Apologizes for Designer Boomerang, but Unclear About What They'll Do About It
Soon, We'll Be Checking In Hotel Karl Lagerfeld