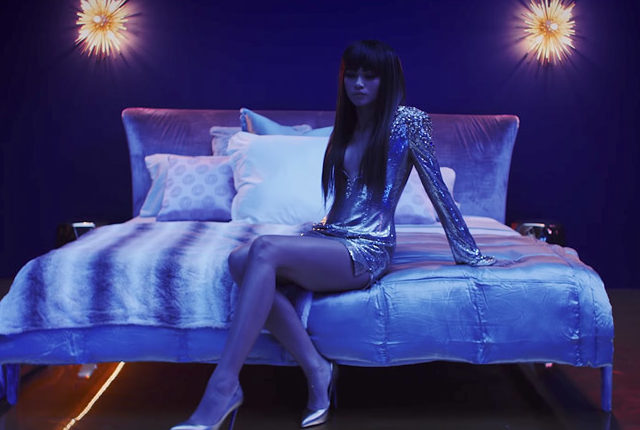 Every time Bruno Mars releases a music video, the Internet goes in a frenzy. That's what happened when "Versace on the Floor" debuted at this year's Teen Choice Awards.
The video features singer-actress Zendaya (she was also in Spider-Man: Homecoming), who gets spellbound by Bruno's singing next door. She's also wearing a gold Versace dress, of course.
We watched the video ourselves and also checked on what people are loving about it. We can safely say that they're equally swooning over Bruno and Zendaya.
#1 The chemistry  
Bruno and Zendaya weren't technically interacting in the whole video. But seeing Zendaya dancing and singing along to "Versace on the Floor" in her room got people saying, "Same, girl."
@Zendaya drops her clothes at the sound of Bruno Mars's voice in the Versace on the Floor video

Same, girl. Same

— jojo (@xo_itsjojo) August 14, 2017
Zendaya for Bruno Mars' Versace On The Floor video✨ pic.twitter.com/fYeYGGT8zq

— 𝕮𝖍𝖊𝖑𝖘𝖊𝖆 (@httpzendaya) August 14, 2017
https://twitter.com/riahb721/status/896972122375036928
And just the fact that they're in one video is enough to freak people out. Especially since Zendaya performed a Bruno Mars song (even dressed like him!) on Lip Sync Battle in the past.
https://twitter.com/nycdevotee93/status/896907845605740545
WHY AM I SO EXCITED ABOUT ZENDAYA BEING IN BRUNO MARS' MUSIC VIDEO??????? WHY AM I SCREAMING????????

— justine (@biticonjustine) August 14, 2017
Zendaya plus Bruno Mars is a combination I never knew I needed until this moment. #VersaceOnTheFloorMusicVideo pic.twitter.com/3ls7u6ItXd

— moderna mafia 🔋 (@knianthony) August 14, 2017
This is real upgrade #VersaceOnTheFloor #TeenChoice #TeenChoiceAwards2017 @Zendaya @BrunoMars pic.twitter.com/x3F1ypxrVw

— jk🕷 (@jk_zswagger) August 14, 2017
#2 Designer pieces
https://twitter.com/IAmMichaelCosby/status/896990447519895552
As mentioned earlier, Zendaya's wearing a gold Versace dress. It's also no surprise that Bruno's wearing a Versace shirt as well, continuing his designer streak since his "24K Magic" video. People couldn't get enough of how good they both looked in their ensembles.
https://twitter.com/gianinnachavez/status/897014281115271168
#3 Great cinematography
I always found Bruno's past videos like "The Lazy Song" and "That's What I Like" entertaining. But "Versace on the Floor" was really well-made compared to the others. One netizen also praised how creative it was.
The cinematography in this video is so well done.

— The Hooligan (@CallMeRamone) August 14, 2017
#4 The fancy interiors
https://twitter.com/popmusictrend/status/896955164032192512
The video is set in an apartment or hotel where Zendaya and Bruno are neighbors. Both rooms are purple-hued to keep with the video's seductive theme and glittery walls. Zendaya's room has a large silk-laden bed and a chandelier. While Bruno's room only shows a white piano that Glamour questioned, "What hotel room has a piano in the middle of it?!" The publication, as well as Complex, noted how excessively sparkly their rooms were. (We might as well wear sunglasses before entering.)
#5 When the Versace really dropped to the floor
Everybody hates cliffhangers, most especially this one. Before the video ends, you'll see Zendaya's expensive dress dropping to the floor. The words "THE END" flashes with the sound of a knock on the door, signaling that Zendaya went next door. Cue the screaming fans.
When Zendaya took the Versace dress off and knocked on Bruno Mars' door but the video ended. pic.twitter.com/E04vRRk0W1

— kuya jovs (@joverchristian) August 14, 2017
Screengrab from YouTube
Follow Preen on Facebook, Instagram, Twitter, Snapchat, and Viber
Related stories:
Confirmed: Bruno Mars Is Bringing His '24K Magic' Tour to Manila in 2018
How Is Sex Portrayed in Love Songs
Cole Sprouse and Zendaya Remind Trump that 'Trans Is Not a Burden'
Here's a Monday Evening Playlist You'll Love Driving Home To