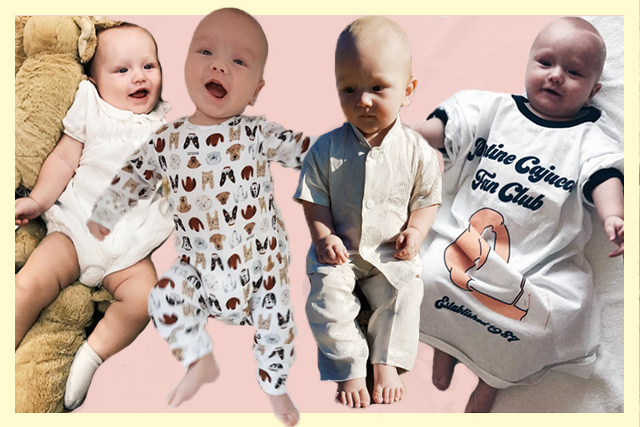 Any excuse to look at cute kids is a good one. Recently, we've noticed that baby Archie Burnand is a potential trendsetter. We scrolled through the different photos of Georgina Wilson's and Archie Burnand's first child to prove our point. See, what I mean about taking any excuse to look at cute babies?
And since we're quite generous at this publication, we're sharing what we found and we give you 11 of Archie's best ensembles.
In Avington Park, Archie showed off how he's got the same modeling skills as his mom in this white outfit.
At Fuji Rock Festival, Archie was the show-stopper. He was ready for the iffy weather in his bright yellow jacket and his cozy onesie.
It is never too early to master wearing gingham. Perfect for days out in the countryside, getting to know your roots.
An all-white onesie isn't just for your Christening day. It's also for when you're buried among a lot of teddy bears and loving life kind of day.
One day, Archie will conquer the seas perhaps. For now, he's ruling his parents hearts in sailor suits.
It never hurts to suck up to one of your favorite fans. We're kind of jealous of Martine Cajucom since her fanbase is lead by a cutie like Archie.
Dad cap and blue stripes. Because Archie can and because his father can't resist giving him a kiss when he's wearing these picks.
When you're cute and cuddly, you can get away with being matchy-matchy with your surroundings. You can also get away with being the blue version of Paddington Bear.
It was cold. Of course he had to be in a reindeer onesie. That's just how the rules go.
Archie had dog faces on his onesie. Is there any more reason to give the biggest smile.
I think Archie is a fan of prints. Again, way to go being on trend.
Art by Lara Intong
Follow Preen on Facebook, Instagram, Twitter, Snapchat, and Viber

Related stories:
Baby Archie Burnand Must Be the Cutest Attendee at Fuji Rock Festival
How to Wear Your Dad's Favorite Baseball Cap
Vogue Australia Can't Get Enough of Georgina Wilson's Wedding
What's It Like to Shop with Georgina Wilson?