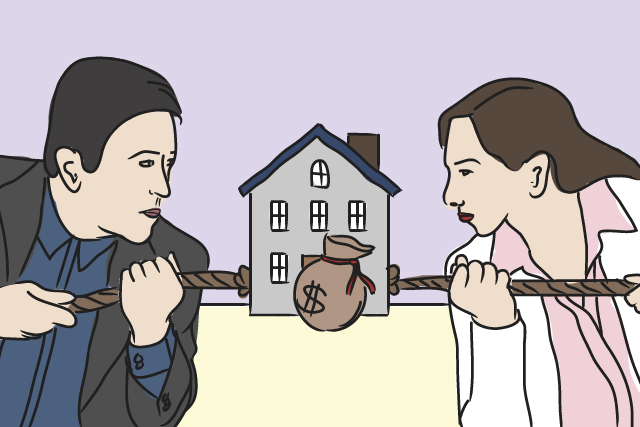 This column may contain strong language, sexual content, adult humor, and other themes that may not be suitable for minors. Parental guidance is strongly advised.
The staggering amount recently put forward by Tisha Bautista as comprising her estranged husband's allegedly questionably amassed wealth, and her demands for a substantial share of it cast an ugly light on the messy business of settlements.
Many a divorce has been delayed due to both parties contesting the financial terms of the settlement, with a significant part of the disagreement stemming from lifestyle issues. With women still generally at a disadvantage financially when it comes to divorce and separation, the issue of being "maintained" in the manner to which they and their children have been "accustomed" tends to be a contentious one.
A friend of mine involved in a high-profile divorce some years back emerged from settlement discussions with an amount her wealthy husband deemed she "deserved." As settlements go, it was a very generous amount, considering that he would continue to pay for their four children's education, travels, food, and sports activities. In short, there would be as little a disruption to their daily lives as possible, and certainly no downscaling of their standard of living at all. As for her standard of living, there were slight adjustments to be made—a smaller house, one car instead of three, streamlined staff, and the loss of her membership to the country club, since he was the principal member, and their divorce had been splashed all over the newspapers. But one the whole both parties were satisfied with the settlement and have managed to maintain a civil relationship, the circumstances that provoked their split notwithstanding.
Another friend was happy to play the long game to get the settlement she wanted in the end. With her husband downplaying his assets and claiming relative poverty, she hired a forensic auditor to doggedly track down his fortune; meanwhile she lived in an apartment that contained only the basics—beds, desks, a couch, a dining table and chairs. The forensic auditor took three years to uncover the hundreds of millions of dollars hidden behind a maze of offshore trusts. Finally, she commissioned an A-list interior designer to decorate her home.
Again in this case, apart from the relative discomfort of living in a sparsely furnished apartment, she and her sons suffered no real changes to their lifestyle.
Other people I know have had very painful divorce settlement discussions that involved raking up and questioning every single expense, justified according to one party, and outrageous according to the other. A former private banker who was forced to give up her job when her children were born had her ex-husband refusing to agree to what she deemed was a paltry $10,000 a year for one or two designer bags a year, preferably Celine and Givenchy. And he wouldn't pay for a driver to take the kids to school considering she eventually would have to go back to work.
A highly publicized divorce in London last year between a socialite and former model Christina Estrada and her ex-husband, Saudi Arabian billionaire Sheikh Walid Juffali, now deceased, saw details of the whopping £196-million settlement she was suing for to meet her "reasonable needs" leaked to the press.
The itemized expenses were indeed a testament to life in the manner she was accustomed to. Forget the two luxury houses, one in London and one in the country. Forget the five cars or the staff salaries for which included a butler, a housekeeper, a chauffeur, a nanny, two cleaners, a chef and an office manager. Fixate instead on all her other necessities: A £1.02m clothing allowance per year AND £58,000 for two luxury handbags, £23,000 for six casual handbags, £35,000 for 10 clutch bags, not to mention £4,000 for 15 pairs of sunglasses, and £39,000 for two watches. EVERY YEAR. Presumably, her shoe allowance was bundled together with her clothing allowance. Then there were her "reasonable" beauty needs—£93,793 on beauty treatments plus £9,400 for four bottles of face cream. Considering that at 54 then she still looked rather stunning, the treatments and the products could be justified as essential to her well-being, as well as the two-week yacht rental every summer (including tips for the crew), 12 nights in the South of France, two weeks at the Ritz in Paris.
As she told the family judge, "I am Christina Estrada. I was a top international model. I have lived this life. This is what I am accustomed to." Despite her ex-husband's protestations that his fortune was grossly exaggerated by her lawyers, the court seemed to agree with her and awarded her a record payout of £75 million. Juffali who was ill with cancer at the time, died weeks after the judgment was awarded. His death may have delayed payment but in the end it was no impediment as the judgment was binding.
Another friend currently going through divorce discussions with her soon-to-be ex-husband has marveled at how dignified proceedings have been so far. But that's likely to change once money comes into the picture and joint properties need to be divided.
Which reminds me of a dinner party one night as the saga of the Bautista marriage dominated much of the chatter. What if, someone asked, the roles were reversed, and it was she who had all the money while he had the lover, and he wanted half. What would you do?
Most of the reactions were predictable. "No way am I giving him—and his mistress—a cent!"—was the general consensus. A couple of us, myself included, were in favor of giving him half and telling him to get the f*ck out of our lives.
But then again, for as long as you have kids together, you are never really out of each other's lives.
B. Wiser is the author of Making Love in Spanish, a novel published by Anvil Publishing and available in National Book Store and Powerbooks, as well as online. When not assuming her Sasha Fierce alter-ego, she takes on the role of serious journalist and media consultant. 
For comments and questions, e-mail [email protected].
Disclaimer: The views expressed here are solely those of the author in her private capacity and do not in any way represent the views of Preen.ph, or any other entity of the Inquirer Group of Companies.
Art by Lara Intong
Follow Preen on Facebook, Instagram, Twitter, Snapchat, and Viber
Related stories: 
Former Model Gets £75 Million in Divorce Settlement
The Similarities and Differences of Taylor Swift and Tish Bautista
Amber Heard Splits $7 Million Divorce Settlement Between Two Charities
Angelina Jolie Opens Up About Bell's Palsy and Dealing with Divorce