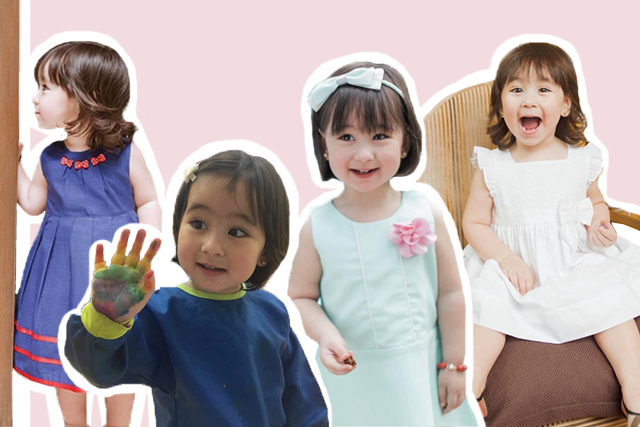 If you follow Scarlet Snow Belo on Instagram, you'll know that she's both adorable and smart. At two years old, she's already acquired many skills and talents. Vicki Belo and Hayden Kho also made sure that their daughter had fun while teaching her new things.
To see what we mean, we're listing down all the things that Scarlet loves to do now. This is also an excuse for you to go through her Instagram feed a couple more times.
In case you didn't know, Scarlet is tri-lingual. She can speak in English, Filipino, and learning Mandarin. So it's no surprise that she can count from one to 10 in Filipino and Mandarin.
Scarlet loves singing, either alone, with her yaya, or with her parents.
Here's Scarlet singing Bahay Kubo this time. How did a two-year-old memorize this song so fast?
She's also playing the piano for fun, and even has baby Seve (Toni Gonzaga and Paul Soriano's baby) as her student.
We're not done with Scarlet's musical talents just yet. She also showed her drumming skills during her parents' welcome cocktail party in Paris.
Of course, she can bust several dance moves too.
As the endorser of Belo Baby, Scarlet already knows how to work the camera. Future modeling career, maybe?
Having doctors for parents, Scarlet is bound to play with a toy stethoscope. She even checks her stuffed toys' vitals.
Scarlet owns a crystal-embellished tricycle and she's slowly learning how to ride it.
She's also taking swim classes. Look at that cute shark's fin she has on!
The people from Pouf taught Scarlet how to decorate their cute unicorn cake.
Being a good listener isn't necessarily a talent, but we love how Scarlet paid close attention to Quark Henares' child-friendly rundown of Game of Thrones.
Look how fast Scarlet can solve her puzzle. Just imagine how she would solve bigger jigsaw puzzles once she grows up.
Before eating, Scarlet recites the Lord's Prayer with her family. She says it perfectly too!
Art by Lara Intong
Follow Preen on Facebook, Instagram, Twitter, Snapchat, and Viber
Related stories:
Scarlet Snow Belo Turns 2 With an All-Pink Party
10 Celebrity Babies Who Will Make Your 2017 Adorable
Get to Know the Newest Face of Belo Baby
All of the Best Moments of Dr. Vicki Belo and Dr. Hayden Kho's Paris Wedding
Leave the Kids Alone: The Problem With Celebrity Baby Rivalries