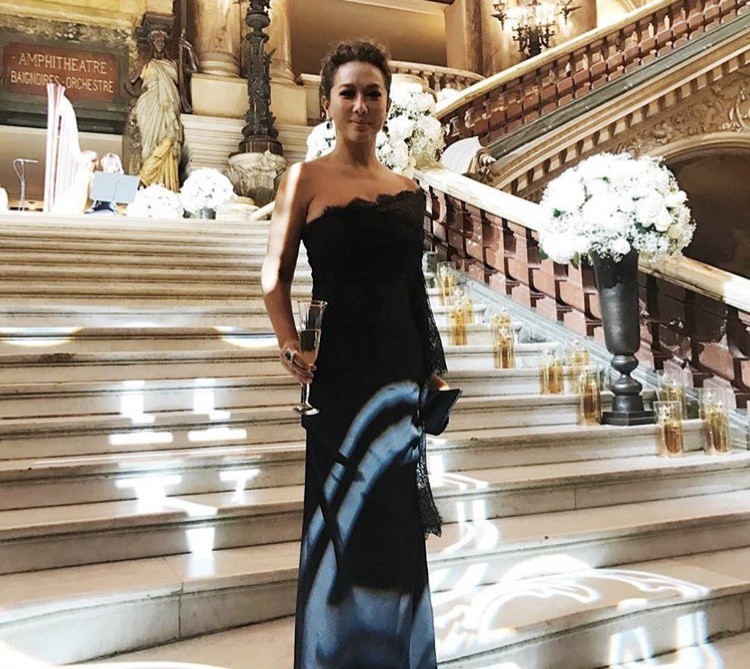 We won't deny it. Our office chatter and WhatsApp notifications are filled with how Korina Sanchez is looking good at 52 years old.
You know it's a feat as she stole the attention away from the much-talked about #aKHOandmyBELOved wedding. In her black Nicole Millner bustier gown, she looked great and definitely was a stand-out even among the other guests a few years her junior.
Korina even tells Chuvaness.com that she had to make a last minute adjustment to that gown. She added two strips of lace from Pepito Albert to the top part of the gown. She also mentioned how she got her hair done by the same hairstylist of Nicole Kidman and Marion Cottilard. "Ang mahal. But worth it," she said.
It looks like others have noticed how Korina is just #goals. She had to take to Instagram to answer one big question: What diet does she follow? Korina lives on a keto diet. "No shortcuts about it, sorry."
Shying away from sugar-highs, she also likes a cup of bulletproof coffee to keep her energy.
Korina is so fit she even went on a mountain climbing trip recently.
I guess that makes the small indulgences in Paris okay.
Still, we are quite envious how she can have dessert but still look amazing in a sleeveless top.
We're also taking note of how her skin looks smooth. Can you see a wrinkle? We don't.
That's it! We're hoarding more night creams and are considering going keto as well. Korina Sanchez-Roxas is our new life peg.
Photo courtesy of Korina Sanchez-Roxas' Instagram account
Follow Preen on Facebook, Instagram, Twitter, Snapchat, and Viber
Related stories:
Gretchen Barretto Proves You Can Eat Cake and Have a Hot Bod Too
4 Steps to Boost Skin Cell Metabolism and Delay Aging
We Asked Your Coaches What They Eat Before a Workout
8 Face Creams for A Bright, Healthy Face