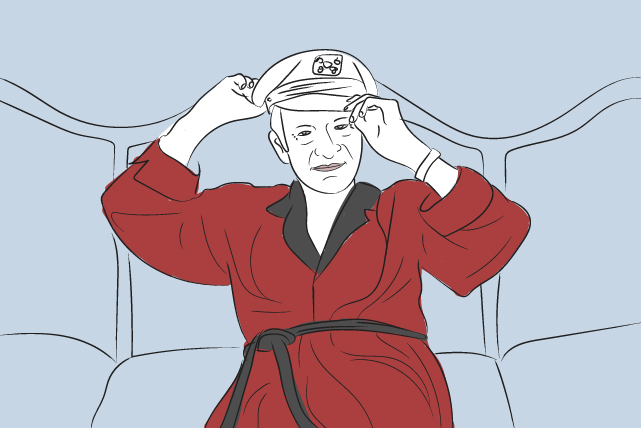 This column may contain strong language, sexual content, adult humor, and other themes that may not be suitable for minors. Parental guidance is strongly advised.
There's a humorous piece by Mona Chalabi in The New York Times that argues in favor of dating contemporaries. For men, that would mean not pouncing on girls young enough to be their daughters, and for women, that would mean avoiding dipping "a toe in the younger male waters," or, for younger women, not taking "an eligible older man out of the dating pool."
"We are socialized," she writes, "into thinking that men are like wine, they get better with time. Whereas women are like cheese, they get blue veins and start to stink." And at some point, she admits, she bought into this absurd mindset.
One of the most insistent proponents of this mindset was, of course, Hugh Hefner, the founder of Playboy magazine, who died this week. To him, it was not just a mindset, but a lifestyle, and the Playboy Mansion and its scantily clad buxom denizens were ready to party and f*ck every night were proof that yes, men's masturbatory dreams do come true.
However revolutionary Hefner imagined himself to be, he died a sad punchline. Despite the silk finery he costumed himself in, and the nubile blonde clones he surrounded himself with, each one barely distinguishable from each other, he remained stuck in a puerile fantasy of his own making, an icon of ickiness who insisted on unprotected sex, the pathetic victim of his own particular brand of hedonism that may have seemed exciting at the height of the sexual revolution, but ultimately revealed itself to be empty.
The other dangerous fantasy he peddled was that the Botox-ed and silicone-enhanced women, all seemingly molded from a soft-porn Barbie doll factory, lived in kibbutz-like harmony (except that this particular kibbutz was glamorous, not shabby), and that they were more than happy to perform sexual services according to their assigned shifts and permutations, in order to keep Hef aroused and sated, well up to the age of 91, when he died.
In his less Viagra-addled days, Hefner claimed to possess superior intelligence and a canny sense of the times. Indeed, interspersed between "tasteful" soft-porn images of breasts and hairless pussies that guaranteed every man a boner were deep, thought-provoking articles by serious writers and thinkers about some of the most provocative issues of the time, that guaranteed every man an intellectual erection. And yet, for someone so smart, for someone who proclaimed himself the harbinger of sexual freedom for both sexes, the poster boy for polyamorous community bliss, the man who had it all—Women! Wealth! Glamor! Fame!—on demand, who partook of the sexual smorgasbord before him whenever he wanted, his regard for women—and the way he maintained them—was really quite medieval. Ex-girlfriend Holly Madison, who became Hef's Number one girlfriend when he was in his 70s and she in her 20s, revealed in her memoir, Down the Rabbit Hole: Curious Adventures and Cautionary Tales of a Former Playboy Bunny, that life wasn't as fun at the Playboy Mansion as it was made out to be. The girls had a 9 p.m. curfew at the 22-room mansion; they were expected to take part in bizarre bedtime group sex rituals; they had to wait for him to hand out their $1,000 allowance every Friday after he reportedly picked dog poo off the stained, worn carpet; they were subject to his withering criticism about their looks and behavior, based on photographs he took of them every evening; they were encouraged to take drugs—Quaaludes were favored because they were "thigh-openers…" The list of gross goings-on in the mansion is a catalog of the decidedly unsexy, cruel, banal, and tacky.
So much for sexual freedom. He may have promoted freedom for men, but what he was also pushing was conformity for women. His lifestyle, and the empire he built around it, were intended for the male gaze first and foremost. In terms of looks, women had to conform to an ideal of beauty and desirability dictated by him and adopted by millions of men around the world throughout the last 60 years. Women ostensibly had the freedom to explore their sexuality and to indulge in sex for their own pleasure—as long as they conformed to the desires, fantasies, and fetishes of men. Hef's own desires, at the end of the day, were not so much pedestrian as pathetic. As Madison wrote:
"There was zero intimacy involved. No kissing, nothing. It was so brief that I can't even recall what it felt like beyond having a heavy body on top of mine… Needless to say, for me, sex was never the highlight of the relationship."
And let's not forget that as he forced his way into his 90s, f*cking without a condom whatever piece of ass he was paying a weekly allowance to, he turned into a most unattractive, albeit still wealthy, crumpled old man in a decaying mansion, dressed in that ridiculous velvet dressing gown, erections courtesy of Viagra, increasingly lost in a fog of forgetfulness. It's unfathomable to me that any man would still consider Hugh Hefner legendary and want to age the way he did. And it's equally unfathomable to me that any woman would want to sleep with a man who was at his core self-centered, misogynistic, miserable, and abusive. Was the price of fame worth stroking his wrinkled d*ck?
There was an astute comment by a reader on Mona Chalabi's piece that seemed to capture the essential vapidity of Hugh Hefner and the men who sought to emulate his lifestyle. "Men who are good and decent at 29 tend to remain so throughout their lives. The guys I've seen in their 50s, who wrestle with the loss of youth, and panic and act out due to insecurities, were guys who were running on ego in their 20s and 30s. Fragile egos don't age well but good men certainly do."
Hugh Hefner clearly preferred to go down in history as someone who shifted popular culture, heralded a revolution and championed civil rights, but at his core, he was just another man with a fragile ego. And he didn't age well at all.
B. Wiser is the author of Making Love in Spanish, a novel published by Anvil Publishing and available in National Book Store and Powerbooks, as well as online. When not assuming her Sasha Fierce alter-ego, she takes on the role of serious journalist and media consultant. 
For comments and questions, e-mail [email protected].
Disclaimer: The views expressed here are solely those of the author in her private capacity and do not in any way represent the views of Preen.ph, or any other entity of the Inquirer Group of Companies.
Art by Lara Intong
Follow Preen on Facebook, Instagram, Twitter, Snapchat, and Viber
Related stories:
Duterte's Softcore Porn Story Is an Inappropriate Speech Topic
What's the New Nickname for the 21st Century Sugar Daddy?
Why Do Men Overcompensate for their Lack of Ability to Rule?
Men Like Donald J. Trump Need to Give Up Toxic and Fragile Masculinity