When Joey De Leon made that insensitive comment about depression, the questions in my head ranged from "Why?" to "What the actual f*ck?" Amid the flak he's getting on the Internet, netizens also had one question: "Remember, Pepsi Paloma?"
Joey de Leon, people suffering from depression may commit self-inflicted harm and even suicide.

Remember, Pepsi Paloma?

— TDF (@kwentongupd) October 5, 2017
https://twitter.com/rylintao/status/915900127218327552
Joey de Leon you've never had my respect. Remember Pepsi Paloma.

— Mookie (@mookiebutter) October 5, 2017
Is it possible that Joey dismissed depression because of the Pepsi Paloma case? Let's investigate.
Pepsi Paloma was a young dancer and actress in the '80s. She was known as one of the three members of the Softdrink Beauties. In 1982 (Pepsi was 14), she filed a rape case against Joey, Vic Sotto, and Richie D'Horsie. However, according to a 2012 Philippine Daily Inquirer column, Pepsi was allegedly "coerced" by Tito Sotto to drop the charges against the three men. "[She] was allegedly visited by one of the trio who said he had only talked with her, but only after placing a pistol on the table in front of her," Rina Jimenez David wrote.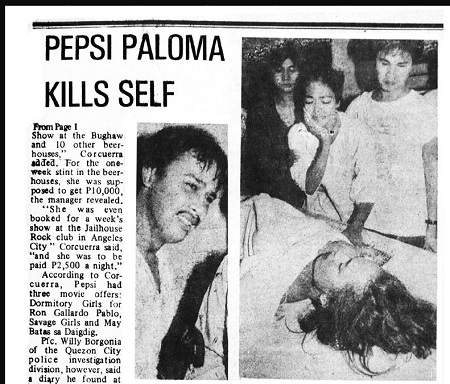 On May 31, 1985, Pepsi took her own life at 17 years old. According to the investigation, Pepsi's death was due to "monetary problems," but this was debunked by her manager Babette Corcuerra.  But it's also clear to many people that this was caused by two things: the trauma brought on by the gang rape and possibly depression.
Both are not hard to believe since depression and other mental illnesses are the leading causes of suicide globally. Everyday Health also cited that depression and suicide can be caused by trauma.
It's also worth noting how dismissive they are of the case. Neither Joey or Vic have spoken up about it after issuing a public apology in 1982. Sen. Tito Sotto even called the scandal a "gimmick" while making a point that he had no involvement in it. Now, we have Joey saying that depression is a made-up disease.
Does it sound fishy to you too? What do you think? Let us know your thoughts in the comments section and on our social media platforms.
Art by Lara Intong
Follow Preen on Facebook, Instagram, Twitter, Snapchat, and Viber
Related stories:
What We All Felt About Joey De Leon's Comment on Depression
We Need to Censor Sen. Tito Sotto and His Comment on Sexual Assault
How Rape Culture Starts With Simple Words
Why Spending Time Alone Is Good For Your Mental Health
7 Ways We Promote Rape Without Realizing It