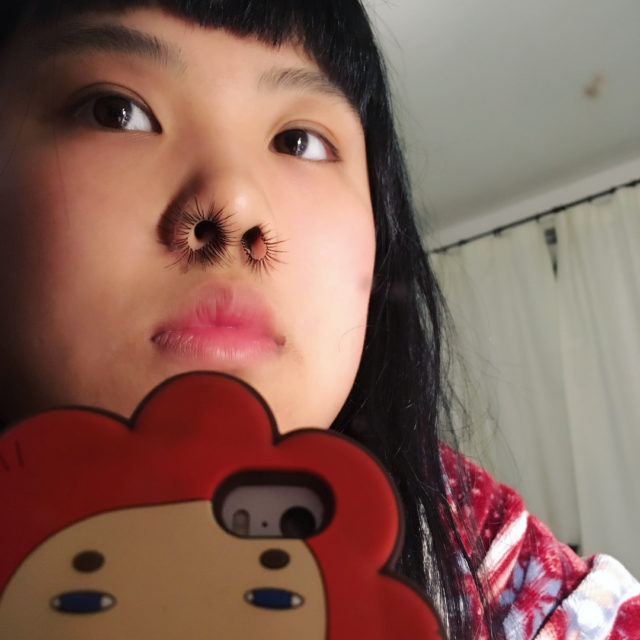 Is it just me or is 2017 producing a lot of weird beauty trends? I mean great for experimentation, but some are just borderline cray. Remember the barbed wire brows? How about the squiggly brows and lips? Glitter butts or even foiled freckles? Well, there seems to be a new trend going around Instagram and we're still pretty uncomfortable about it.
Allure picked it up first when it popped up on their Instagram's explore page. A lady with the username @gret_chen_chen probably has creativity and forsight beyond our understanding. She posted two selfies featuring nostril hair extensions. Yes, you read that right. She glued on falsies around her nostrils that's sorta reminiscent of Twiggy's eyelashes look.
With the focus on contouring our noses and applying just the right amount of makeup for it to take centerstage, are we all ready for a this new trend? I admit that I think it's uncomfortable and there's 100 percent chance I'll sneeze because of it. But beauty is about being open-minded, right?
Here's a deal, if you get to guess (and best if do) the next weird beauty trend, then I'd take you out for coffee. Serious.
[
Allure
]
Photo courtesy of Gret Chen's Instagram account
Follow Preen on Facebook, Instagram, Twitter, Snapchat, and Viber
Related stories: 
What are Eyebrow Tints and Do They Work?
Are You Ready to Try Barbed Wire Brows?
Why Watermelon Is the Next Big Thing in Beauty
Would You Draw On Squiggly Brows and Lips?
The Yellow Blush Trend That's Taking Over Instagram