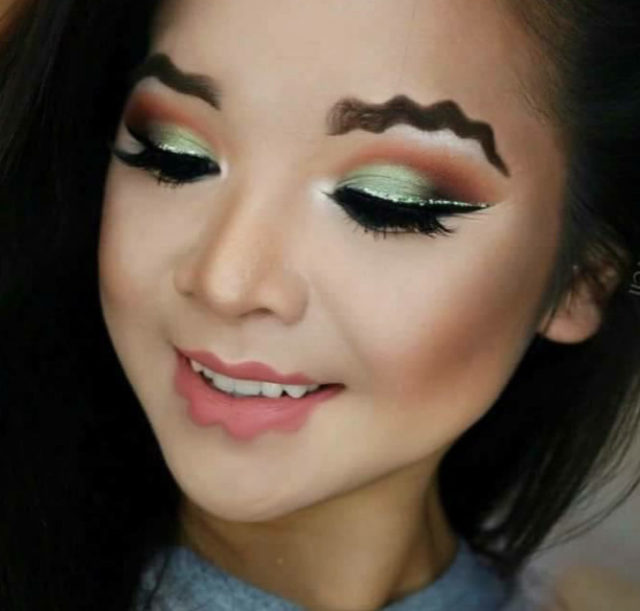 Updated on Sept. 5, 2017, 1:10 p.m.
When I saw someone tweet a photo of brows and lips drawn in squiggly lines, I thought it was a joke. But I didn't expect it to grow into a bizarre trend.
Beauty vlogger Promise Tamang-Phan started the brow trend when she posted photos of her squiggly creation on Instagram. PopSugar explained that Promise used washable PVA glue to flatten her brows and used high-coverage concealer, then drew the brows on.
People then started sharing their own creations via the #squigglebrow hashtag. Some followed Promise's method, while others got playful with their brow hairs.
New Eyebrow Tend Yay Or Nay? #wavebrows #squigglebrows #squigglebrow #WAVYBROW #wavybrows ? pic.twitter.com/6LjIm9KWHh

— ?✨Vivalapinkposh ✨? (@LaPinkposh) August 31, 2017
I interrupt your regularly scheduled #glitterbrows to bring you… #ferret #squigglebrows? ? Tag a friend who would love this! ? pic.twitter.com/WWxHFGsfU8

— Cyndi Shoeman (@CyndiShoeman) August 31, 2017
https://twitter.com/griiisela/status/904111214015500289
My version of the squiggly brow trend. #squigglebrows pic.twitter.com/0xDLOkTEXD

— Kali Harlow + (@KalElizabeth29) September 1, 2017
https://twitter.com/colbyjackDTX/status/904524644673302530
Then people got more creative and came up with "squiggle lips." This trend is like an optical illusion using lip liner and can be paired with the brow.
YouTuber Grace Helbig also attempted to do her version of squiggle brows and lips. She also did the same to her winged liner, blush, and bronzer. Now that's determination!
These all look cartoonish and confusing, just like feather and barbed wire brows. But, as Allure noted, a trend isn't exactly something wearable. In this case, the squiggly trend might just stay as an Instagram trend.
How about you? Would you try this trend?
Follow Preen on Facebook, Instagram, Twitter, Snapchat, and Viber
Related stories:
Are You Ready to Try Barbed Wire Brows?
Put the Tweezers Down: Kathryn Bernardo, Lovi Poe, and Bea Alonzo Are Rocking the Natural Brow
Here's How to Solve Every Brow Sitch You're In
Friendly Reminder: Don't Name Your Nail Polish 'Lip Liner'