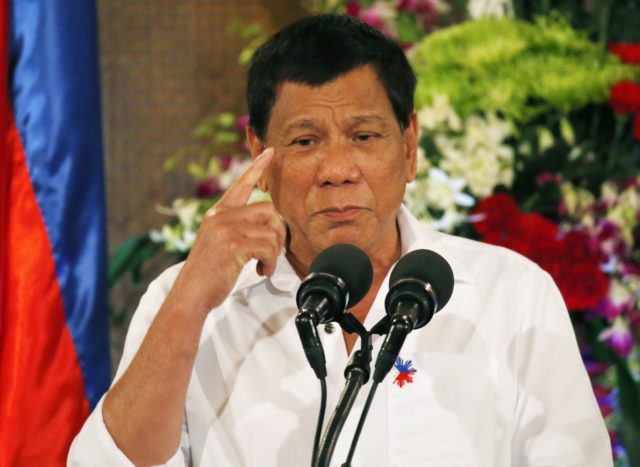 Ombudsman Conchita Carpio-Morales' term will end this July. She is one of Pres. Rodrigo Duterte's staunch critics and many are wondering who he will appoint in the position once she steps down. In a recent interview with Malacañang reporters, he made it crystal clear: "Gusto ko 'yung bilib ang tao sa integrity niya. Of course, it could not be a politician, lalo na hindi babae." (I want people to believe in their integrity. Of course, it could not be a politician, especially not a woman.)
Hold up, that criteria doesn't sound quite right. What is with the emphasis on not getting a woman to do the job? Duterte added that the Judicial and Bar Council (JBC) will give him a shortlist of nominees for the position. But given this declaration, we now know his mindset. Remember that Duterte said—well, Sen. Pia Cayetano did—he'll give equal opportunity for women in the current administration. This is obviously contradictory to what he claimed that and there's not even an exact reason as to why Duterte would rather not appoint a female ombudsman.
It doesn't say in The Ombudsman Act of 1989 that the position should be held by a certain gender. It only states, "The Ombudsman and his Deputies, including the Special Prosecutor, shall be natural-born citizens of the Philippines, at least forty (40) years old, of recognized probity and independence, members of the Philippine Bar, and must not have been candidates for any elective national or local office in the immediately preceding election whether regular or special. The Ombudsman must have, for ten (10) years or more, been a judge or engaged in the practice of law in the Philippines. "
Does he believe that women can't accomplish tasks because of their gender, or does he believe they are incompetent? (Though I'm pretty sure that "being a sexist" is number one on his agenda.)
Meanwhile, here's another important concern: how Duterte's ombudsman appointee, as well as the chief justice, will shape the future of Philippine democracy. The recent ousting of Ma. Lourdes Sereno alone is already being questioned and reviewed because, according to the Constitution, she is only allowed to be impeached.
If Duterte only cares about integrity (and gender) of the new ombudsman, as well as how the public will receive them, over their ability to serve the country, then we might have a problem in our hands. For now, let's wait and be diligent of what our next move as citizens will be.
[
Inquirer.net
]
Photo courtesy of Inquirer.net
Follow Preen on Facebook, Instagram, Twitter, and Viber
Related stories:
Don't Give Pres. Duterte a Free Pass For His 'Shoot in the Vagina' Joke
Pres. Duterte's Cuss Words and Threats Doesn't Mean He's a Tough Guy
These Women Defended Duterte's Catcalling, Sexist Comments, and Adultery Jokes
Why Misogyny Is Alive and Kicking in the 21st Century