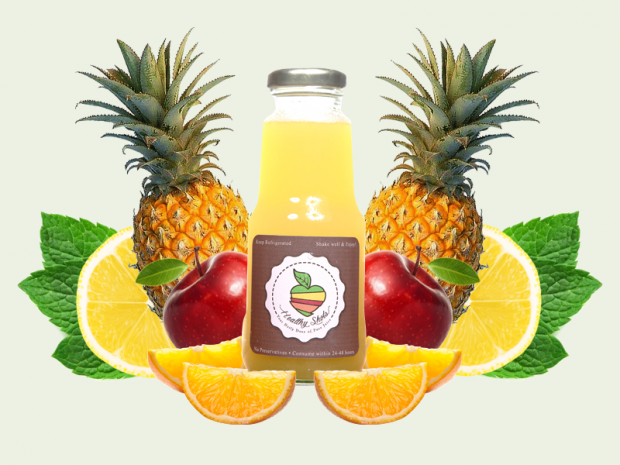 While most local juicing companies like to repost photos of artistas holding their product, the team behind Healthy Shots Manila frequently turns the camera on themselves. That's because the company is run by model couple Chelsea Robato and Christian Busby, along with Philippine Volcano Harry Morris and his girlfriend Princess Manzon. The two couples met, of all places, while taping a reality TV show.
Bolstered by a common interest in clean living, it was Princess' idea to bring the Cebu-based Healthy Shots to Manila. Apart from promoting a healthy lifestyle, they also took into consideration the impact their business would have on the environment. They source their vegetables from 500 farmer partners based in the Marikina Watershed where organic farming and fair-trade policies are practiced. They also encourage customers to let them by buy their bottles for reuse.
Program: While some people don't agree that your body needs a detox, Chelsea forms a pretty convincing argument here. Healthy Shots offers seven flavors that form their one-day detox program. If it's not your first time to cleanse, you can extend the program up until seven days. On a daily basis, shots can also be combined to create pre- and post-workout juice shots.
Each program comes with two teabags per day (one for the morning, and another to encourage quality sleep), plus a guide on how to carry out your detox, and a list of pre-approved solid foods if you're still easing your way in.
Healthy Shots appears to be up-to-date with health food trends with the inclusion of kale in their Purifying, Cleansing and Age Defying flavors, turmeric in their Glowing flavor, and chia seeds and acai in their Booster flavor.
In addition to juices, they offer pasta salads and are also developing smoothies, fresh salads, and healthy desserts.
Rates: It was important to the Healthy Shots team that their detoxes are affordable because they want to encourage everyone to live healthier lifestyles. As a result, their prices are about two-thirds of the rates offered by other juicing companies. A full one-day detox with seven bottles is just P1,050.
Delivery: All deliveries within Metro Manila are subject to a P150 delivery charge. Orders must be submitted 24 hours before the start of your cleanse.
For pick-ups, they have a stall at the Farmer's Market in Mandaluyong. Healthy Shots is also available by the bottle at G-Stuff in Power Plant Mall, Glorietta, Robinson's Galleria, and Gold's Gym in Katipunan.
Healthy Shots Manila. Pioneer corner Reliance Streets, Mandalurong. Across TV5 and behind HRM. (0915) 7897878. [email protected]. Visit them on Facebook and Instagram.
Photo by Patrick Segovia
Collage by Dorothy Guya