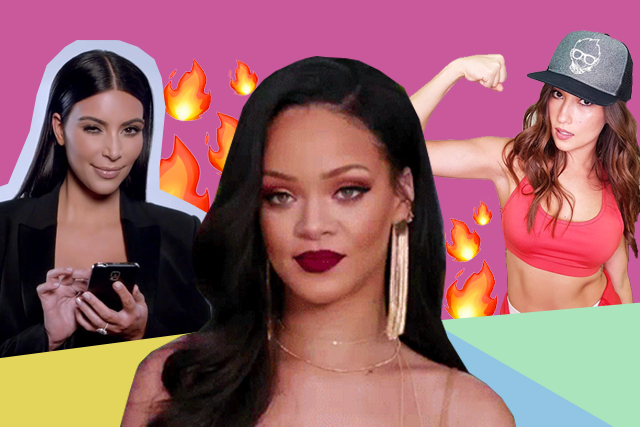 As Kris Aquino sends out halo-halo #parayoucanchill, we thought this would be a great time to commemorate the celebrities who delivered sick burns. Some of them are subtle, some of them are very overt. All of them have made us stop and do a slow clap. Others are Chrissy Teigen.
https://twitter.com/chrissyteigen/status/509728431094104064
It's fun when celebrities clap back because it shows their true character. It's the type of thing that makes them relatable to us. From these burns we also get a few memes, hashtags, and references to use in our arguments.
From the scale of 1 to Taylor Swift's "Look What You Made Me Do," here are the other times celebrities didn't hold back their tongue.
#1 Rihanna, the Coke incident, and her love life 
In 2015, the ever-so-infalliable Rihanna was accused of snorting cocaine. In a few deleted tweets, Rihanna responded to fans who asked her if she was doing drugs. But she got her composure back and just posted this old photo of herself drinking a can of Coke with the appropriate hashtag. Rihanna is the queen of other clapbacks though especially when it comes to questions about her love life with lines like "Wow, how disappointing was the question?"
#2 It's Giorgio, not Georgio, Kim! 
@KimKardashian Dear Kim – let us know which one you need and we'll send it to you. And Mr. Armani's first name is Giorgio.

— Armani (@armani) June 15, 2015
When Kim Kardashian misspelled Giorgio Armani's name as she lamented that her favorite foundation from the brand is going to get the axe, the fashion and beauty label responded on Twitter with equal parts of acid and sugar. God bless whoever is manning Armani's Twitter account.
#3 Saab Magalona Isn't Afraid of Trolls 
HAHAHAHAHAHA BEC MASS MURDER IS HILARIOUS ESPECIALLY WHEN IT'S OUR REALITY!!

— Saab (@saabmagalona) September 5, 2017
Instead of backing down from the people who challenged her opinions and giving, insults, Saab continued on with her cause. She maintained that she won't be silenced despite how others kept going after her. Take notes, y'all!
#4 Solenn Heussaff and a Lesson on Consent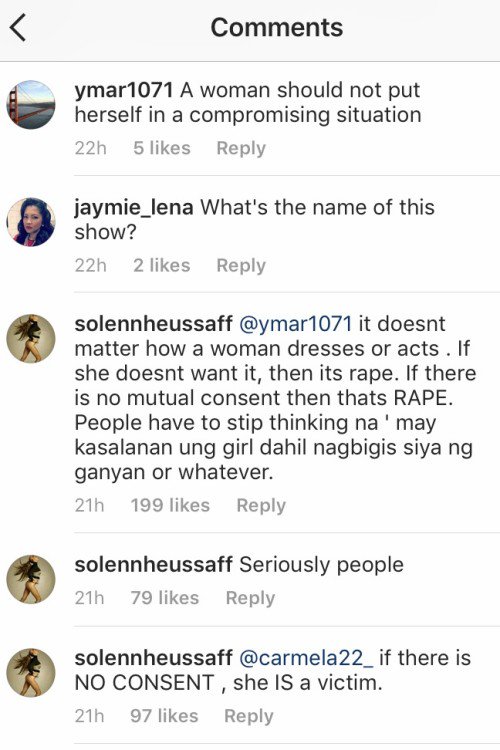 Solenn taking time to educate people Instagram about rape and consent should be part of this list. It's not just a sick burn but a free lesson that we all should do whenever the opportunity arises.
#5 Mila Kunis Chewing Out a Reporter In Russian 
In fluent and cutting Russian (perhaps the most brutal of language to deliver a take down), Mila Kunis defended Friends with Benefits co-star Justin Timberlake. The reporter asked an inane question why Justin was in movies. Watch this subtitled video above how Mila didn't hold back.
#6 Mariel De Leon vs. Mocha Uson 
Didn't mention anything specific, but hey! If you're affected, I guess the shoe fits perfectly! ?#SashayAway

— Mariel de Leon (@mariaangelicadl) August 19, 2017
My favorite part in the exchange between the beauty queen and the, err, PCCO assistant secretary is how Mariel used the hashtag #SashayAway in those now deleted tweets. It's a reference to the line RuPaul would say to the contestants in RuPaul's Drag Race. It shows class and being above the mess while maintaining what you believe in. A close second is Sen. Nancy Binay's ultimatum to Mocha at the recent Senate probe, "…it's high time for you to decide kung gusto mong maging Asec or kung gusto mo maging blogger."
#7 Andy Murray subtly checking your facts 
https://twitter.com/_JamieMac_/status/885189154128224257
When Andy Murray lost his spot at the Wimbledon early this year, he made up for it winning in the post-game interview. When a reporter made the mistake of saying he is the first US player to reach a major player since 2009, which discredits the achievements of Serena Williams and Venus Williams, among many other female tennis stars, Andy was quick to correct it ever so smoothly.
Art by Lara Intong 
Follow Preen of Facebook, Instagram, Twitter, Snapchat, and Viber
Related stories: 
Kris Aquino Owns the Internet Once More with Sick Burn to a Hate Comment
Solenn Heussaff Teaches Followers About Rape and Consent
Mocha Uson Doesn't Know What Freedom of Speech Means
Mocha Uson Responds to Beauty Queen Mariel de Leon's Tweets on Violence