Chicks have it tough.
When rumors of a romance between celebs Janice de Belen, 46, and Gerald Anderson, 26, began circulating, the outcry wasn't so much about Gerald's abbreviated relationship with fellow actor Maja Salvador so much as it was, "WTF was he thinking?!"
It seemed inconceivable for Gerald, a conventionally attractive young male, to have swapped partners for the much-older Janice. Granted, all three parties have categorically denied the relationship. The issue isn't so much about the rumored participants in this May-December romance but the polarizing backlash.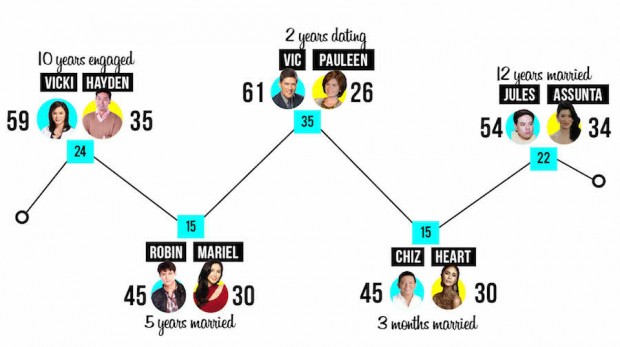 How many people lifted an eyebrow when Vic Sotto started seeing Pauleen Luna, who happens to be 34 years his junior? Which, let's be honest, is a creepy large age gap. That's Woody Allen-Soon-Yi Previn levels of gap, right there. Instead of criticism lobbied against Vic's three-decade-young-dip into the dating pool, the actor's been called a stud for nabbing young girlfriends. Ahh, patriarchy.
If in some alternate universe, Pauleen was the December in that May-December relationship, what would that look like? Certainly not as easy peasy as Vic has it.
Older women dating young have to suffer ridiculous stereotypes: an object of pity, criticized harshly for being "desperate," "pathetic," and to put it in local terms, willing "na magpa-loko."
So to put it in context: Guy with numerous conquests is a winner. In 2015, a woman with a, let's call it "adventurous" Tinder habit, can still be called "loose." A woman dating below her age group? Don't get the Internet trolls started. There's that good old double standard.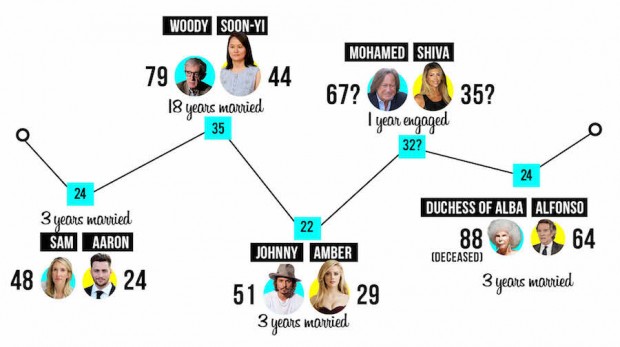 We're not saying don't date young or old. Far from it. We just happen to agree with the old saying: what's good for the gander is good for the goose. So if dudes get a hall pass for dating young, then the same goes for my ladies out there.
So whether or not Janice and Gerald are nurturing a passionate secret affair is irrelevant. People need to chill the eff out and cool it when it comes to judging women about their sex lives and dating habits.

Infographic by Mon Tan
Couple timelines by Janine Alcantara