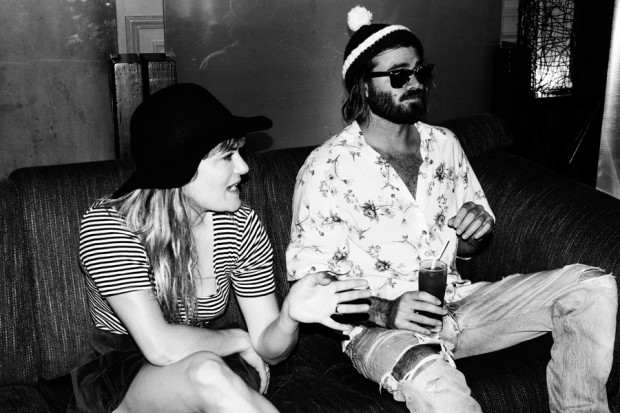 Clad in easy stripes and floral prints, Julia and Angus Stone are ready to serve up some folk and indie pop realness in this evening's CloseUp Forever Summer. But before they do, we got five minutes to ask them about marketing genius Malcolm Gladwell, life on the road, and going on safaris—in Holland.
You've been around for quite some time in the music industry. How do you think your music has matured?
Julia Stone: When you play so many shows in a year and tour as much as we do—we're a big touring band so we spend a year on the road—you become more confident in so many different aspects from singing, to the microphone, to knowing how you move your hands around the guitar, as well as listening to everybody in the band. That all helps. It's like that book by Malcolm Gladwell, the 10,000 hours thing. It doesn't matter if you were born with the gift to sing—I do really believe that it's practice and dedication. Your music will naturally evolve. We had some time apart as well, we built some self-confidence during that time.
What's the most memorable song that you ever did?
Angus Stone: When I think about the recording process of Julia and Angus Stone… We were in Malibu, everyone was just going for a smoke and having some tea. Julia just sort of wandered off and started strumming her guitar. Rick Rubin, our producer, is just recording her, she didn't even know she was being recorded. This really beautiful song came out of it called "Death Defying Acts," and it's just one of those songs that she didn't know she was being watched. She was just in her own world, and creating this beautiful piece of music.
You've been invited to music festivals everywhere. What has been the craziest festival experience for you so far?
AS to JS: What's the craziest so far?
JS: What about that one where we turned up in Holland, it's called "The Best Kept Secret?" We've had a massive night before we've been in the Hurricane Festival in Germany. They had free Jäegermeister—everybody just had a good time. And so we got there, we turned up in the next festival. We went to our backstage and these two guys came in and said, "Whenever you're ready, we'll take you to the safari." We're like, what? We're in the middle of Holland! Anyway, it turned out we're in the back of a truck driving through what was like an African safari park with lions, giraffes, zebras—it was really beautifully set up. The festival is right next to us, so as you're driving round seeing all the animals, you'll see Belle and Sebastian sound-checking. It was a really nice day. We played right at this lake and everyone's swimming right after the show. It's not that crazy but it's beautiful.
What do you look forward to when performing at music festivals?
JS: In this evening's festival, we were told that after we play, it's gonna be a dance party. The place looks good, and the stage is well set-up. Beautiful visuals, beautiful set up. Maybe there are DJs playing after us, which will be fun. It'll be fun to hang out.
Catch them in their element at this year's CloseUp Forever Summer at the SM Mall of Asia Concert Grounds.
Photos by Jash Manuel