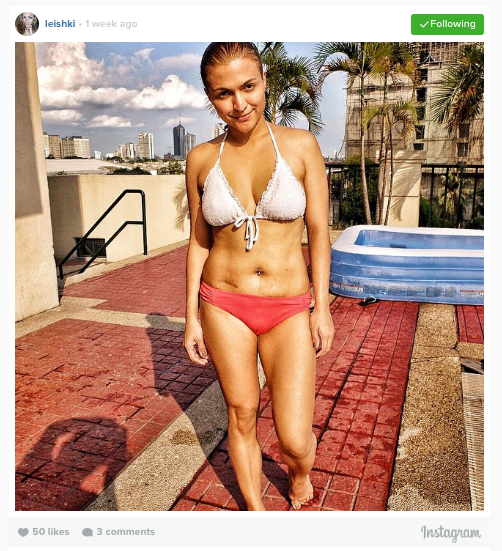 When Lei Hosseinzadeh-Ang tagged a picture of her postpartum bikini body with the hashtag #mombod on Instagram, she wasn't expecting Elite Daily to pick up the photo and include her in their post entitled "Women Are Sharing Photos Of Their Mom Bods To Prove Beauty Has No Standard."
When a friend tagged her on Facebook with a link to the Elite Daily post, she reposted it saying, "Ok I'm not sure if we have the same idea of what 'mombod' is. But I was shocked to see myself here." It's one thing to express your sentiments to whoever will stumble on your photo on their feed, but it's another to see a picture of yourself in a bathing suit go viral alongside a bunch of other women.
In the wake of all of the discussions surrounding dadbod, it was only a matter of time that the Internet also started to shed light on mombods. Thing is, no matter what's being said about dadbod (a new aspiration, a new identifier, a new dangerous sexist concept, etc.), mombod is also ushering in a whole lot of baggage women have always been subjected to.
"I wasn't really sure what to feel," she tells us about her initial reaction to the post. "But at the end of the day, my Instagram account is public and I put a #mombod hashtag in the photo they they grabbed, so I guess I don't have any right to complain."
Or doesn't she?
While the term "mombod" is open to interpretation (as is dadbod), we can be clear about one thing: it's a label, and that's exactly what's problematic about the term. It's another category in which to place women's bodies under. It's become a public opinion that other people have expressed about Lei's body.
Revisiting the original description of dadbod, which is "a nice balance between a beer gut and working out," and applying it to mombod, it follows that for women, a gut comes in the form of newly deflated post-pregnancy belly. When applied to women who haven't given birth yet, the implication is that you aren't exactly in the best shape of your life. Which is fine because not everyone is super-fit.
But for a woman like Lei, whose Instagrams are "80-percent exercise posts," it's understandably a bit of a blow to the ego, especially for someone who works so hard to be fit. "They're my battle scars. I call them my son's work of art," she says of the physical changes, post-pregnancy. "And from there I build a stronger and fitter body."
While the movement behind mombod is coming from a sincere place, it's only added to the confusion surrounding women's bodies. So rather than telling women what types of bodies they're allowed to have, can't we just leave them alone?