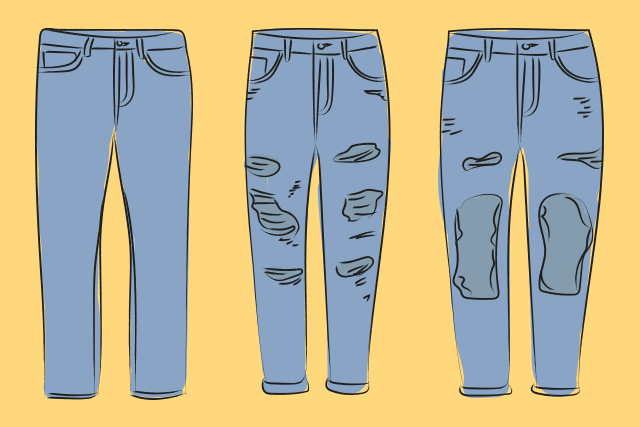 Various fashion trends evolve in different ways. Clothing and accessories often get updated with a few tweaks here and there. One piece that went through drastic makeovers throughout the years are denim jeans.
Aside from their fit and colors, jeans have been subjected to several cuts and rips. It started out from simply distressing the hems to something almost unwearable. See what we mean with this in-depth look.
Regular jeans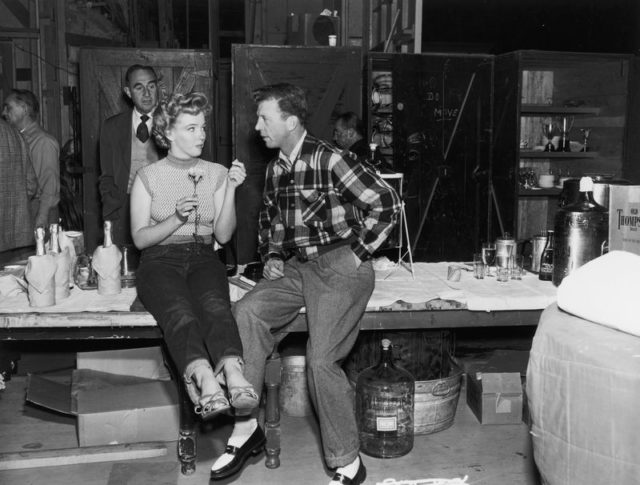 Let's start at the beginning. Blue jeans were first invented in 1873 by Levi Strauss and Jacob Davis. These were originally made for male laborers at the time as denim didn't rip easily while they did heavy lifting, among other tasks. Plus, they were comfortable to move in.
Fast forward a few years, these pants became cowboy and cowgirl staples for the same reason. Actors James Dean, Marilyn Monroe, Elvis Presley, and Marlon Brando also contributed in the popularity of jeans when they wore them in films.
Distressed jeans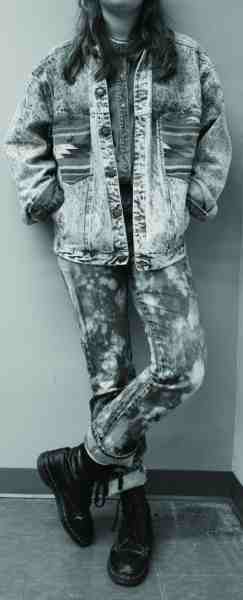 Distressed jeans are described as pants that's gone through wear and tear via years of use. These became popular in the '70s thanks to punk bands like Sex Pistols. These would range from color fading to rips seen on hems and pant legs.
Ripped jeans stage 1: Knees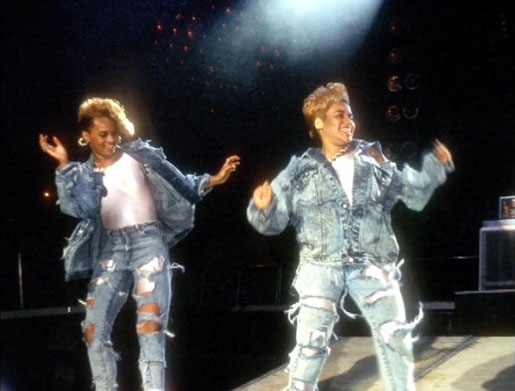 Following the distressed trend, people started opting for jeans with holes on the knees. The '90s grunge era heralded this trend, and the rips symbolized a person's "anger towards society." This went on to be a staple years later, with people customizing their jeans for that rebellious look.
Ripped jeans stage 2: Thighs
Because knee-holes weren't enough, ripped jeans started exposing thighs. Gigi Hadid and Kim Kardashian were spotted wearing this style wherein the holes expanded above the knee. Meanwhile, fashion girls would also wear fishnet stockings underneath this type of ripped jeans.
Ripped jeans stage 3: Butt cheeks
Last year, Kylie Jenner made "ripped-butt jeans" a thing. Because why not, right? It's like the equivalent of the boob shirt from Mean Girls: It's absurd but people got into it by destroying their jeans at home.
Ripped jeans stage 4: The whole leg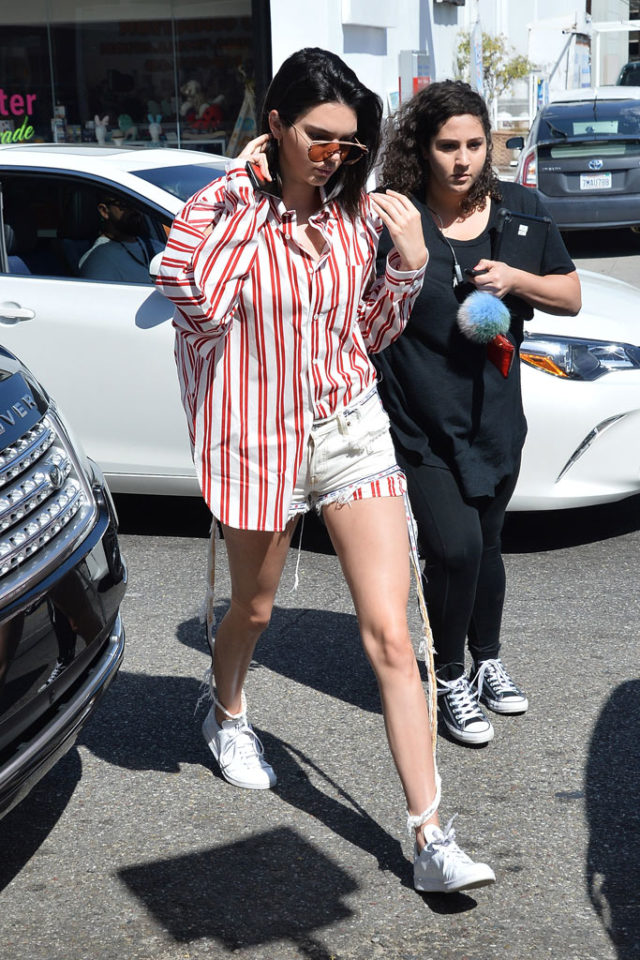 Are they shorts or pants that are hanging on for dear life? Whatever it is, Kendall Jenner took the "naked pants" trend seriously when she was seen walking the streets of LA. (Honest note: We want to cut what's left of her pant leg.)
"Thong jeans"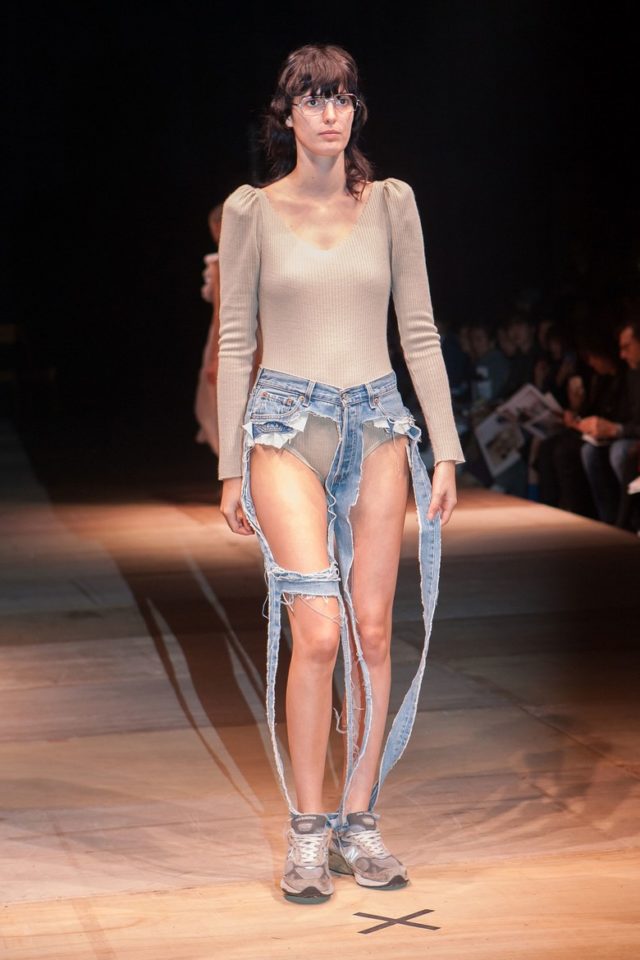 Thibaut recently debuted an absolutely destroyed pair of jeans at Tokyo Fashion Week which only had a waist band and strips of fabric for the pant legs. It doesn't have a cover for the crotch area, and the back only had a thin thread. Hence, the name "thong jeans."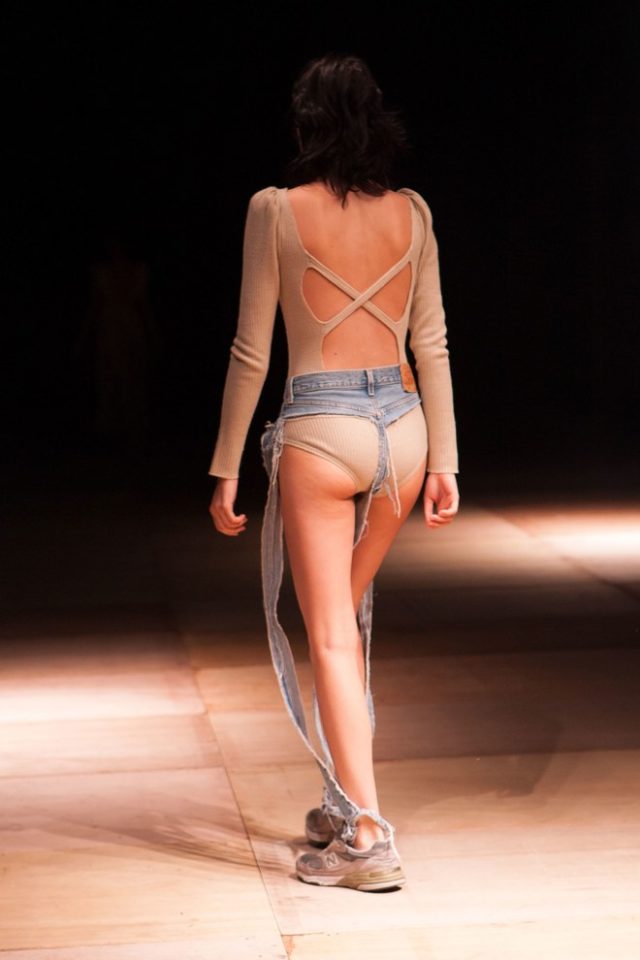 Two questions: How? Why?
Art by Lara Intong
Follow Preen on Facebook, Instagram, Twitter, Snapchat, and Viber
Related stories:
How to Rock Jeans As Eveningwear Like Pia Wurtzbach
Kendall Jenner Admits to Trying to Steal a Pair of Jeans on Set
A Pair of Jeans That Trims Your Waistline and Gives You a Butt
5 Styles That Will Make You Excited to Wear Jeans Again
France's First Lady Brigitte Macron Met Rihanna in Jeans