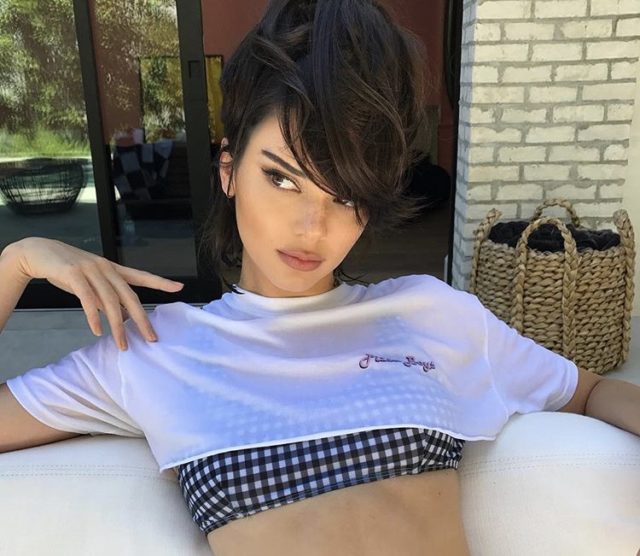 Kendall Jenner's closet is unsurprisingly two rooms big with shelves upon shelves dedicated to shoes and designer bags. In Vogue' s "Supermodel Closets," you'll get a tour of the said space plus a few fun facts about Kendall's style.
Created with YouTube's 360 feature, you can scroll your way around Kendall's closet as she talks about a few pieces that mean a lot to her and pieces she's currently loving. She also admits to trying to steal a pair of Marc Jacobs jeans from a shoot with Vogue (Oops!) which she was unsuccessful at doing. "I got them sent to me because they heard I tried to steal them."
She also talks about the family tradition of getting new pajamas on Christmas eve. They were quite cute, and why am I surprised that the Kardashian-Jenners ditch the ugly Christmas sweaters. Other than this Kendall reveals how she likes to bring her Hermès bag (a find from a vintage spot) for the airport and her love for thigh high boots, even making an effort to put on the crazy pair from the Vetements collab with Manolo Blahnik.
Finally, Kendall also talks about the skimpy silver dress she wore on her 21st birthday. Apparently, she had the dress made with a reference photo of Paris Hilton wearing that dress, without realizing it was Paris. "How the world works is pretty amazing and I love it," Kendall says about the coincidence.
Photo courtesy of Kendall Jenner's Instagram account
Follow Preen on Facebook, Instagram, Twitter, Snapchat, and Viber
Related stories: 
Which Sister's Closet Does Kendall Jenner Want to Raid?
Does Kendall Jenner Deserve All the Hate?
If You're Kendall Jenner and You Don't Tip, Expect the World to Find Out
What Lena Dunham and Madonna Think About this Soda's Tone-Deaf Ad