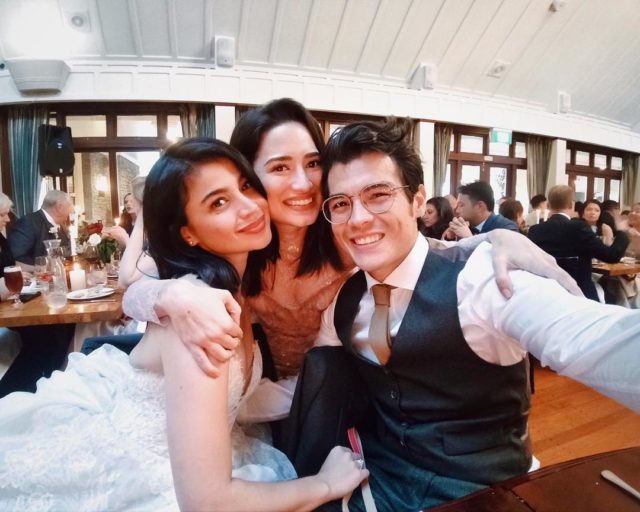 #TheWanForAnne might be over but our feeds are still flooding with pictures and videos from the wedding and reception. From the heartfelt speeches to Erwan Heussaff's strip tease, we thought we'd round up some of the best moments at the reception. Which one is your favorite?
The Cake
The couple's furry babies couldn't be there but they were still incorporated in the reception. On top of Anne Curtis and Erwan's wedding cake were figures of the couple and their six pets.
The Speeches
The speeches given by Anne and Erwan's closest friends and family were a mix of comedy and emotion. Isabelle Daza talked about how they balance each other out while Erwan's father brings up the topic of grandchildren.
The Lap Dance
Probably the most talked about moment at the reception was Erwan giving Anne a lap dance before removing her garter. As he started to strip, you can see Anne trying to hold her composure. Marc Nelson also gave a lap dance for the lady who caught the bouquet.
The Bouquet Toss
Most of the single ladies look forward to the bouquet toss at weddings since the one who catches it said to be the next one to get married. At #TheWanForAnne, Erwan kept Anne steady as she stood on a chair, ready to throw the bouquet. So who was the luck lady? CJ Jaravata.
The Dance-Offs and Sing-Alongs
After the formal program, all there's left to do is sing and dance. Watching the videos, it looked like everyone had a good time. Nico Bolzico and Isabelle showed off their dancing skills while Anne and Erwan sang along to the music.
Photo courtesy of Nicole Andersson's Instagram account
Follow Preen on Facebook, Instagram, Twitter, Snapchat, and Viber
Related stories:
See the Colorful Gowns and Jumpsuits Guests Wore to #TheWanForAnne
Why Anne Curtis' Wedding Shoe Could Start a New Trend
JUST IN: Anne Curtis and Erwan Heussaff Tie the Knot in New Zealand
A Peek Into Anne Curtis and Erwan Heussaff's Pre-Wedding Party