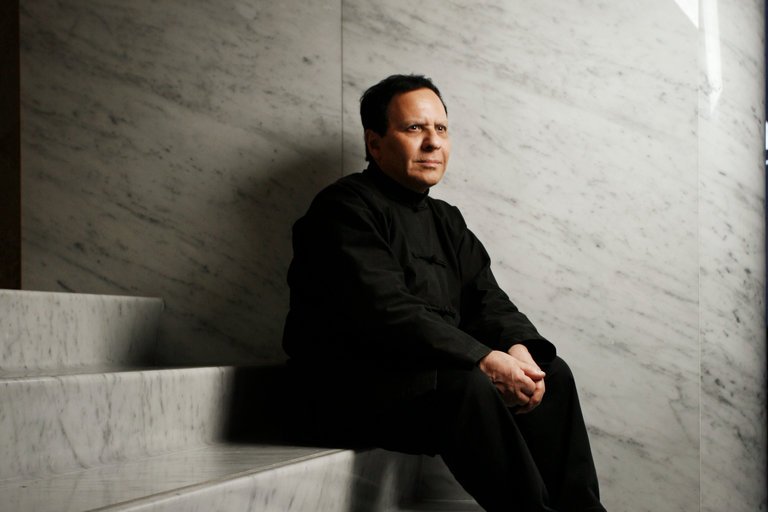 Designer Azzedine Alaïa passed away at  in Paris, leaving the fashion world in mourning. He was a man and a brand that gave life to designs that complemented the wearer's body with silhouettes that gave credence to his background in sculpture. He was known as the "King of Cling." There is a little dispute about his age, whether 77 or 82 years old, as The New York Times points out that Azzedine was born in 1935 but other biographical sources claim that he was born in 1940.
Loving clients, colleagues, and various fashion insiders like Madonna, Kim Kardashian, Kourtney Kardashian, Nicki Minaj, Rihanna, Stephanie Seymour, Mario Testino, Riccardo Tisci, Marc Jacobs, and Suzy Menkes expressed the impact the designer had on their lives.
Vogue maps out his journey from Institut Supérieur des Beaux Arts in Tunis where Azzedine came to an epiphany. "When I realized I couldn't be an amazing sculptor, I changed direction."
He then turned his eye to fashion design. In 1957, he moved to Paris. Shortly after, he started working for Dior. He then lent his expertise to Guy Laroche and Thierry Mugler. Eventually, through clamour of his patrons, Azzedine established his own fashion house.
Greta Garbo would be a regular at his atelier along with the '70s most celebrated stars. Azzedine would then prove to be instrumental in the careers of fashion's biggest names like Naomi Campbell.
Early this year, Azzedine presented his first couture show since 2011. It featured Naomi as the first and last model of the show.
https://www.instagram.com/p/Bbo68ZLldi5/?taken-by=stefanogabbana
Posts of the Clueless scene where Cher Horowitz says "Oh, you don't understand. This is Alaïa" have popped up. She says it as a mugger asks her to lie face down on the concrete parking area. Perhaps it's one of the most succinct ways to describe how an Alaïa creation was revered. You'd defend it at gunpoint.
https://www.instagram.com/p/BbqbjIwlxr7/?tagged=azzedinealaia
Rest in peace, Mr. Alaïa.
Photo courtesy of The New York Times
Follow Preen on Facebook, Instagram, Twitter, Snapchat, and Viber
Related stories:
What's the Craze Over Alaïa's Comeback to Paris Couture Week?
Cindy Crawford and Dita Von Teese Mourn the Death of Hervé Léger
Sonia Rykiel Passed Away at 86
What Motivation Means to a Fashion Designer