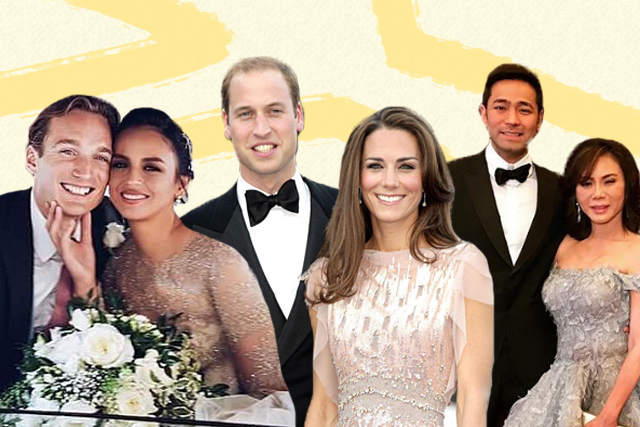 Who doesn't love a good wedding? No matter how cheesy it can be, it gets a lot of likes from us. It also helps when it is a little over-the-top. We can ogle at the details for days. Think of most recent one that took over our viral alerts: #TheWanForAnne. From the Vera Wang dress and Saint Laurent shades combo she wore for the welcome dinner to the outdoor location in Queenstown, New Zealand, I'm low-key still looking over the photos until now.
Another big wedding that recently caught our attention is that of Serena Williams and Alexis Ohanian. We love three dresses Serena had (her wedding gown was by Sarah Burton for Alexander McQueen while her reception dresses were from Versace) but also the surprise carousel she got from Alexis. Remember all those times you wanted a rocking horse as a kid? You should have definitely aimed higher.
With the wedding and engagement rush on our minds, we decided to list down more extravagant wedding details that make us dream of our own wedding. It's also a study on just how far you can go when expressing your love through some serious moolah.
Kim Kardashian and Kanye West: Flower Wall
It's been reported that the KimYe wedding cost a cool $12M. Not surprised at this given the magnitude of their combined celebrity influence (and checking accounts). But the ultimate display of lavishness came in the form of a huge flower wall Kanye surprised Kim with for the wedding. People reports that it was made by Fiori Della Signoria, a flower shop in Florence and that the wall costs around $136,000.
Vicki Belo and Hayden Kho: Palais Garnier
The #aKHOandmyBELOved wedding was scrutinized, re-tweeted, and shared for weeks. There were just so many things that made this wedding beat every other fairy-tale nuptial. The biggest detail of them all is how the Khos rented out the Palais Garnier for their reception. Guests were even serenaded by opera singers as they went up the steps of the hall. It's no wonder that guests like Georgina Wilson and Isabelle Daza, who wore their designer wedding gowns still felt a little under-dressed.
Kate Middleton and Prince William: Security Service
Buzzfeed notes that when it comes to the royal wedding, you have to give a little shout out to the amount they spent to keep it all safe. When you have the next King of the United Kingdom, you got to make sure you eliminate all threats. For their wedding day security, the royal couple spent $32M. This is way more than what was reportedly spent for the flowers ($800,000), food ($150,000), and champagne ($60,000).
Georgina Wilson and Arthur Burnand: Monique Lhuillier Wedding Dress
When you've got a wedding that lands an online Vogue Australia feature, you know you've got a good one. There are many things to love about Georgina's classic English wedding but let's fixate on her Monique Lhuillier gown. It's called The Elizabeth and costs around $10,000.
Amal Alamuddin and George Clooney: Aman Canal Grande
https://www.instagram.com/p/8ykEQBvOkT/?taken-by=amalclooney
Have you ever heard of a seven star hotel? No? You clearly were not invited to the wedding of Amal Alamuddin and George Clooney. The international lawyer and Hollywood star exchanged vows at the Aman Canal Grande in Venice. The opulent, modern Asian-inspired hotel is very exclusive with just 24 suites and a standard room could pay for a humble honeymoon at around $1,1500 a night.
Gucci Mane and Keyshia Ka'oir: $75,000 Wedding Cake 
When rapper Gucci Mane got married to model Keyshia Ka'oir, he cut their wedding cake with a sword. What else do you use when you cut into something that is 10 feet tall? Hypebeast says that the cake took three days to bake and consisted of 8,000 handmade sugar flowers. The cost? $75,000 which is not much since the entire wedding was around $1.7 million.
Song Joong-ki and Song Hye-kyo: Wedding Bouquet
This reel to real life Descendants of the Sun couple got married in a media frenzy earlier this month. Amid all the buzz about the wedding, Hye-kyo's bouquet that amounts to an estimated $8,900 stood out for its price tag. It's said that it costs more than her wedding ring. The bouquet is made from Lily of the Valley which needed to be imported to Korea and commands such a high price because they only bloom in May.
Art by Lara Intong 
Follow Preen on Facebook, Instagram, Twitter, Snapchat, and Viber
Related stories: 
See the Official Photos from Song Joong Ki and Song Hye Kyo's Wedding
JUST IN: Anne Curtis and Erwan Heussaff Tie the Knot In New Zealand
Who Were the Stylish Bunch Present During Georgina Wilson's Wedding?
All of the Best Moments at Dr. Vicki Belo and Dr. Hayden Kho's Paris Wedding