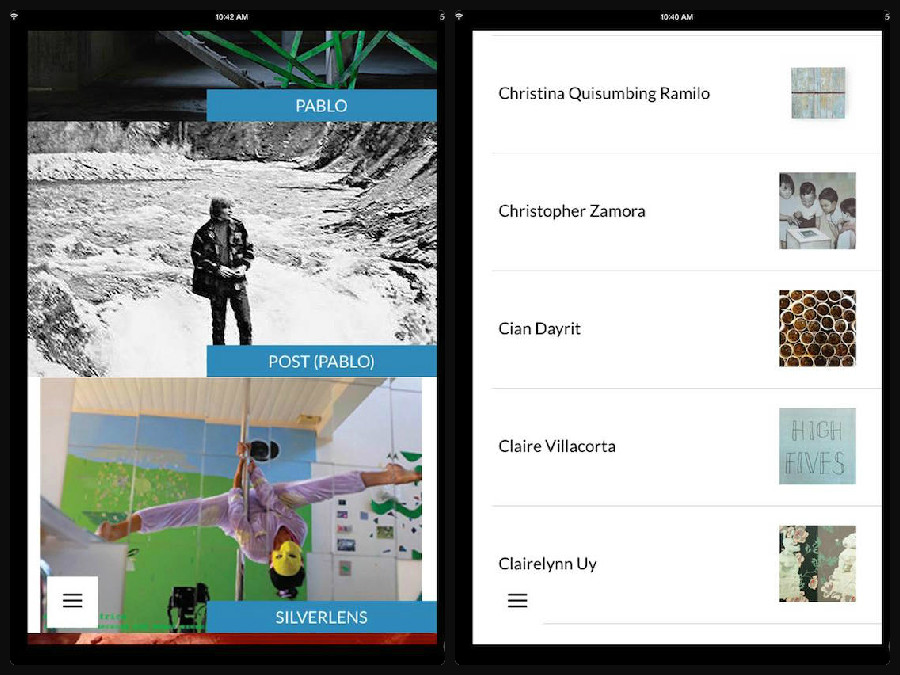 Want to know where all the good art shows are? There's an app for that. Thank god for Michael Benedicto's brainchild Artifact Art Gallery for keeping us in mind.
The app serves up a list of artists' past and upcoming exhibits created and curated in the Philippines. Information from participating galleries is organized and collated by the app so you don't have to waste a second looking them up on Google.
There are three major modules (Shows, Galleries, and Artists) which users can jump from one point to another. Other features are pretty interactive. You can add a show to your calendar app, share a show or an artist, and even inquire with the gallery about an artwork you liked.
Michael personally handpicked galleries found in the app. While there's no formal curation of content, there's his present influence. "When it comes to the arts, I suppose I'm just incapable of making it impersonal and approaching it in a purely democratic way," he says.
Artifact was borne out of his natural interest and relationship to the obscure art scene here. Aided by Mike Fermin, Jaime Hing, Mark Ronquillo, Nice Buenaventura and sibling Bobby, Michael developed the app to be a more public and accessible platform for local art.
"Marketing and promotion never had the kind of reach that the Internet allows for. There was a time when not everyone had a Facebook page, an Instagram account, or even a website. Having a native mobile app merely follows that natural progress," says Michael.
The app is available in all countries, in hopes of reaching a wider audience. If all's well, its popularity with global users could translate to the success and popularity of our shows. But those results are anything but nationalistic goals.
When asked what he thinks Artifact has achieved, Michael admits that there are no profound conclusions yet. "I am assuming, however, that some amount of visibility and transparency was achieved by just launching Artifact," he believes.
And that it did because later, you'll catch up to your favorite artists and galleries with just a few swipes on your smartphone screen.
Find out more about Artifact Art Gallery via Facebook, and follow them on Twitter and Instagram (artifact_gallery_app).