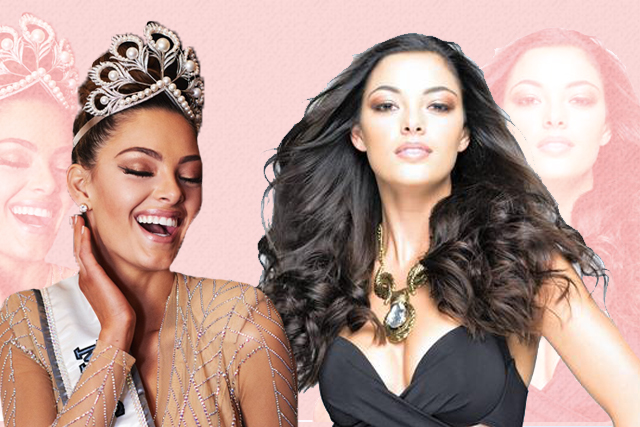 Don't dare hide the fact you quickly Googled Demi-Leigh Nel-Peters' name as she bagged the Miss Universe 2017 crown. We did the same thing! It's only natural that we are always curious about the beauty queens. Remember when we first got to know Rachel Peters? It's fascinating as we learn different stories, backgrounds, and even a little bit about the country they hail from. We also use these facts to trace their growth and see how far they take their victory.
So expect that the 21-year old model from South Africa is going to be the topic of the next few months. We're all excited what she will bring to the table with a yearlong salary and prime residency in New York to perform the duties of the queen. She's also bound to be one to watch when it comes to style and beauty trends. But before we get ahead of ourselves, here's what we found out so far.
#1 She's a business management graduate
https://www.instagram.com/p/BZRm3gWgsrE/?hl=en&taken-by=demileighnp
Demi-Leigh, as with most beauty queens, is one brainy girl. She finished her studies at North West University. Prior to this, she had two leadership positions in high school.
#2 She draws strength from her sister
https://www.instagram.com/p/BYEJJtogUqT/?hl=en&taken-by=demileighnp
In an interview with Jacaranda FM, she shares how her sister inspires her to move forward. "It's always been her dream to go into the hospitality industry. I have a 10-year-old half-sister, Franje. She is my dad and step-mom's daughter. She was born without a cerebellum and is completely disabled. She is my biggest motivator in life (and she has the most beautiful lashes any girl can dream of)."
#3 She's an advocate of self-defense
https://www.instagram.com/p/Bb9n5NQA2sz/?hl=en&taken-by=demileighnp
The road to the pageant somehow got very dark for Demi-Leigh. On the night of her coronation as Miss South Africa, she was almost kidnapped. Three men stole her phone at gunpoint. "As I got out of the car, the guys told me to get back in the car and I refused. I ran into traffic and what's sad is that it took about 20 cars before anybody stopped," she told Eye Witeness News. The incident, as she shared during the pageant earlier, gave her a reason to focus on pioneering self-defense classes in her country.
#4 She had a twinning moment with Rachel Peters
During the whirlwind of Miss Universe, we're glad that Demi-Leigh got to catch up with our own Peters. The two found themselves wearing the same dress during one of the pageant events and they just had to take a selfie. Hoping they become besties!
#5 She's only the second Miss Universe titleholder from South Africa 
In the 66-year history of Miss Universe, Demi-Leigh is only the second Miss South Africa to win the title. The first one was Margaret Gardiner in 1978. This win is then extra-special, ending a 3- year drought for the African country.
#6 She loves vanilla candles
https://www.instagram.com/p/Baehz8Pgcha/?hl=en&taken-by=demileighnp
In an Instagram post featuring what she does to relax between the demands of being a beauty queen, she said she loves vanilla candles. Noted for our next pampering session, and possibly a good item to hand out this Christmas. The idea of relaxing  like Demi-Leigh seems to be a good one!
#7 She's a Shonda Rhimes fan
https://www.instagram.com/p/BZitLofAQ3i/?hl=en&taken-by=demileighnp
Could it be that she binge-watches some Grey's Anatomy and How to Get Away with Murder? It wouldn't surprise me as Demi-Leigh seems to have enjoyed reading A Year of Yes by the prime time TV show producer. The book talks about how Shonda overcame her fear of facing the public, in the wave of media attention her shows gave her. It's quite fitting as Demi-Leigh takes center stage as the new Miss Universe. And looks like we've got a new book we want to read pronto.
Art by Lara Intong 
Follow Preen on Facebook, Instagram, Twitter, Snapchat, and Viber
Related stories: 
Miss South Africa Is Miss Universe 2017
The Wildest National Costumes From Miss Universe 2017
7 Things You Need to Know About Rachel Peters
Why We Shouldn't Judge Women Who Join Beauty Pageants