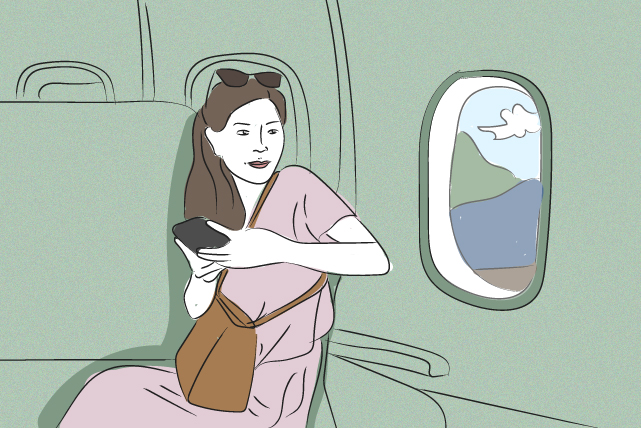 Here at Preen, we're fully aware that adult life doesn't always go as smoothly (and look as beautiful) as curated Instagram feeds. We all face challenges amidst all the good things. Meet Mikka Wee, a former food editor-turned-working gal in Singapore, who's about to share all the ups and downs that come with adulting and living. Welcome to Bless This Mess! 
Before I met my fiancé, I've always been so set on cruising solo in this lifetime. A couple of long-term relationships gone wrong coerced me to make a silent vow to myself that I would never, ever settle down. But life has a funny way of shaking up your path, so here I am today.
One thing that I haven't done in my three years of being in a relationship was travel alone. I've always wanted to jump on the opportunity to grab my backpack and book a random flight, partly to rekindle the feeling of being anonymous in a foreign land, but mostly to experience flying solo one last time before I got hitched. And at last, an opportunity opened, and so, I jumped in on it. I booked a trip to Bali, which flooded my fiancé with dread because there was a volcanic eruption warning (I didn't know before I booked; it was a seat sale).
Ask me about "What I Learned About Traveling Solo 1.0" looked like, and I'd tell you that it was one of the most beautiful and wonderful things I've ever done for myself. I'd encourage you to do it, too. I'd talk about freedom and wanderlust and hostel friendships and the kindness of strangers. But I'm writing this version 2.0 in a different season of my life right now. And in case you were wondering, I'm not in touch with my hostel friends anymore. However, I still believe in the kindness of strangers.
So, back to the trip. I was extremely excited and dead-set on going, despite my fiancé's plea for me to reconsider. We finally reached a compromise wherein I would book my Airbnb in Canggu instead of Ubud (so it's farther from the volcano and closer to the airport). I craved the feeling of setting foot on new territory with my own company (I've never explored in Canggu before), and getting some much-needed downtime for reflection and introspection. I'm an introvert, so I really get to recharge when I have my me-time. It was also a very tricky time in my life filled with transitions and uncertainties, so I was just really looking forward to calming my mind and refreshing my spirit—and what better place to do this than in Bali?
Everyone has his or her own "magical place," and Bali is it for me. I've always thought of Bali as one of the Thin Spaces that always leaves me rejuvenated and allows me to feel light as a feather. It was my first time to travel alone in three years, so you can imagine how pumped up I was!
It was a good-sized trip—four days and three nights. I explored cafés in Canggu, rode on motorbikes to the beach where I watched breathtaking sunsets and munched on the tastiest grilled corn EVER (it was brushed with butter, sweet chili, and lemongrass). I made sure to bite off every kernel of that life-changing cob and downed it with an ice-cold bottle of Bintang Radler. I played a lot with Indie, the white Pomeranian in my Airbnb, finally finished the Telltale game I got on Steam a year ago, watched Lady Gaga's Netflix documentary, and finished the entire second season of Stranger Things.
I also had coffee dates with myself, free-writing everything I've kept in my mind on my journal, writing about my goals and things I was looking forward to in the next few months (wedding included!). I took myself on a couple of nice lunches overlooking the rice paddies; feasting over fresh seafood and my favorite deep-fried duck and discovering the magical Indonesian drink called Jamu.
I went on a day trip to Ubud to see a Vedic astrologer and explore the art market (I never get tired of it!). I wanted to do some yoga as well, but it was that time of the month so I was cramping up. I also treated myself to a deep-healing massage and sunset beach strolls to relax my mind and help me feel at ease.
It may seem like I did a lot, but I think I spent most of my time just inside my Airbnb, catching up on my games, my shows, and letting my mind simply empty itself. No hurries, no worries. But I guess, my biggest take-way from my trip was that I got to discover a lot of things about myself, which I'm glad that I did before I got married.
To tell you the truth, I overthink a lot. I get insecure a lot. And a huge part of myself can get pretty cynical, which in return results to this cycle of overthinking, insecurity, anxiety—and then back to overthinking. It's not a pretty picture. However, this trip helped me know myself a bit better, and one thing that I really learned during this brief getaway was that 90 percent of the time, I really wished I was with my fiancé so that we could enjoy the things I did together.
It was really weird for me to get to this point as well—me, someone who wrote with the moniker "Tiny Traveller," expert seat sale hunter, master backpacker, solo traveller—only to realize in the end that there is so much truth in what one of my life inspirations, Alexander Supertramp, said: "Happiness is only real when shared."
Sure, I felt happy being alone at Bali. I was able to "scratch that itch" of traveling solo without anyone else's time to think of than my own. But there is a different kind of joy when priceless experiences are shared with people you love. Ask my fiancé, I've always been a brat about wanting to fly solo, and now that I was able to do it, I learned that I would rather travel with him than alone.
We're building our own family soon, and while I have my issues with mine, perhaps my choice to always do things on my own was just me being stubborn about letting people in. The people and this world could get pretty discouraging most of the time, but what we fail to see sometimes is that hope always exists. And so does love. And I'm not here to talk about rainbows and butterflies, because, really, I can be quite the scrooge when it comes to talking about the politics of our world. But things that we can cultivate on our own; things like openness and teamwork and trust. I find myself hesitant to let people in because damn right could it get extreeemely uncomfortable, and messy, and insecure.
But you know what? It's worth it.
Disclaimer: The views expressed here are solely those of the author in her private capacity and do not in any way represent the views of Preen.ph, or any other entity of the Inquirer Group of Companies.
Art by Lara Intong
Follow Preen on Facebook, Instagram, Twitter, Snapchat, and Viber
Related stories:
Finding the Right Friends Is Just as Important as Finding the Right Partner
I Took the Love Language Test with My Boyfriend—And It All Made Sense
Our Favorite Celebrity Engagement Rings from Heart Evangelista to Sarah Lahbati
When in Bali, There are Just Three Things Your Really Have to See and Do