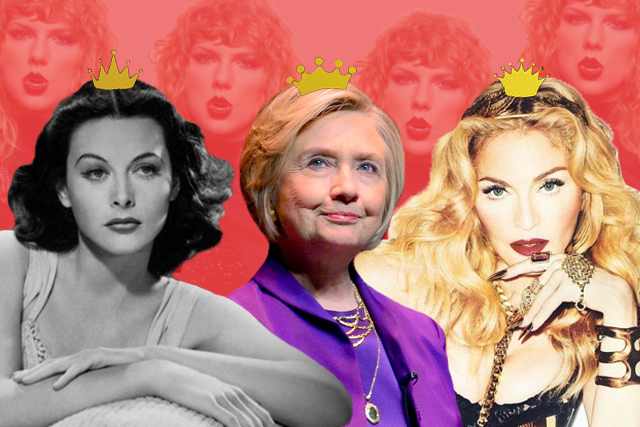 This week the Intenet turned around a little bit and became a wonderful place. In response to a tweet asking to name a "b*tch badder than Taylor Swift," the viral thread turned into an endless list of women who give no f*cks, fight the patriarchy, defy the rules, and straight up kill it in their respective fields.
Name a bitch badder than Taylor Swift 😍😛😤 pic.twitter.com/AkSyQBUIME

— Nick (@z3lIus) November 10, 2017
Familiar names like authors Jane Austen and Virginia Woolf popped up along modern day heroes like Malala Yousafzai, Safiyyah Khan, and Rosa Parks. Others were personal stories of their mothers or grandmothers doing incredible feats that fall under "Things Women Do On the Daily Without the Need for Recognition."
https://twitter.com/Liberal_Advance/status/937829227344183296
The list which is now strong at over 11,000 replies as of writing is an unexpected history and social lesson we need. It also made me wonder what does it take to be a bad b*tch. Also known as things TayTay needs to accomplish so she can truly own up to her new reputation.
#1 Giving the patriarchy the middle finger simply by living your life 
Any Black Woman or Latina having to successfully raise children in a world so geared toward their destruction as to be damn near impossible and end up with fully actualized, functioning, contributing members of American society.

— Audrey Liggins (@MsAudrey) December 5, 2017
#2 Doing great things selflessly for the benefit of generations
Dr. Milada Horakova. Worked for equal rights for women, fought in the underground resistance during WWII, survived Nazi prison camps, tried to keep Czechoslovakia democratic, executed by the communist regime, and then fully rehabilitated. https://t.co/zLu7r84Pps

— Socialism Realised (@SocialismR) December 5, 2017
#3 Not listening to the misogynists because what do they really know?
Kathrine Switzer. In 1967, she became the first woman to run the Boston Marathon as a numbered entry. Officials tried to physically stop her, and she was attacked by other runners, but she managed to finish the race. https://t.co/MX7r6wiVjz#badderthantaylor #runlikeagirl

— Sheli (@rhymeswithmike) December 5, 2017
#4 Living your dream to the tune of "Papa Don't Preach" 
https://twitter.com/MrXPedraza/status/937922581792899072
#5 Proving that women can be both smart and beautiful
HEDY LAMAR! Movie Star. First on-screen portrayal of a woman actually enjoying sex, also invented a radio guidance system for torpedoes that killed Nazis and arguably helped invent Bluetooth. Super Genius. Gorgeous. #badderthantaylor pic.twitter.com/yXMDf40dKp

— 🇺🇸𝐂𝐩𝐭𝐅𝐮𝐧𝐤𝐚𝐃𝐮𝐧𝐤🇯🇵 (@cptfunkadunk) December 5, 2017
#6 Being this First Lady turned  US Senator turned Secretary of State turned first female US presidential candidate
— Sarah Chovnick (@chovy_s) December 5, 2017
#7  Telling it like it is with no apologies
https://twitter.com/joannini818/status/938289428279250944
#8 Recognizing women are all bad b*tches in their own right through their everyday battles
Every single female soldier. Every single female cancer survivor. Every mother working in another country to provide for their kids. Every female war survivor there is. #BadderThanTaylor

— Camz 🌜 (@Addictd2Violet) December 4, 2017
So Taylor,  it's not that you're not a bad b*tch or that we're pitting women against one another. But you could do better than your latest revenge videos and new look. One suggestion? Finally speak up against the white, male privilege and putting aside your apolitical views?
Art by Lara Intong
Follow Preen on Facebook, Instagram, Twitter, Snapchat, and Viber
Related stories:
So How Are We Liking this Version of Taylor Swift?
Why I Harness Power from Iconic Women During Major Life Transitions
Reality Check: Powerful Women Are Neither Crazy Nor Desperate For Attention
How Women Are Depicted Throughout History