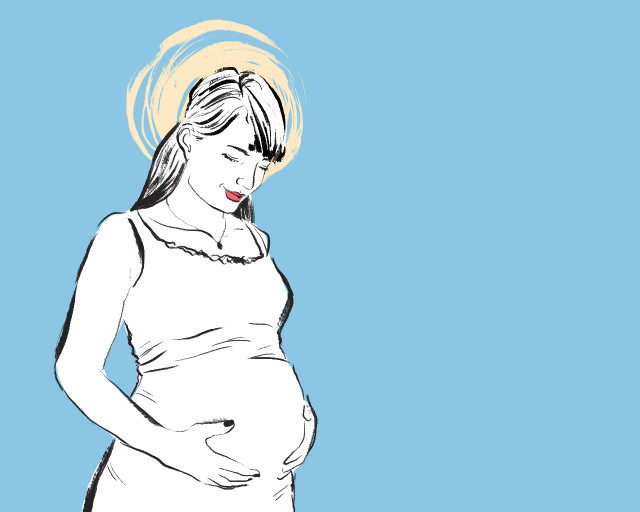 Every week, Preen tackles motherhood sans the rose-tinted glasses. Our columnists L. Juliano, Marla Darwin, Monica Eleazar-Manzano, and Rossana Unson tell their personal experiences like it is—at times frustrating, oftentimes confusing, but always enlightening.
As I write this, I am way on my eighth month of pregnancy with my third child whom I choose to birth in Palawan, voted one of the best islands in the world for a few consecutive years now. Many of my friends (and family) think it's a crazy idea to birth far away from our accustomed notion of medical care. I proved them all wrong once when I was successful in my preferred choice of waterbirth at home three years ago (after a C-section birth years earlier) and I am prepared to challenge the norm again with another one on its way.
I spot a trend in my life, and that is I really do have the Jesus-Mary-Joseph syndrome. "What is that?!" you may ask. Well, given the circumstances I'm in whenever I have to birth a child, I seem to mirror these religious and historical icons. I always find myself looking up to the inner grace and strength Mary had to endure while very pregnant and then birthing Jesus Christ in a "not-so-ideal environment." Like in a haystack in a barn with animals.
Others think that I have to complicate my life and move to an entirely new place weeks before my due date. Just three years ago, I had to move to a new city because there was a homebirth ban in Quezon City. Again, I find myself in another similar situation. If birthing wasn't hard enough to prepare for, moving your whole family's lives is just as stressful as a death or a divorce (says many studies and articles online). But why do I do it? Simply because I go with the ebb and flow of life! The path simply presents itself to me and I choose it because I don't see them as hurdles but as opportunities. My current case in point: My husband's main source of income for the family is in Palawan. Why else would we settle away from where we can be most sustainable?
Right before uprooting again to the islands (I say again because we actually moved to Palawan seven years ago!), I went to visit an aunt who was well-versed in astrology and did me the favor of an intensive natal chart reading. She confirmed that on the day I was born, certain planets aligned and clumped together, which states that when blessings and challenges come, they really do come pouring down in groups. I had a major "a-ha!" moment because that confirmed why I can plot highlights or milestones in my life coming through together. It all truly makes sense in the end if we learn to see things in a fuller perspective.
For major life transitions, I harness the power of Kali the Hindu goddess of destruction. She may look cruel and scary but the power in her is undeniable for she is my inspiration for rebirth and the ability to do many things at once (given her visual of multiple arms). My upcoming new task after the birth is homeschooling multi-aged children in paradise. Let's see how this all will unfold as I divide my time among the three children. Let the power of the multi-tasking woman goddess Kali rise to this mortal challenge!
Disclaimer: The views expressed here are solely those of the author in her private capacity and do not in any way represent the views of Preen.ph, or any other entity of the Inquirer Group of Companies.
Art by Dorothy Guya
Follow Preen on Facebook, Instagram, Twitter, Snapchat, and Viber