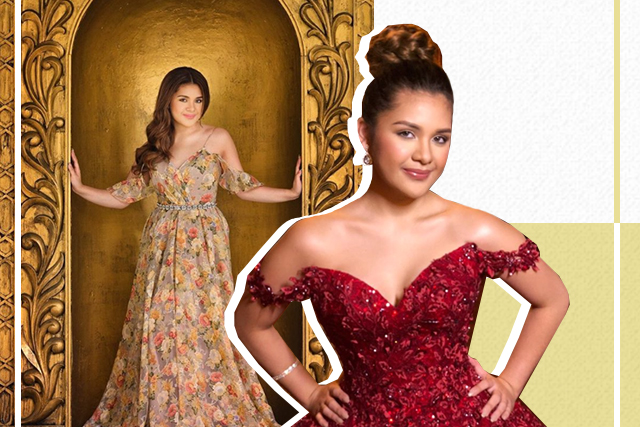 Today's talk of the town—or rather, social media—is the pre-debut shoot of presidential granddaughter Isabelle Duterte. It's no secret that the up-and-coming actress opted for lavish gowns and posed inside the Malacañang Palace. But what else is there to know?
We asked some of the people behind Isabelle's shoot like Jeff Galang and Rosenthal Tee to give you exclusive details from the gowns to the hints for her upcoming debut.
Theme of the shoot
Stylist Jeff Galang shared with us that he wanted to make Isabelle feel like a princess with the gowns she wore. (More on that in the next point.) He also wanted the pieces to "match the grandness of the Malacañang Palace."
The four gowns
As we mentioned before, Isabelle changed into four gowns. According to Jeff, he chose the gowns to reflect the debutant's personality. He said the Rica Rico floral gown was part of Isabelle's casual look and it "suits her fun and playful personality. Belle is so much fun to work with." As for the details, Rica shared, "[It's a] two-strap, floral print organza with pleats on the waist and detachable sleeves. We opted for a feminine and classic dress with a floral twist."
View this post on Instagram
The blush pink Rosenthal Tee gown was chosen to "exude youthfulness." Rosenthal told us, "The gown is a design from my spring/summer 2018 collection, and it's millennial pink with feathered shoulders and a plunging V-cut [neck line.] Very apt for a girl turning 18, I think."
For a dramatic factor, Jeff chose an emerald green caped gown and red Garimon Roferos Couture ball gown. "It was a custom-made couture gown and we had it shipped to Manila," Jeff said.
Hair and makeup pegs
"For the makeup, Winn [Ramos] and I agreed that want to use the traditional style before the dewy trend started. I also specifically instructed him to just light-colored lip shades to soften her features," Jeff said. As for the hair, they went for soft curls and a top bun.
On-location at the Malacañang Palace
When you look up photo shoots in the Palace, you'll see photos of press conferences and official shots of the presidential family. So Isabelle is one of the first people to have her pre-debut shoot there. Even Jeff noted how memorable it was: "It was really one for the books because not everyone can shoot there. The place is a dream location for every creative team."
Based on the Instagram posts, Isabelle was photographed in the ballroom and at the garden. When asked about the exact number of locations they shot at, Jeff said, "I honestly lost count already how many we used."
What we know about her debut
There are no concrete details yet of what will happen at Isabelle's 18th birthday party. What we can gather, though, is that her official hashtag is #BELLEssima18 and that Rita Neri Event Planners will be in charge of the party. RNEP is known for planning glamorous parties and wedding receptions. They're also the team behind Toni Gonzaga and Paul Soriano's nuptials.
Meanwhile, Jeff shared that he'll also be styling Isabelle at the party. "She'll be having three costume changes," he hinted.
Art by Lara Intong
Follow Preen on Facebook, Instagram, Twitter, Snapchat, and Viber
Related stories:
How Many Designer Gowns Did Isabelle Duterte Wear For Her Pre-Debut Shoot?
LOOK: Pres. Duterte's Granddaughter Rocking Luxury Sneakers
Isabelle Daza and Arci Muñoz Have These Gown Designers on Their Speed Dials
Filipino Designer Recreates Kathryn Bernardo and Marian Rivera's Gowns on Barbie Dolls