There are several things you shouldn't joke about, one of them is HIV/AIDS. Actor Derrick Monasterio perhaps didn't get the memo and decided to post a "witty joke" the other day.
On his Instagram Stories, he wrote: "I have a friend who's miserable because he just found out he has AIDS. My advice: Stay positive!" This was followed by a laughing emoji. Too bad the rest of the Internet didn't feel the same way.
wow no wonder this actor's career has not taken off shame on you derrick monasterio pic.twitter.com/WaHYsnVVNa

— maru (@marusalberto) January 16, 2018
Many reacted badly to the joke, while others enlightened everyone as to why this it's insensitive.
Hi @derrickleander, I hope you get yourself educated on the ff: 1. HIV-AIDS, 2. Sensitivity, and 3. Witty jokes. https://t.co/M5KUHYMgMm

— Jai Cabajar (@jaicabajar) January 17, 2018
HOW THE HELL IS THIS WITTY?! DO YOU EVEN EFFIN' KNOW HOW DEADLY THIS DISEASE IS?! IT WILL LITERALLY SLOWLY TAKE YOUR LIFE AWAY FROM YOU. YOU ARE SO INSENSITIVE @derrickleander! SHAME ON YOU! https://t.co/kf1GxP5VWh

— 𝘩𝘢𝘯𝘯𝘢𝘩 (@hdrmd24) January 17, 2018
https://twitter.com/frnchskamc/status/953820408293220357
I used to like Derrick Monasterio. But his AIDS joke is unforgivable. I hope he uses this incident to educate himself on HIV/AIDS and the sensitivity of the matter. I know he is human who makes mistakes. So I hope he makes up for this one way or another.

— livepositHIVe (@livepositHIVe) January 18, 2018
Derrick eventually apologized for his post, saying, "Sorry if I offended some of you in any way."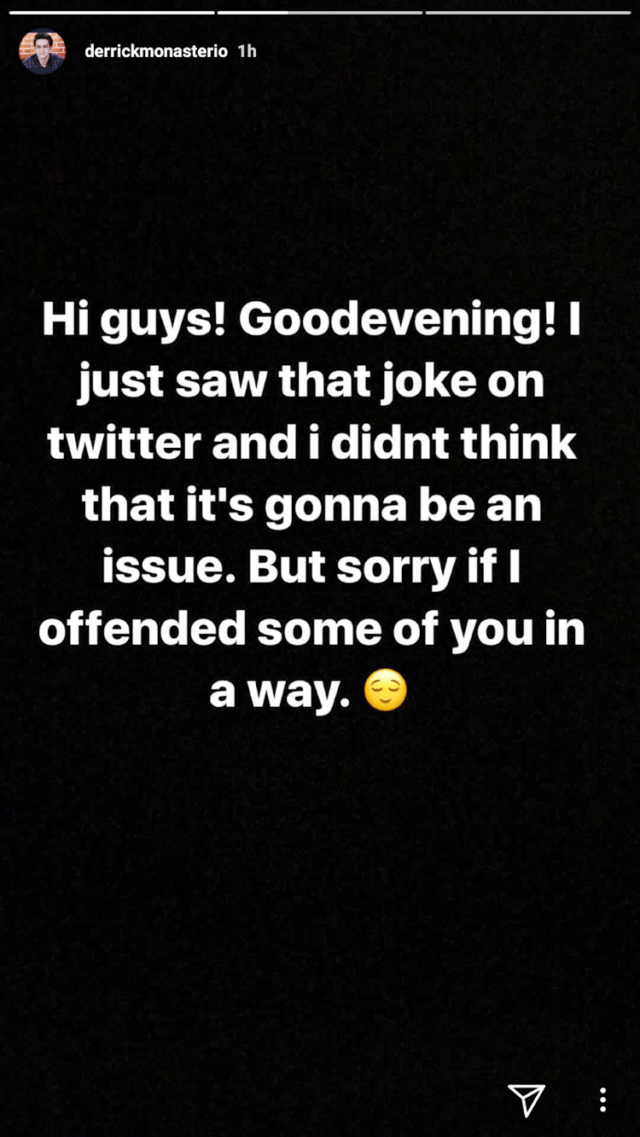 There's still a huge stigma surrounding HIV/AIDS. As of June 2017, around 36.7 million people worldwide are living with HIV, and 1 million have died due to AID-related diseases. And that's still not counting the people who aren't checked yet. If you think this is still a laughing matter, then we suggest you assess your joke arsenal.
For those who'd like to get checked and/or help out those who are afflicted with HIV/AIDS, check out organizations like LoveYourself, The Red Whistle, and MAC Viva Glam.
Photo courtesy of Derrick Monasterio's Instagram account
Follow Preen on Facebook, Instagram, Twitter, Snapchat, and Viber
Related stories:
Who Knew Buying Lipstick and a Phone Case Can Support HIV/AIDS Programs?
This Organization's New Campaign Is Taking HIV/AIDS Awareness to the Youth
DepEd Denies Making Erroneous Flyer on HIV/AIDS
Pia Wurtzbach Comes in Defense of the LGBT Community Amid Drug Bust Reports