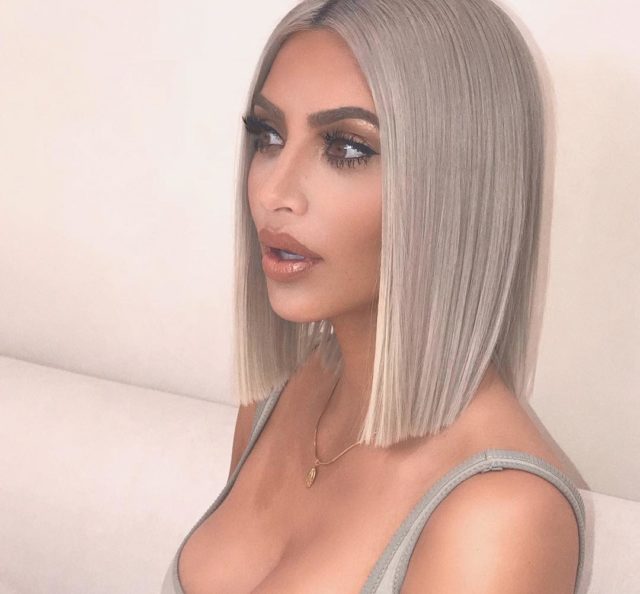 Ever since Kim Kardashian and Kanye West welcomed their third baby, fans have been wondering about her name. Is it another direction? Does it start with a K? Or did KimYe name her after a designer brand?
Kim recently shared a close-up shot of a Louis Vuitton bag, fueling speculations that the baby girl's name is Louis. Some even said it's Elle V. (Ha! Witty.)
if kim named the baby louis vuitton i swear to god… pic.twitter.com/H55xHS9VYD

— caroline (@sk8rhoe911) January 18, 2018
https://twitter.com/brighidmariquit/status/953833800877920256?ref_src=twsrc%5Etfw&ref_url=https%3A%2F%2Fwww.bustle.com%2Fp%2Fdid-kim-kardashian-name-her-baby-louis-fans-think-this-is-a-major-clue-7939127
Is Kim naming the baby Elle V West? Cause she just posted a Louis Vuitton pic on her page 😂👀

— deanslistDEZZ (@QueenDezzzz) January 18, 2018
However, Kim squashed these rumors in a tweet to US Weekly. She clarified that she's paying homage to Kim Jones after news that he's departing Louis Vuitton.
NOPE! It was Kim Jones last show and wanted to snap a LV pic 😂 How amazing did Naomi & Kate look?! https://t.co/XIFR2mXFdm

— Kim Kardashian West (@KimKardashian) January 18, 2018
So we're still left guessing about the name. But don't worry, we're not alone because even Kim and Kanye haven't thought up a name yet. Though Kanye is apparently considering "Donda," which is his late mother's name.
But you have to admit, Louis Vuitton is a good name. Or perhaps Kim will consider other luxe brands like Chanel?
[
Bustle
]
Photo courtesy of Kim Kardashian's Instagram account
Follow Preen on Facebook, Instagram, Twitter, Snapchat, and Viber
Related stories:
Kim Kardashian and Kanye West Welcome Baby Number Three
Artistic Director for Menswear Kim Jones Will Exit Louis Vuitton
Is Kylie Jenner Dropping Baby Hints Via Cinnamon Buns and a Turkey?
How Does Your Child's Name Affect Their Future
Kim and Kanye's Baby's Name Is Saint and the Memes Are Crazy