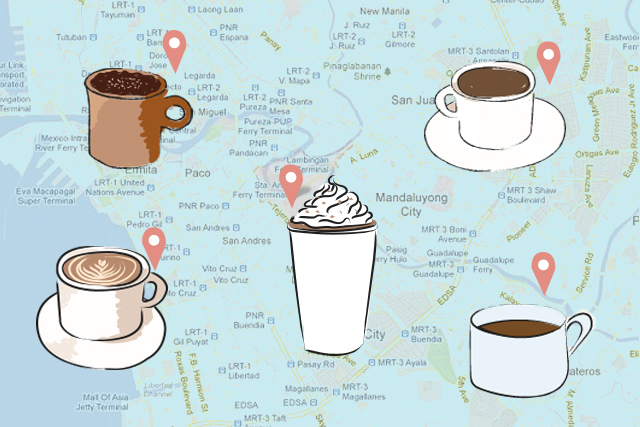 New coffee shops always pop up here and there. It can be another mainstream joint or a place you've never heard of before. Personally, I prefer to discover new cafés that I can't find in every mall I go to.
What's caught my attention lately are the small-ish local spots that serve good coffee, often made from homegrown beans, and updated Filipino dishes. These are also ideal if you're someone who loves working in coffee shops—plus points if they have fast Wi-Fi and bearable crowds.
If you're looking for somewhere to hang out after work or over the weekend, we have a few suggestions below. We also included food and drinks you should try.
Hineleban Café
Hineleban has a beachy vibe to it as you drink coffee while ogling at the surfboards and bikes being sold there. The café is also known for its farm-to-cup brews and instead of rice, they use a type of grain called adlai. (It's so fluffy that you'll forget that you aren't eating rice.) You can buy local coffee beans, which is equivalent to one tree planted. Customers can also name a tree and check its growth on Hineleban's website. Cool, right?
Must-try dish and drink: Beef Tapa and Coco Mocha
Wi-Fi speed: Fast enough to upload several photos and play videos without interruptions.
Crowd: Since the place has limited seats, you won't have to worry about a huge crowd upon entering.
Located at 830 Arnaiz Avenue, Makati City.
Luna Breakfast & Coffee
I stumbled upon this café because it's right next to a comic book and figurine store along Bonifacio High Street. Luna can seat around 10 to 15 people inside and outside, and has a rustic vibe to it. Their food menu is mostly comprised of Filipino breakfast dishes like open-faced pandesal and tapa. Their drinks and desserts also remind me of the sweets I would eat as a kid.
Must-try dish and drink: Longganisa Pan De Sal and Palawan Honey Flavored Latte
Wi-Fi speed: The Bonifacio High Street branch sadly doesn't have Wi-Fi. You've been warned!
Crowd: If you go here during rush hour, you might find a few office people who are probably waiting for the traffic to die down. Just something you should know in case you don't like loud public conversations.
Located at B5, Bonifacio High Street, Lane O, Bonifacio Global City, Taguig City.
Commune
Commune has bright and spacious interiors which will give you a burst of energy when you enter. You'll also be treated to cute latte art when you order their signature drinks. Oh, and they have baked goods on the counter if you're a big sweet tooth.
Must-try dish and drink: Calamansi Muffin and Commune Blend
Wi-Fi speed: It can get a bit spotty, especially when the place is slightly full.
Crowd: Since it's found in the middle of Poblacion, Makati, expect it to be full at certain times. But you don't have to worry about loud conversations as the patrons mostly do office or school work.
Located at 36 Polaris Street corner Durban Street, Makati City.
SGD Coffee
Known for their Sagada coffee concoctions, SGD brings you a taste of the mountain province. The drinks are so fresh that the bartenders grind the coffee beans as you order. The place itself is spacious, and seats more or less 10 people on the ground floor.
Must-try dish and drink: Etag Carbonara and Flat White
Wi-Fi speed: For reference: I was able to write two articles while a YouTube video was playing in the background. So yeah, pretty fast.
Crowd: Because it's tucked away from busy Maginhawa Street, not many people drop by. Mostly students go here to review their lessons or do their thesis. But overall, it's a quiet place—inside and outside—so you won't get stressed.
Located at Coffee Science Center, No. 45 Maalalahanin Street, Teachers Village East, Diliman, Quezon City.
One Plus Coffee
This is a café and co-working space in one found in Circuit Makati. The decor is bright and colorful with hints of red, blue, and yellow, and you'll spot portraits of successful men and women on the walls. Good motivation for patrons, if you ask me.
Must-try dish and drink: Mango Cheesecake and Matcha Latte
Wi-Fi speed: I streamed a few shows while working here, and I didn't need to buffer the videos. Web pages also load quick!
Crowd: People usually fill up the place during weekends, around dinnertime. You'll mostly spot families having dessert, students on their laptops, and the occasional barkada.
Located at G/F Circuit Makati, Makati City.
Art by Lara Intong
Follow Preen on Facebook, Instagram, Twitter, Snapchat, and Viber
Related stories:
Are You Overstaying at Your Favorite Coffee Shop?
From Plated Desserts to Cups of Coffee, These Cafes are Instagram Worthy
Here's the Buzz on Specialty Coffee Trends
Would You Want a Van Gogh Art With Your Latte?
The Meals You Should Order For the Most Important Meal of the Day: Brunch