The Bb. Pilipinas 2018 hype doesn't just stop with Catriona Gray. Miss Intercontinental-Philippines 2018 Karen Gallman is receiving flak for her Q&A response.
Karen was asked about her thoughts on building a third restroom for transgenders. She answered, "I definitely agree that there should be a third restroom for transgenders because as women, we would also want our privacy, and also with men. We have a separate room for the transgenders. It just serves as equality, [privacy.] Thank you."
Netizens were quick to criticize Karen's answer, saying that they were disappointed that she won. They also noted that she's promoting "isolation" and not equality.
Karen Gallman: *answers the question regarding restroom for trans*

Us: #BbPilipinas2018 pic.twitter.com/Prt4bkV2Yr

— dean (@DeanYsagun) March 18, 2018
https://twitter.com/notanotherjames/status/975411833438793728
For someone who has taken up Gender Studies courses, Vickie Rushton's answer addressing Gender Violence as a non-negotiable is way more deserving of a crown compared to Karen Gallman's discriminatory remarks on transgenders. Heartbreaking. #BbPilipinas2018

— Vince Hermoso (@LostIslandKid) March 19, 2018
https://twitter.com/xxyvonnexo/status/975420363743010816
Many said that this is an example of why we need the SOGIE Equality Bill to be passed. They also invited Karen to go on a SOGIE workshop to be educated on the matter.
You know what makes women feel discomfort whenever a transwoman is around?

It's called, prejudice coupled with ignorance, Ms. Karen Gallman. And it is the same thing we are fighting against and the same reason why we need #EqualityNOW. #BbPilipinas2018

— Amber 🦋 | #StopTheKillingsPH #OUSTDuterte (@GeeYanii) March 18, 2018
Karen Gallman said that transgenders should have separate restrooms. The bigots must be rejoicing. No, gurl. You need to take SOGIE 101. #BbPilipinas2018 #EqualityNOW

— Jeff Crisostomo (@jeffcrisostomo) March 18, 2018
https://twitter.com/WatdahelMarcel_/status/975411331925909504
Hi Ms. @karengallman_! 😊 Congrats for winning! Hope we could have u in a SOGIE workshop in the coming days. While having a third gender restroom might be well-intentioned, the commitment to correct a mistake is to recognize first that transwomen are also women. See u soon! 🌈👑

— Vince 🏳️‍🌈🌹 #VaccinesWork (@vinceliban) March 19, 2018
One netizen also showed how Resorts World Manila has a gender-neutral restroom.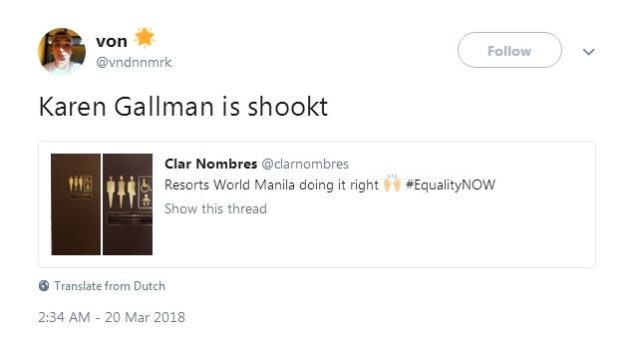 Meanwhile, several people are also defending Karen's answer and her Miss Intercontinental-Philippines title.
I don't understand why you bash Karen Gallman on her opinion about transgender restrooms. She said she supports it & here you go bashing her online. If she answered NO I'm sure you'd do the same. I understand your point but you don't educate people about SOGIE by bashing another.

— Jomie Hospital (@jomiehospital) March 18, 2018
Karen Gallman's answer might not sound good to the majority, but it probably just depends on how one will understand it. It might be isolation for many, but it might also be comfort for someone who is worried for discrimination in whichever comfort room they may be going into.

— Hayasaki Yuya (@hayasaki) March 18, 2018
Ppl keeps on complaining why Gallman got the crown wt that answer. Like duh— kung sagot lang sa Q and A ang pagbabasihan nyo, edi sana nag quiz bee na lang tayo. 🙄 There's always a criteria for judging ppl. 🙄 #KarenGallman #BbPilipinas2018

— 🍑 (@xxxjakeeey_p) March 18, 2018
https://twitter.com/iamnikoramos/status/975429775282946049
What did you think of Karen Gallman's Q&A?
Photo courtesy of Karen Gallman's Instagram account
Follow Preen on Facebook, Instagram, Twitter, and Viber
Related stories:
Meet Catriona Gray: Singer, Painter, and Miss Universe Candidate
How Many Awards Did Catriona Gray Bring Home from Binibining Pilipinas 2018?
Debunking Some Misconceptions About the SOGIE Equality Bill
Stop Making Fun of Beauty Queens and their Answers