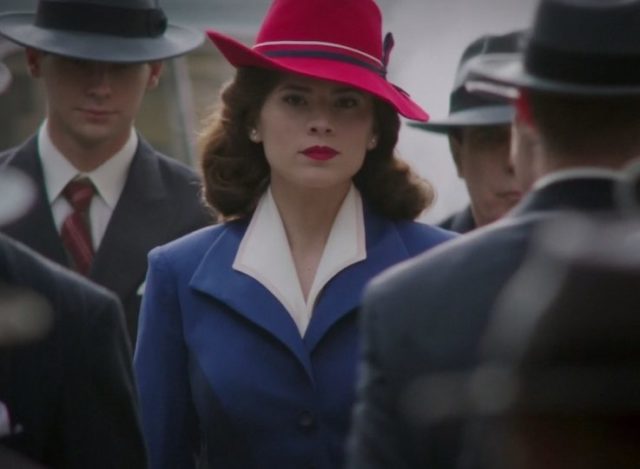 You may be thinking why Team Preen is talking about ComicCon Asia. Well, one, because this writer loves going to comic conventions when time permits and loves anything involving superheroes. Another reason is that it's raking in a lot of controversy from netizens, and the event is already happening tomorrow until Sunday.
We're not saying that it's ultimately a bad event that everyone should boycott altogether. People might still have fun with the activities, find something cool at the booths, and even meet their favorite celebrities. At the same time, you just can't ignore the ire of people who were either inconvenienced by the event or just observant netizens airing out their concerns. So allow us to break down some of them.
Manny Pacquiao as event ambassador
Sen. Manny Pacquiao makes strong pitch as patron of Comicon Asia in Manila on March 2018, showcasing the best in cosplay, gaming, comics, movies, anime and toys. | via @mariovdumaual pic.twitter.com/hzHe55Qnik

— ABS-CBN News Channel (@ANCALERTS) January 17, 2018
When ComicCon Asia was revealed last year, they named Sen. Manny Pacquiao as one of their main ambassadors. Apparently because he starred as a superhero that one time in 2009's Wapakman. Although he isn't sponsoring the event, the organizers still expressed that his presence will be "instrumental in presenting the Philippines to foreign exhibitors and investors as '[the] destination of choice for international conventions.'"
Still, this announcement struck a nerve to many people because of Pacquiao's views on same-sex marriage, among other issues. One of them was comics artist Gerry Alinguilan, who canceled his appearance at the convention because of the senator's involvement. "I cannot forget the statements made by Manny Pacquiao in the past. He called same sex couples worse than animals. Worse, in a now deleted Instagram post, he posted Bible quotes that preach that gays should be put to death. As someone who believes in equality for all, I find these statements reprehensible and dangerous. Dangerous because Manny Pacquiao is in a position of political power that would enable him to make his personal beliefs a matter of national policy. That is something I cannot abide," he said in his blog.
A questionable copyright clause
and here's the fucked up part: they're holding a contest called project x where participants submit ideas for new pinoy superheroes. the catch? oh they just get perpetual rights to the winner's creation which THEY can profit off of and the winners won't be able to sue them for it pic.twitter.com/NitzFGQLz7

— ?????? | the evil is defeated (@thranduilien) January 15, 2018
ComicCon Asia is holding a contest called "Project X," which encourages Filipinos to create original superheroes. According to the Terms and Conditions, all copyright goes to the participant. But the catch is that the organizers will also get the rights to use the character for reproduction and distribution, and they can profit from the creation. Although they will properly credit the participant, people still find it a bit sketchy that the organizers will get money out of someone else's original work.
Hayley Atwell's cancellation
Agent Carter star Hayley Atwell recently called off her appearance at the convention, but the reasons were conflicting. The initial statement that ComicCon Asia released said that she canceled due to the "political unrest" in the country. However, Hayley clarified that it was not her words and that the real reason was her work schedule. The same reason she gave when she turned down AsiaPOP Comicon Manila in 2016.
Because of this, people are asking why ComicCon Asia made the assumption and why they made it political. Most especially after presidential spokesperson Harry Roque said that it was "her loss" for canceling and that there's no political unrest here. (Let's be real: there is.) As of writing, there's still no statement from the organizers regarding the issue.
Franco Mabanta is one of the hosts
Shame for organizers of ComicCon Asia for choosing Manny Pacquiao, a known bigot and DDS Senator, as the event's ambassador. And also Franco Mabanta, a BBM/DDS propagandist, as emcee?!

Come on guys, you can do better!

— Ted Pylon (@TedPylon) March 22, 2018
Some netizens aren't happy about Franco Mabanta's presence, mostly because of the contents of his Facebook page. Another reason we're putting out there is that he made fun of the #MeToo movement and called Jover Laurio of Pinoy Ako Blog an "Ogre Lady." So we're giving a thumbs down for this part.
Problems with refunds
Due to the cancellations of Stan Lee and Hayley Atwell, several fans asked for refunds. Yesterday, ComicCon Asia released instructions that all refunds can be claimed on March 24 and 25, from 1 p.m. to 6 p.m. This raised a few concerns like if they're giving back the payment in cash or check.  Those who won't attend the event also asked if there's another option.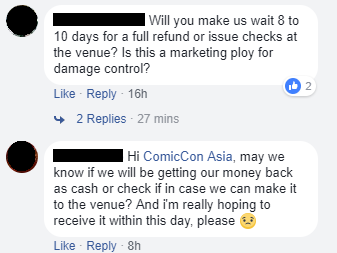 Meanwhile, many aren't pleased that it took ComicCon Asia a week to address the Stan Lee refunds. (He canceled on March 16.)  Fans said that they were told by a certain "Anthony" that their refunds will deposited to their bank accounts. They said that they've given their details but nothing has happened. (To be honest, it's also very sketchy that they asked for personal bank details.)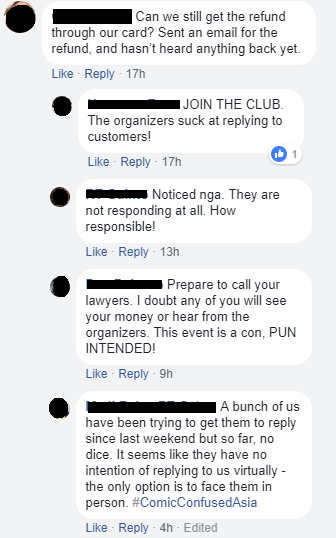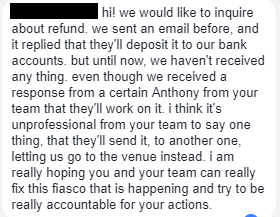 What do you think? Are you still going to ComicCon Asia or are you rethinking it? Share your thoughts in the comments below or on social media.
Screengrab from Agent Carter
Follow Preen on Facebook, Instagram, Twitter, and Viber
Related stories:
What's the Real Reason Why Hayley Atwell Is Cancelling Her ComicCon Asia Appearance?
Men Making Fun of #MeToo Ironically Prove the Problem
Stan Lee Is Being Accused of Sexual Misconduct
What Manny Pacquiao's Homophobia Reveals About Filipinos