Transparent home accessories instantly put a chic spin to otherwise staid pieces. They also serve double duties: the first is for their inherent decorative purpose, and the second is to highlight what's inside.
You can begin investing in this trend with the Moss Manila Boulevard Trunk Table with polished brass accents. It's a lucite accent table that provides extra storage for knick-knacks like throw pillows, magazines, books—basically, whatever you can think of.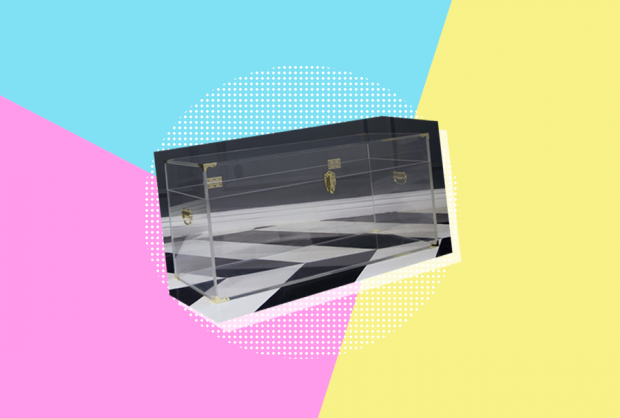 From here, you can put together more transparent pieces to make a shrine of sleek, see-through things.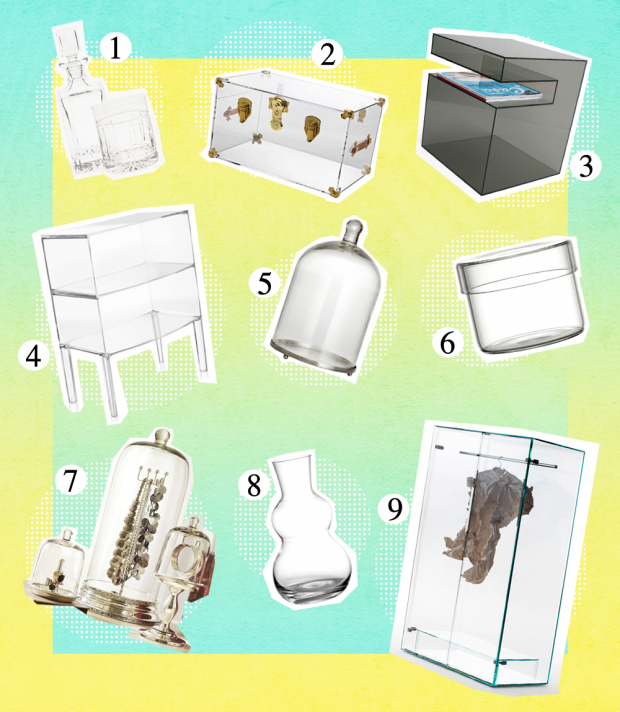 Start with ones you can put on top of tables: The H&M glass vase (8) can hold morning flowers or trinkets. The same goes for the glass box with lid (6). Step back and rethink the purpose of a particular piece when you get the chance, too. A plated glass dome is made to display food (5), but the Pottery Barn glass cloche version (7) doubles as jewelry storage. And as for the guys, the cut-glass bottle from Zara Home (1) plays up the color of your chosen liquor to add more visual appeal.
Once you've kept the décor in check, start experimenting with other glass fixtures. The Eric Pfeiffer Slot Table (3) has space for books or magazines for easy access and storage. The Pixie Craft trunk (2) is a smaller iteration of the Moss Manila one for those little trinkets you can think of. The Ghost Buster console table (4), on the other, is open for more play and display options. Maybe something more elaborate? The Tokujin Yoshioka prism glass closet (9) can store clothes, for one, but more importantly, your expensive artwork.
Start with one glass or transparent piece and the rest will follow. Just a quick word of caution: Handle with care.
 Moss Manila is available at 38 Granada Street, Valencia, Quezon City. 
Art by Dorothy Guya