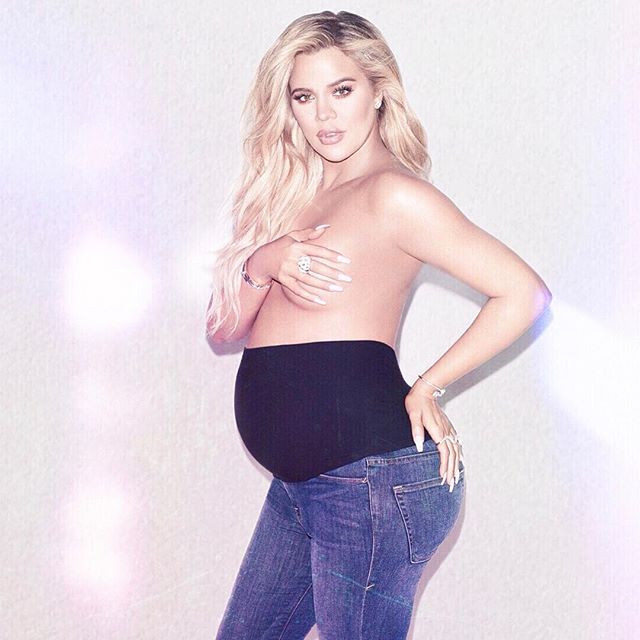 Last night videos of Tristan Thompson's cheating-in-action broke the Internet and Page Six reports that Khloé Kardashian "went ballistic." Honestly, who wouldn't?
She's currently nesting in Cleveland and preparing for the birth of their baby and this breaks out. A source close to the family said, "[Khloé] was devastated when she saw the pictures of Tristan with that girl, she went absolutely ballistic at him. She is not only hurt, she is humiliated and worried for their child. How could he do this, and so publicly, when their baby daughter could arrive within a week?"
Her sister Kim Kardashian-West was reportedly flying into Cleveland to join her and comfort her. And according to TMZ, Kris Jenner is already there with Khloé and her doctor.
So, back to Tristan. Daily Mail released exclusive clips of Tristan canoodling with another woman while he was out in NYC last April 7. Tristan and her lady friend were caught kissing multiple times as they danced to the music at PH-D's Sunset Saturdays event. But it didn't stop there, Page Six identified the lady as Instagram model Lani Blair and reported that she was seen at Tristan's hotel that weekend as well.
Lani and Tristan spent about four hours in The Four Seasons before they went out to PH-D and another private club called Soho House. They were seen returning to the hotel at 5 a.m. Sunday morning and then Lani was seen leaving the hotel the following night at 8 p.m. with a Louis Vuitton overnight bag in tow.
As if that's not enough drama, TMZ also released a CCTV footage of Tristan from Oct. 7, 2017 where he was seen kissing and canoodling with two women in a hookah lounge in Washington D.C.
For now, Khloé will be staying in Cleveland, Ohio until she gives birth as she is far into her pregnancy to fly back to LA even if she's eager to get the hell out of there. Pretty sure her sisters and her mom will support her full on!
Watch this space as we keep you posted about Khloé's pregnancy.
[
TMZ
,
Daily Mail
, and
Page Six
]
Photo courtesy of Khloé Kardashian's Instagram account
Follow Preen on Facebook, Instagram, Twitter, and Viber
Related stories:
Emotional Cheating Is Real and Hurts Like a B*tch
Khloé Kardashian Is Having a Baby Girl
Brooklyn Beckham Seen Kissing a Girl… And It's Not Chloë Grace Mortez
Is Khloé Kardashian Wearing a Wedding Ring in Her Pregnancy Announcement?