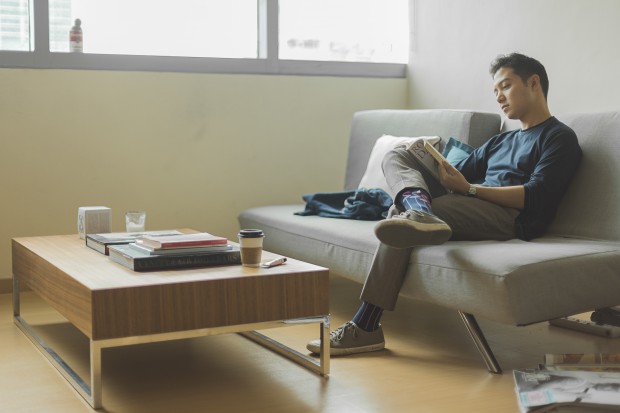 In accordance with the world over, we celebrate #PreenPrideMonth through stories that deal with the in-betweens of the letters LGBT.
Paolo Lorenzana is back with a vengeance. Well, that's not to say he was never here. I mean, you must've felt his creative presence in the "Love All Kinds of Love" print ads, the bold Bench campaign that got most people's panties and briefs in a conservative twist over Vince Uy and partner (gasp) Niño Gaddi holding hands. (Good job, Paolo.)
Last May, he released Team, the first local magazine for gay men that hit native newsstands. Serving as Canned Cactus' publisher and Team's editor in chief, Paolo hopes to take things further than #PaintTheirHandsBack ever did. He sat down with Preen to talk about his upcoming issue, Team's future venues and just why you should pick up the magazine regardless of your gender.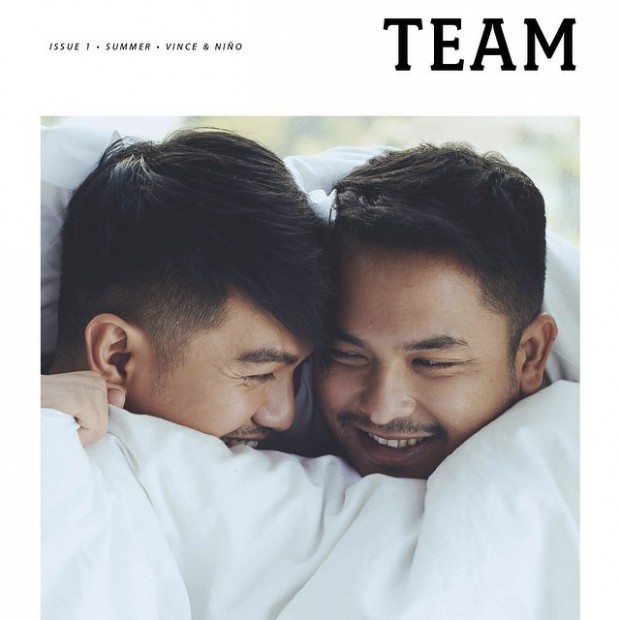 What's the best reception you've received so far about Team?
Some great people who have read the issue always say that they appreciate the writing, and how there's always a takeaway. One of the articles talks about Grindr and the writer's inability to find someone in this dating app fatigue. People, gay or not, can relate to this concept and this makes it [easy for us to] realize that the gay community suffers from the same problems the rest of our society does.
What's your next issue going to be like?
It will come out in August. We are working with a lot of collaborators for that. I can't say much about it except that it will be about different ways people met each other, not just romantically, and not just through the stereotypical means. It will be the "Teammates" issue.
When will you be launching the Team website? What will people get to see on it that you're excited about?
We're aiming for this June and I think it's going to have light lifestyle content. We will probably do a Q&A article from time to time. We also plan to do podcasts. I'll have a column sometimes. It's wide open so we will experiment with what we can do. We will have a lot of fun.
For the print issue, we go for the long-form essays but on the website, it will be bite-sized reading, something that you can read on your phone.
How can one contribute to Team?
If you want to contribute to Team, you can send us a message or pitch stories and send them to any of our social media outlets. The only qualification you need to have is a great story about the gay community in Manila or the Philippines.
What other issues does the gay community need to deal with in order to be more united?
There's this culture of shaming a type of gay. If you're vocal about your sexuality, you take it against other gay men who like to be discreet. For a sector of society that's hoping for respect, we ourselves don't show each other due respect. That's number one. That keeps other gays from associating with each other.
Hopefully with Team, you can let these groups converse with each other wherever they come from: the most sexually charged gays to the prissy gays to ones who like to dress up in drag. Hopefully with each issue that we come out with, we try to slip in [and introduce] a new voice where gay men are considered.
What do you think is the biggest contribution of the gay community to culture in general?
Freedom. Just that encouragement that whoever you are, whatever your works are, whatever you are interested in, don't be hindered by the general public and just to always stick to your guns and make it work.
Where do you get your ideas amid all the distractions? 
[I've always been] passionate about magazines. I travel just to be able to find newsstands where the magazines are diverse. Whether in Hong Kong or in Amsterdam, you'll have different media and I try to hoard as much as possible. I really take the time to read everything from cover to cover, be it Psychology Today or some obscure magazine from Sweden because you can get something from it that can spur an idea.
A word can spur an idea. A picture can make you think of other things that will eventually lead you to an editorial.  I want to be exposed as much as possible to different ideas and what better way to be exposed to the world than through reading magazines.
What kind of moments keep you motivated as a creative person?
I was reading the guy who wrote Alice In Wonderland. One of them wakes up in the morning and [comes up] with a certain number of ideas. I'm a morning person 'cause that's my time to really think. Getting ideas as varied as they are, that makes me giddy. It makes feel [like] I'm done for the day and then I can move on to other things that require less brain power.
What's next for you?
As soon as Team is standing on its own feet, I'd like to move on to making other print publications for things that I care about. One of them being a magazine about puppies and something related to food, something print-related but not a magazine.
Team magazine is available at Fully Booked branches, selected National Bookstore and Powerbooks branches and online via buqo.ph
Cover photo by Jilson Tiu