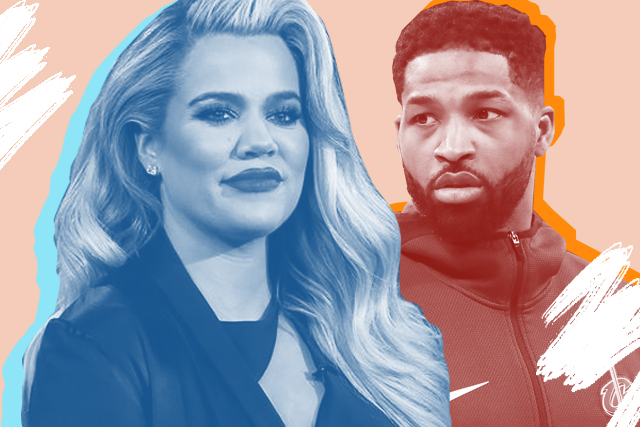 Nobody deserves to be cheated on, and Khloé Kardashian is no exception. The news of Tristan Thompson's scandal enraged a lot of people. One, because it's such a sh*tty thing to do and two, she was three months pregnant with his baby. She literally just gave birth earlier today, just a day after she found out.
Now there have been reports that Khloé allowed Tristan to be in the delivery room while she gave birth. Sources told TMZ that she's "devastated by the recent revelations, but understands the importance of the birth in the lives of everyone involved." Not only that, she's also letting Tristan bond with their baby girl and just focusing on what's best for her.
A situation like this often doesn't end well and it's only natural if Khloé decides to end things with Tristan. However, it's also no surprise that she allegedly chose to forgive him. Why? Because she's known to be forgiving. Just look at how she dealt with Lamar Odom's drug addiction and infidelity while they were still married and even after their divorce.
Khloé and Tristan's relationship status is still a bit murky right now after the scandal. But several people are thinking just one thing: She deserves so much better.
Personally, I admire Khloé's ability to forgive in situations like this. It takes a lot of courage and energy to do that. But it's especially heartbreaking because fans of the Kardashian-Jenner reality shows know how long Khloé has tried to get pregnant when she was still with Lamar. When she got with Tristan, everyone thought that she'd finally found a good man she could start a family with.
To people who think that Khloé deserved this because she dated a basketball star who's allegedly known for being a cheater in the past, re-evaluate yourselves. Cheating doesn't happen because of someone's prolific status or occupation, and it's not limited to their past actions. It happens because they knowingly throw loyalty out the window because "they can't control themselves" from giving in to their urges. Pointing the finger at Khloé is another form of victim-blaming—plain and simple.
Swoon noted that women like Khloé should never place the blame on themselves after they've been cheated on. "To any woman this has happened too—you deserve more. If you decide to stay with your man after this, make sure you still have your self-respect and self-love because you did nothing to cause this."
We don't know what Khloé will do next and if she'll keep Tristan around. If she does, it might be for the sake of their baby and we can't blame her for that. But again, she deserves more than being cheated on and having her trust torn apart. Just imagine the stress she's gone, and still going, through.
As for Tristan, he's going to need to atone for his actions and be a responsible man for his child even after a possible breakup. Men like him should never be given a free pass for cheating. Being forgiven is one thing, but they should also work on bettering themselves and not do something stupid like this in the future.
Follow Preen on Facebook, Instagram, Twitter, and Viber
Related stories:
This is How Khloé Kardashian Feels About Giving Birth to Her Baby Girl
Kim Kardashian Flies to Cleveland to Comfort Nine-Month Pregnant Khloé Kardashian
Khloé Kardashian Is Having a Baby Girl
Emotional Cheating Is Real and Hurts Like a B*tch
How We View Cheating Varies Between Men and Women