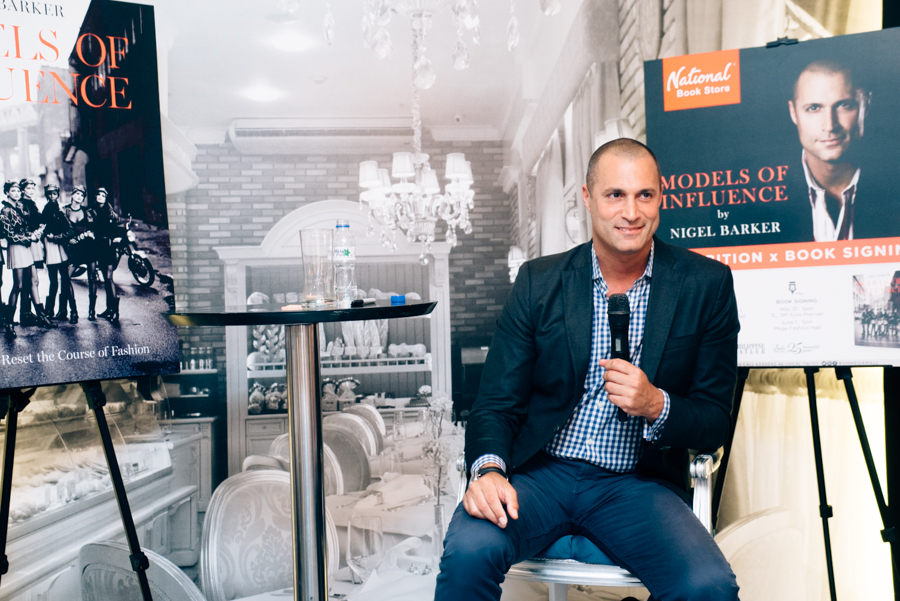 Nigel Barker is in Manila. But he's not here to scout the next chiseled face of a cosmetic brand—you can join a region-based reality show for that. The English photographer held a two-day book-signing event for his latest work Models of Influence: 50 Women Who Reset the Course of Fashion, a book about the models whose faces were both reflective of and rebellious toward pop culture.
Some names included in Nigel's roster are Twiggy, Janice Dickinson, Kate Moss, Coco Rocha, Cara Delevingne, and Nigel's former lady boss Tyra Banks.
We asked The Face judge if there's any truth to the Tyrant, what models are made of, and the best selfie tip that might just land you a modelling job.
You've worked with Tyra Banks before. Could you tell us how she is as a model, boss, and public character?
She's an incredible character with amazing work ethic. She changed the way we view reality shows. It's the now longest running show, I think. When I first started America's Next Top Model, it went from being not in vogue to a very "in vogue" show. She was a big part of changing that.
She's a huge influence too: first black woman on the cover of Sports Illustrated, first black woman in Victoria's Secret, first black Angel—many different firsts. She's a huge inspiration to the community.
What does it take to be a model of influence?
Despite being turned down and despite being told no, a model has to push through. In this book, we're celebrating models that changed the business, the way we see beauty, and the way the fashion and beauty world works.
You've photographed a Filipino model before. How would you describe Filipino beauty, its attributes and what makes it unique?
I'm a big fan of Filipino beauty. A famous Filipino I photographed before was Anna Bayle. We got to photograph her for Tatler magazine. The way she moves in old school methods just won't make us take our eyes off her.
Actually, I noticed that the big part of the character of the Filipina is to be friendly, hospitable, charming, and graceful. These aren't usual characteristics you'll find in models the world over.
What's one tip you tell people on how to look good in photos?
You want a selfie lesson? (laughs) You have to feel confident. Confidence is key. A model that is confident immediately has strength, power, and charisma. You may have a beautiful model with a beautiful face, but if she doesn't believe in herself 100%, the photograph will have no power at all.
Models of Influence: 50 Women Who Reset the Course of Fashion is available in National Bookstore and Powerbooks. For more information, visit their website.