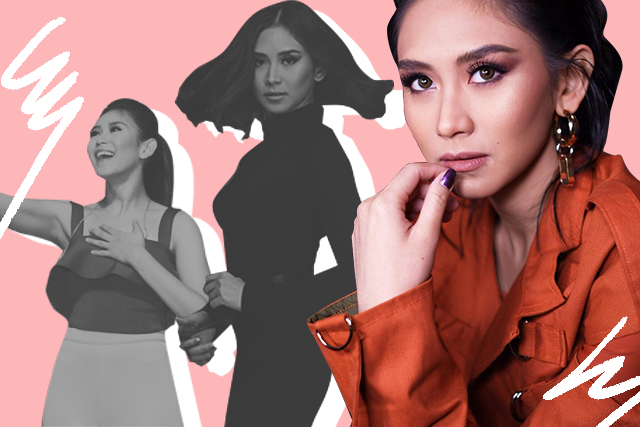 Sarah Geronimo celebrated her 15th anniversary in the business with a jam-packed arena show over the weekend. The concert featured special guests like James Reid, Daniel Padilla, Xian Lim, and Billy Crawford. It's safe to say that the fans went wild as they watched everything unfold.
Come to think of it, Sarah has had an impressive career run so far. I still remember when she was just starting out, fresh out of her Star For a Night win. She looked so different compared to now. So, in honor of her anniversary, let's look back on some of her popular music videos and how much she's changed throughout the years.
"To Love You More"
This was technically Sarah's performance after winning Star For a Night. But it eventually became the official music video for "To Love You More." Here, you'll see young Sarah wearing a white Rajo Laurel dress with a flowy cover-up. A simple yet elegant choice for the then-teenager.
"Forever's Not Enough"
Sarah kept it casual in this music video as she sported a pink hoodie and jeans. She also starred with Mark Bautista in this 2003 music video.
"Sa Iyo"
This song is giving me elementary school flashbacks because of how much my classmates would sing and dance to this. "Sa Iyo" was proof that Sarah can switch from singing ballads to upbeat pop songs. She also looked cute with her pigtails and dangling star earrings.
"A Very Special Love"
Let's call this Sarah's movie soundtrack phase as she starred in a series of movies with John Lloyd Cruz. "A Very Special Love" is the first of the three films wherein she played Laida Magtalas. She's more grown-up here but still has that cute demeanor to go with her bubbly character.
"You Changed My Life"
Continuing with her streak of love songs, "You Changed My Life" made people swoon as they waited for her second movie with John Lloyd. Even the music video was fit for Valentine's Day.
"Kilometro"
In 2014, Sarah came out with "Kilometro," which is a dance tune that showcased her strong vocals. This seemed different from the love songs people were used to hearing, but it was still a welcome change. Especially when it came to her overall look. Silver pieces and a fierce smokey eye look? It's like a renewed Sarah!
"Tala"
Sarah's look here is like a cross between the Dothraki garb in Game of Thrones and the characters in Bagani. Her bronze skin also glistened throughout the whole video as she danced.
"Miss Granny (Live)"
This is just a snippet of her performance with James Reid during her 15th anniversary show. But you can see just how much Sarah has matured. No more pigtails and bright pink outfits! She wore an orange dress with purple feather linings for this number. Her other looks included a gold fringe pantsuit and a sparkly blue dress.
Follow Preen on Facebook, Instagram, Twitter, and Viber
Related stories:
Ever Wonder Why Couple Matteo Guidicelli and Sarah Geronimo Have No Projects Together?
Sarah Geronimo Flies to Cebu to Support Matteo Guidicelli
What Kind of Deep, Dark Secret Is Sarah Geronimo Hiding From Kris Aquino?
James Reid is the Newest Member of This Local Brand