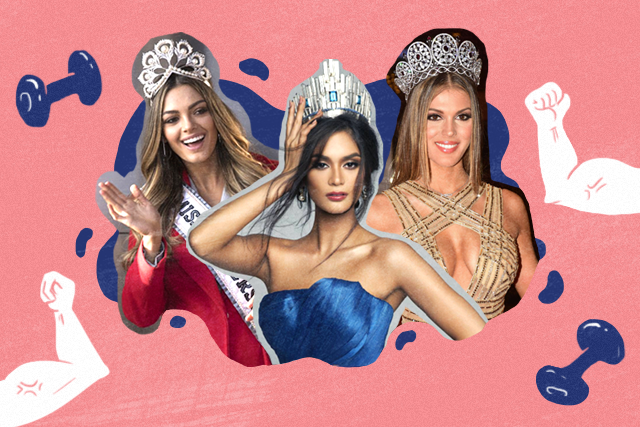 "Are they gonna carry all three of the beauty queens?" That was Team Preen's collective question when we found out that Miss Universe queens Pia Wurtzbach, Iris Mittenaere, and Demi Leigh Nel-Peters will be in one stage with three of the strongest body builders in the world. It's an unlikely combination but everyone was curious at how it will go.
The event, aptly named "Grit + Glam 2018," was held at Cove Manila. It was filled with pageant enthusiasts who were excited to see their favorite queens in the flesh. Before it even started, guests—including me—were looking for the best spot to see what will go down.
As I sat on a bean bag, I started observing my surroundings and making guesses. Aside from the queens being carried, I started thinking, "Are they going to lift weights too? Are they going to do a race?" All these thoughts went across my mind while the opening acts performed. (Also how I'll manage to take photos and videos for social media without bumping into a bulky TV camera or falling in the pool.)
Finally, the hosts introduced the three strongest men: Martins Licis, Robert Oberst, and Hafþór Júlíus Björnsson who played Gregor "The Mountain" Clegane in Game of Thrones. They were just what everyone expected: big, burly men who can probably lift a car like it's nobody's business.
Then came the beauty queens' introductions to which people cheered. As the two groups stood on stage, the hosts started alluding that they will undergo challenges under the "Grit" and "Glam" categories.
Oh, this is going to be good.
The first was the Grit challenge, which was a relay race where they had to carry and pass two dumbbells. The third person, who is on the stage, will have to run to the end of the runway, drop the dumbbells, and raise both hands. It sounds simple, but it obviously wasn't easy for the beauty queens as they had to run in heels. The strongest men finished first, but the result was inconclusive since they didn't raise their hands.
So, they did it again. Only this time, the queens got more competitive and removed their heels. After the countdown, they ran so fast so they could win the Grit challenge. I almost didn't catch it on camera! After the race, Demi Leigh did a mini happy dance and Robert even lifted her for a few seconds. A congratulatory lift, perhaps?
Next was the Glam challenge or the Catwalk Challenge where they had to do their best strut. The strongest men were great sports as they walked the runway and tried to put their own flare. But of course, the beauty queens beat them by a mile as they showcased their signature Miss Universe walks.
After all the excitement and cheers, the rest of the night was dedicated for partying and socializing. Many guests were also able to catch a glimpse of Bb. Pilipinas 2018 Catriona Gray hanging out and taking selfies with the Miss Universe queens. She probably also asked for advice from them.
Final thoughts on the event? It was interesting. It's not every day that you see body builders and beauty queens competing against one another. It was entertaining to watch and I'm sure a lot of people would say the same. I still wish there's a photo somewhere of the three men carrying Pia, Iris, and Demi Leigh on their shoulders just for the heck of it. But I guess that's for another time.
Art by Marian Hukom
Follow Preen on Facebook, Instagram, Twitter, and Viber
Related stories:
Why Are Demi-Leigh Nel-Peters and Iris Mittenaere in Manila?
How Demi-Leigh Nel-Peters Turned a Kidnapping Attempt into a Main Motivator
Pia Wurtzbach on How to Empower Yourself
Meet Catriona Gray: Singer, Painter, and Miss Universe Candidate