Taylor Swift and Katy Perry have had some bad blood between for some time now but that might all be over now. A few hours ago, Taylor was preparing for the first show of her Reputation tour. To her surprise, when she entered her dressing room, she saw a box and in it was an olive branch from Katy.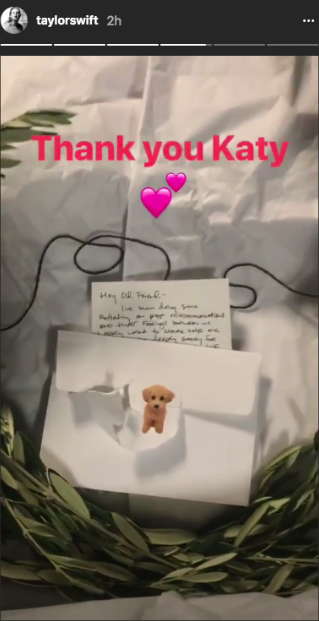 In the video you can also see a letter that starts with, "Hey Old Friend." On Instagram Stories Taylor said, "So, I just got to my dressing room and found this actual olive branch. This means so much to me."
We can all take a few notes from Katy and try to bury the pettiness we might have with old friends. We can't wait to see these two together again.
Photo courtesy of Billboard
Follow Preen on Facebook, Instagram, Twitter, and Viber
Related stories:
Deciphering Taylor Swift's 'Look What You Made Me Do' Music Video
So How Are We Liking this Version of Taylor Swift?
Can Someone Please Save Katy Perry?
Katy Perry Met the Pope, No Big Deal