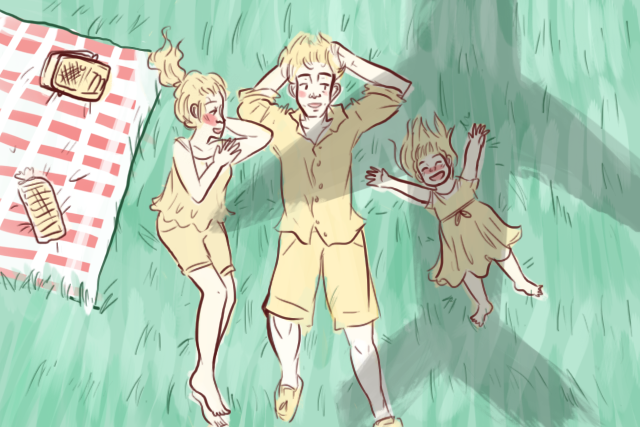 Every week, Preen tackles motherhood sans the rose-tinted glasses. Our columnists L. Juliano, Marla Darwin, Monica Eleazar-Manzano, Rossana Unson, Chrina Cuna-Henson, and Ronna Capili-Bonifacio tell their personal experiences like it is—at times frustrating, oftentimes confusing, but always enlightening.
This is the first time we're not planning a summer vacation.
In the beginning of 2018, my husband and I decided to step up the way we evaluate our finances. We're in the midst of working ourselves out of yet another big credit card debt and with preschool tuition looming ahead, we wanted to finally rid ourselves of putting ourselves out of this cycle. Something about anticipating your child's milestones finally lit a fire under our own milestones.
So we started talking about all the topics we've been avoiding—specifically all the ones that are intertwined with our mortality. Or the fact that the both of us don't come from money. Or the fact that we haven't been thinking hard about our money (the earning of it, the managing of it, the distribution of it).
It's already nerve-wracking to be running your own business and hoping you make your quota every month—but adding a forced savings component woke us up to not much wiggle room with our restructured budget. A budget that accommodated the answers to our difficult questions (the ones that involved retirement, critical illness, and tuition).
Which brings me to the topic of vacations. It's a no-brainer for a lot of people, but it took a while me to accept the idea that travel to a foreign place is a want and not a need. In an age of budget travel and "wanderlust" and "experiences" being #goals, it's easy to feel like you're missing out on something sublime when you sit it out.
I love to travel. I don't need to hear the Pico Iyer quote about travel and losing yourself and finding yourself recited to me, because I believe every word of it. I immerse in the places we visit. I learn the modes of transportation and get familiar with the markets/neighborhoods. It's my favorite way to recharge and to get a heightened appreciation of where I'm at. I also wish for the same thing for my daughter as the family vacations we've done abroad are some of the memories we enjoyed making the most.
Yet every massive credit card debt we incurred is linked to the biennale vacation we'd take to the US. Before our kid, it was just a way of life. Save as much as we can for the tickets, stay with family/friends, eat cheap, commute cheap, then work to pay off the excess expenses when we get home. Even if the excess wasn't that huge, life would dole out unexpected hits, and those bulky trip expenses end up setting off domino effects on our finances.
I don't need to be reminded of how unsustainable this was.
My mom just told me that she and my dad will be traveling to New York and Nantucket this September. I was happy for my retired parents, but I was seething with envy. I felt sadness and longing when I started helping her plan their itinerary in the city. I thought of my favorite museums, book stores, restaurants, walking paths, and parks. I told her to watch Hamilton. My dad asked us if we'd be coming along and I told him we can't afford it.
There's a strange freedom in being able to say it.
The world does a terrible job communicating to us that it's on our side though. All sorts of media still churn out content from people's fabulous vacations, hitting a fever pitch during summer time. Eventually one does get tired of being barraged by fabulosity. My husband and I pondered what we still had to our advantage, and as it turns out, there's a lot we can still do. I'm the sort that's willing to do the research and my husband is the kind of guy who'll drive us anywhere we need go.
Instead of working towards big vacations, we shifted to the idea of having little vacations as much as we can where it's cheap/free and nearby. It's a mindset that opened up possibilities for us, instead of feeling like the world closing in because we couldn't afford to jet off far away. On Sundays, we made the commitment to look for green spaces in the city. We visit parks, waterfalls, forests, and gardens. On other Sundays, we try to go where the art or history is by checking out museums, heritage spots, and fairs.
We try to do something new as much as we can but we make a habit to go back to some favorites so that we experience truly getting to know places and people.
As each week rolls by, an interesting thing happened to my family. Metro Manila and its outlying parts started looking beautiful to us again, at least on Sundays. We also find ways to drive out further visiting our friends in the provinces filled with lush mountains and endless ocean. I get to breathe and sit with wonder again—finally making peace with how minute (and bourgeois) my aspirations are.
Exploring home is where we'll be for the next few years. The world can be as small or as big as we make it.
Disclaimer: The views expressed here are solely those of the author in her private capacity and do not in any way represent the views of Preen.ph, or any other entity of the Inquirer Group of Companies.
 Art by Marian Hukom
Follow Preen on Facebook, Instagram, Twitter, and Viber
Related stories:
Broke No More: Managing Your Cash for All Your Needs
6 Questions to Ask to Make and Save Money
Save Yourself vs. Treat Yourself: How to Be Financially Happy
I'm Not in Debt, But How Do I Actually Start Raising Money?