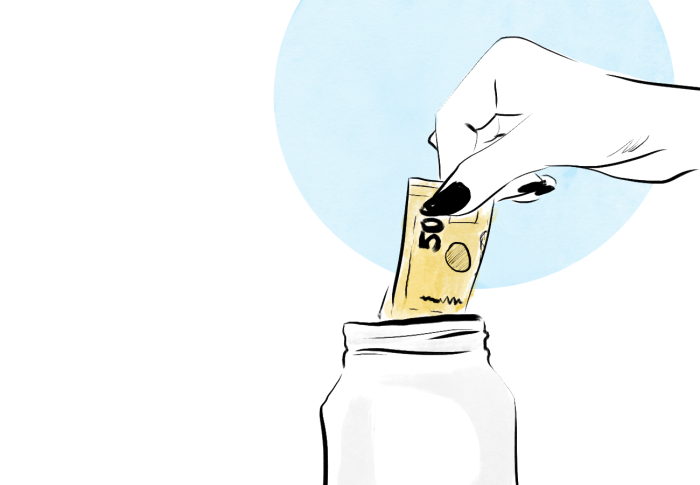 Welcome to Ask Poppy! I'm Poppy, your go-to girl for all of life's woes. And when I say ALL, I MEAN IT. I'm not an expert on anything except maybe for being me, which makes me totally qualified to do this.
Hi, Poppy!
I'm 28 years old and in need of some financial advice. Don't worry because it's not THAT insane. You see, I've been working since I hit 20 but I have not saved money that can amount to anything that I can be proud of.
I have always prioritized experience over saving and that meant traveling to local and international destinations. There is the occasional shopping for clothes, shoes, bags, and accessories, but not to the point of excess. I also like to enjoy myself by eating out with friends or indulging in overpriced coffee. But also, I pay for rent, my water and electricity bill on time and I have no debt.
The alarming thing is that I have almost zero savings—not even enough for hospital bills if I get sick or something to cover me if I lose my regular job.  And now that I realized how important saving is in the long run, where do I start? A simple piggy bank? A bank account? Do you also have any tips on where I can scrimp and how I can ACTUALLY save money?
I'm scared and panicking especially when everyone around me seems to be saving for bigger things like a house and another car—and meanwhile, I'm back to square one.
Help!
—Toni
Hey, Toni!
The best way to start saving is to start right now. As in now na. It took me a couple of years just to figure that out and I wouldn't want that to happen to you, so I'm telling you—do it na.
I got pretty damn woke about this issue after a lump appeared on my right hand a couple of months ago. Of course I ignored it for about two weeks until it grew into something that looked straight out of a Cronenberg film. It hurt, but I had to wait for the next paycheck just so I could have it checked, because I don't have insurance and I pretty much spent the last of my paycheck on comic books and other stuff that might get me killed on the street if I write them down here.
So, they had to open a part of my palm and suck off the pus that amassed inside it. I was under anesthesia, so I did not feel a thing, but I nearly fainted when I saw the hole in my hand and the amount of blood-stained tissues that the doctor had used. Not only was there a hole in my hand, it also burned a pretty f*cking deep hole in my pocket.
After shelling out a few thousand bucks for that operation, I was sitting at a bench at Mercury Drug, waiting for my lover to pick up the meds that I also paid for (on top of the operation.) And I was just sitting there thinking about what I would do if my lover ends up to be the one who's sick. Like, how am I going to pay for that sh*t?
I think it's important to know that you are going to get old, Toni. And as you get old, you're gonna get sicker and sicker as f*ck. You're going to need money in order to stay healthy. It's why those old geezers in the Senate are still alive and are just there to play a sh*tty game on a tablet than doing good things for the people. I guess the best motivator to save money is to think about your health. Stow away a small portion of your cash and save it for an emergency colonoscopy.
You may not notice it, but that occasional shopping and going out with your friends, and those expensive coffees—those things add up and end up eating a chunk of your monthly budget. I stopped buying clothes after I pretty much bought 10 shirts at Uniqlo of the same style. That should last me until the next year and a half, knowing that I could just mix and match them with my other stuff. But then I'm not really a gastadora and would rather buy cheaper stuff than usual.
I like hounding several branches of Booksale for my next read. Often, you'd get titles that are pretty new, which makes it pretty damn impressive. Like, saving takes a lot of effort. To save, I stopped buying produce at the grocery and made chika with the titas at the palengke so they could give me a little extra on that talbos ng kamote.
But really the best way to save money is when I stopped talking to my friends. I'm at that age where if I want to get my dranks on, I would buy a bottle of Fireball whiskey and get drunk on it for like, three straight nights. It's unbelievable to think about all the stuff I've thrown money at just because my friends think it is happening. It's not. You know what's happening? My savings, gurl.
Maybe it's because it's that time of the month for me that I'm getting Daniel Plainview vibes of not wanting any of that bullshit. "I look at people and I see nothing worth liking. I want to earn enough money so that I can get away from everyone." And then I drink their milkshake just to save a few more pesos.
Toni, it's great that you're not in debt, but like, hindi mo ikayayaman yan, gurl. If you think that changing your lifestyle and habits won't do crap for your savings, then the best way to save money is to earn more money. Have you ever thought about getting an extra raket to live the way that you want to live? Everyone does it naman and I'm pretty sure that you have enough power to go with it.
But if you want to be chipay living, then that's super easy. Just don't buy sh*t that you don't need. Like, do you need new clothes when you still have a closet full of stuff that you barely wear? Nope. Do you really need expensive branded coffee to perk you up? I found a Moka pot at HMR (have you been to HMR? It is the best) and buy a pack of coffee beans and just make coffee at home that doesn't taste like dung.
I won't stop you from traveling though. I'm not some sad pa-wanderlust chick, it's just that at the rate this country is going, I, too, would like to get out of here from time to time. Or maybe not out of here, but just out of the places that I'm usually in. I know, here comes the wanderlust bullsh*t, but treating yourself with a vacation is something that I would always avail so hard in this life.
Toni, I honestly believe that you can start saving up. You must act now and vow to never ever touch that money that you're saving for a rainy day. Going to the bank and telling them that you would like to open up a time deposit is the best way to get your hands off the moolah that you shouldn't even be touching!
And please, don't be inggit by your friends who have homes and multiple cars, and those who post it on social media because chances are, they're sad and in debt. You have to make wiser decisions when it comes to money, Toni. Just because something cool is available, doesn't mean that you should avail.
SO DON'T WAIT at square one. It's time to step up and save up.
Always,
Poppy
Got a question for Poppy? From love and relationships to weird questions you dare not ask even your psychologist, Poppy is ready to answer them all. Send in your questions to [email protected] or post your question over Twitter or Instagram with the hashtag #AskPoppy, and you just might get the answer you are looking for.
Disclaimer: The views expressed here are solely those of the author in her private capacity and do not in any way represent the views of Preen.ph, or any other entity of the Inquirer Group of Companies.
Art by Dorothy Guya
Follow Preen on Facebook, Instagram, Twitter, Snapchat, and Viber